Author. Ideas.
Wild Podcaster. Climate Educator.
Renegade.
Sarah Wilson is a multi-New York Times and Amazon best-selling author, social philosopher, international keynote speaker, minimalist and philanthropist. She founded the global I Quit Sugar movement, became the editor of Cosmopolitan Australia at 29, hosted the most-watched TV series show in the nation's history -the first season of Masterchef Australia – and wrote the international bestseller First, We Make the Beast Beautiful, which Mark Manson described as "the best book on living with anxiety that I've ever read".
Her most recent book, This One Wild and Precious Life, won the US Gold Nautilus Prize, and she has ranked in the top 200 most influential authors in the world (two years in a row).
Sarah's mission is to see humanity – individuals, communities and corporates – engaged in the epic issues facing the world today. She leads the discussion via her keynote addresses and in conversations with the world's leading philosophers, scientists and creatives on her podcast, Wild with Sarah Wilson and over at her Substack with her community of 50,000 subscribers.
Sarah is committed to driving a global conversation on inequality, truth, purpose, existential risk and climate change. Sarah lives between Paris and Sydney, is a foster parent, gamifies her carbon footprint and rides a bike everywhere.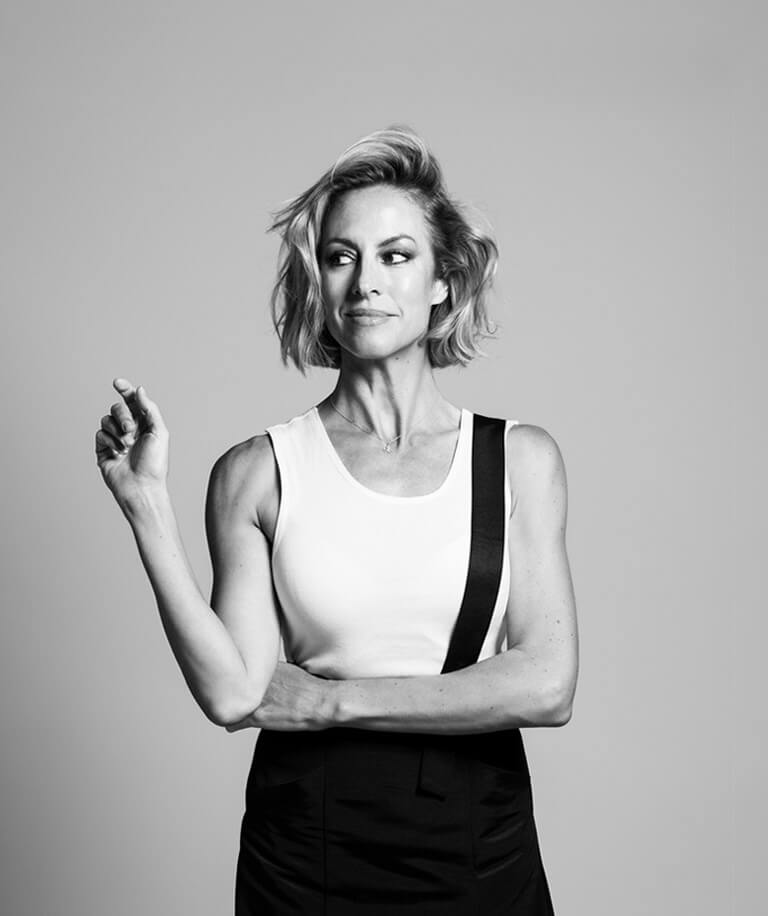 "Sarah Wilson is a force of nature – quite literally. She's a great teacher and a great leader, and I admire her with all my soul."
Elizabeth Gilbert / Author of Eat, Pray, Love
Elizabeth Gilbert / Author
Sarah is an experienced keynote speaker, MC and broadcaster. Clients include the New York Times, Microsoft USA, Blackrock, Woolworth, Facebook, Google, the Australian National Press Club, Cannes Lion, National Australia Bank, IKEA, WeAre8 and the Climate Council.

She has a suite of keynotes covering climate education, wellness, anxiety and how to live a life of value (tips drawn from more than 1000 interviews with global thinkers, from His Holiness the Dalai Lama to Oprah's life coach). Sarah also has extensive experience working with brands, universities and corporate organisations to develop values-led communications and to facilitate events. Most recently, she guest lectured for the University of Cambridge's Sustainability and Leadership master's course and partnered with the Climate Council on a national consumer campaign.

"Sarah is full of expert advice while remaining grounded and incredibly human. Her vulnerability is her strength."
Mark Manson / #1 New York Times bestselling author
The WILD with Sarah Wilson Podcast
Wild is a global conversation with the world's leading philosophers, creatives, poets, scientists (and at least one nun!) that goes to the heart of how to live fully on this one wild and precious planet. Her guests and topics are era-defining and always "wild".
Margaret Atwood gets fired up about creating a utopia; Pop singer Sia riffs on the gifts of living with bipolar; Peter Singer talks about effective altruism; the nun from Dead Man Walking discusses what a prisoner on death row can teach us about love.
Join Sarah as she wrestles a path to the beautiful answers.
"My favourite podcast to engage in the topics that matter, and be reminded there are great minds out there working together to find answers for the complexity of today's world. Each episode motivates me to take that next step to support the important issues."
Sarah's popular newsletter is where she engages with her community of 50,000 subscribers and leads a community conversation about philosophy, art, pop culture, science, neoliberalism and politics.
"Sarah Wilson has an uncanny ability to look over the horizon and see where the world is going. She is a true pioneer."
Dan Buettner / #1 New York Times Bestselling Author
Sarah wrote the New York Times bestsellers First, We Make the Beast Beautiful and I Quit Sugar and is the author of another 11 cookbooks. Sarah's latest book This One Wild and Precious Life is a soul's journey through the complexities of climate change, coronavirus, racial inequalities and our disconnection from what matters…back to life.
"I've encountered no other book that articulates with so much passion or clarity the unique feeling of this moment in history."
Oliver Burkeman / Author of Four Thousand Weeks