I quite love Clare Bowditch.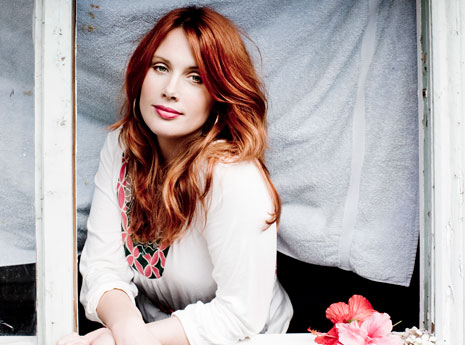 That's her up above. The admiration kicked off when she emailed me a while back after reading something I'd written and she suggested we meet for tea when I was in Melbourne next cos we'd have stacks in common. I love contacting people I'd like to meet and suggesting tea. I love people I'd love to meet who do the same.
She's also very whimsical.
And musical. She's recording her next album RIGHT NOW. This tune is from it.
She also has issues with her thyroid. I posted my experiences with auto-immune disease a few weeks back. And now I've asked Clare to share:
Weirdest symptoms? A swelling in the throat every time I had a sip of coffee or tea or wine.

Best tip to stick to?  I have a very beautiful GP who kept saying to me, "Remember, your body is your best friend. It wants to help you. Listen to it. Slow down. Life is for enjoying!". This was the best advice I could have had. She also challenged me to find ways of entertaining and being entertained that didn't involve wheat, recreational sugar, alcohol, or caffeine, which sounds basic, but I found it a real challenge! Excellent quality fish oil and selenium drops were also a part of my healing.

What's your philosophical stance? Dicky thyroids are a mystery, but mine got my attention and asked me to be a bit gentler with myself.  The only reason I listened is because it didn't really leave me any other options. I entered 2010 a much happier person than the one who began 2009. I conclude, therefore, that my dicky thyroid was a great lesson in how to be honest with myself.
I love this advice. Yay, to gentle! And I love reading about other people's symptoms…it's somehwo comforting to know yours aren't the weirdest.
If you have auto-immune, what's your weirdest?