I spent the weekend locking horns with one of the best chefs in the world. Tetsuya has ranked in the top 5 according to one of the most prestigious polls. And he's earned a three-chef hat rating from The Good Food Guide every year since 1992.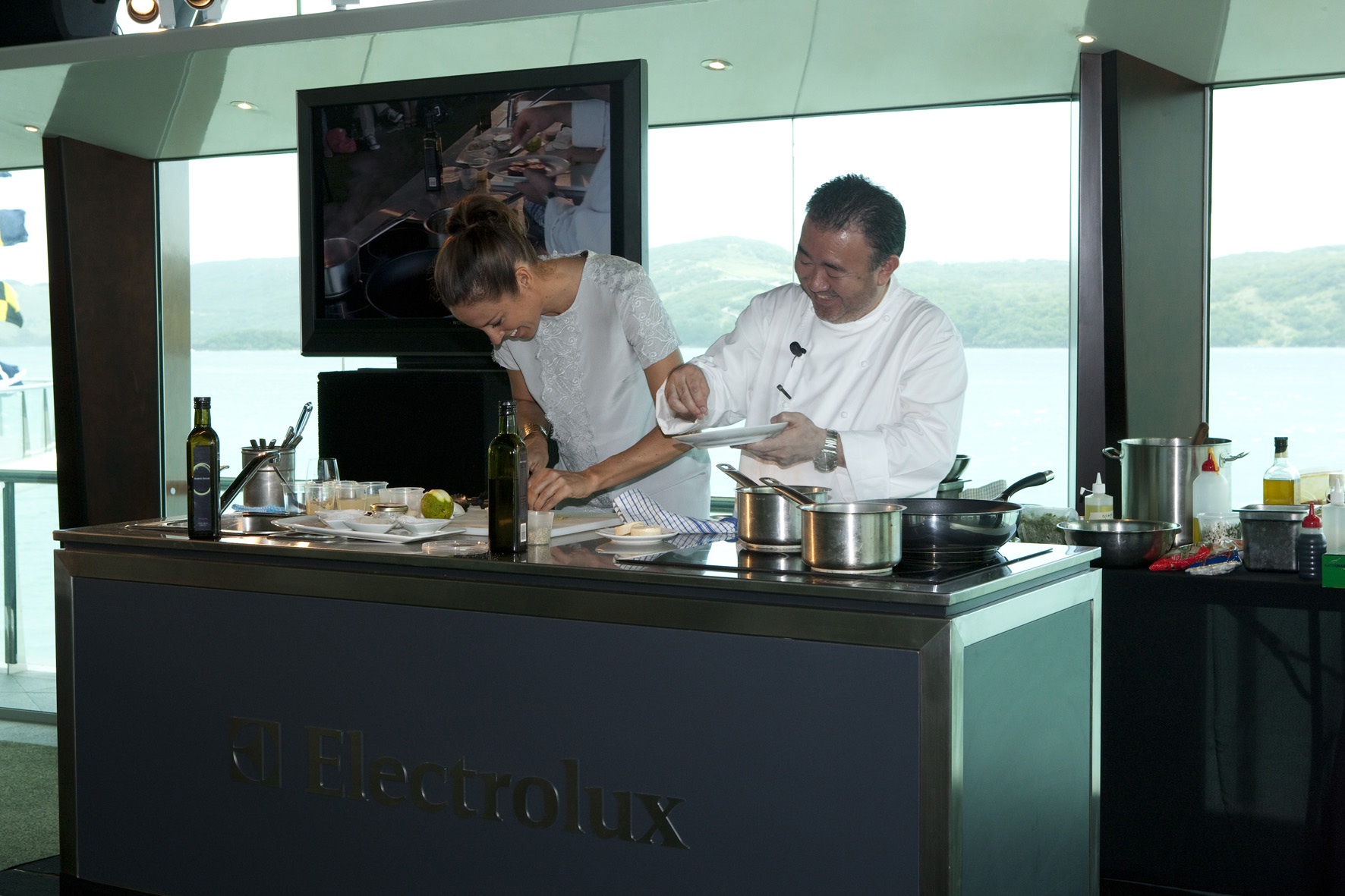 Why the clash? I was there to MC his workshop at the Great Barrier Feast at Hamilton Island. And when you're an MC you ask dumb-ass questions like, what are the latest food trends? And how many tablespoons of soy was that?
Tetsuya doesn't work that way. He hates food trends and precision. And so we played the game: uptight MC and cheeky chef for 48 hours. Fun!
This is what I learned:
1. When you add creamed corn to scrambled eggs, you create a taste sensation. Tets recommends you don't whisk the eggs. Instead you "lift" them with a fork, stretching the proteins to wrap around the corn.
2. Don't add salt to fish before cooking. It cooks it. Ditto lemon juice.
3. Raw spanner crab should be in your freezer. Tets uses crab meat from Ceas Crabpak, the first fishery to be declared sustainable in Australia. You can get Ceas Crabpak here. It's amazing on it's own – he showed us a clever way to steam it with grapeseed oil and is astounding added to the scrambled eggs above…
Here's some recipes using the crab meat, courtesy of The Courier Mail's lovely blogger Natascha Mirosch. Or go to this link.

Scrambled Eggs with Spanner Crab Meat
Serve 4
Ingredients:
4 Eggs
30g Grated Parmesan Cheese
50g Ricotta
200g Spanner Crab Meat Raw
Salt & Pepper to taste
Extra Virgin Olive Oil
1 Scallion-sliced to Garnish
Process:
Mix eggs and parmesan cheese together in bowl together quickly. Heat olive oil in a hot pan with a small sliced clove of garlic. Add raw spanner crab meat. Stir quickly to cook through. Pour egg and parmesan over crab meat. Add ricotta.
Stir in quickly. Add salt & pepper to taste.
Thai Chilli Spanner Crab
Serve 4
Ingredients:
200g Spanner Crab Meat Raw
1 Chilli
1 clove sliced Garlic
1 tbsp Ginger
1 tsp spring Onion
1 sliced Shallot
2 tbsp Thai Sweet Chilli Sauce
1 tsp Lime Juice to taste
2 tbsp Coconut Milk
1 tsp Fish sauce to taste
6 leaves of Basil
Process;
Heat oil on high heat in pan with slices garlic. Add crab meat. Toss cooking quickly. Add garlic & ginger, spring onion and sweet chilli sauce. Mix ingredients and add coconut milk and basil. Season with lime juice and fish sauce. Serve with sprinkle of fresh chopped chilli slices and shallots slices.
Serve with a light side salad of grape tomatoes, rocket lettuce and parmesan slices.
Garlic & Butter Spanner Crab
Serve 4
Ingredients:
200g Spanner crab Meat Raw
1 small clove Garlic
2 stalk of Garlic Shoots
50g Butter
50ml Olive Oil
Italian Parsley
15mil Soy Sauce
15ml Mirin
Process:
Heat Olive oil on high, add butter and melt. Add sliced garlic shoots, crab meat and season with soy and mirin. Cook the crab meat quickly. Garnish with roughly chopped parsley.
Serve with crusty bread.