In my neck-o-woods it's going to be a scorcher this weekend. The water here in Sydney is 23 degrees. Blimey.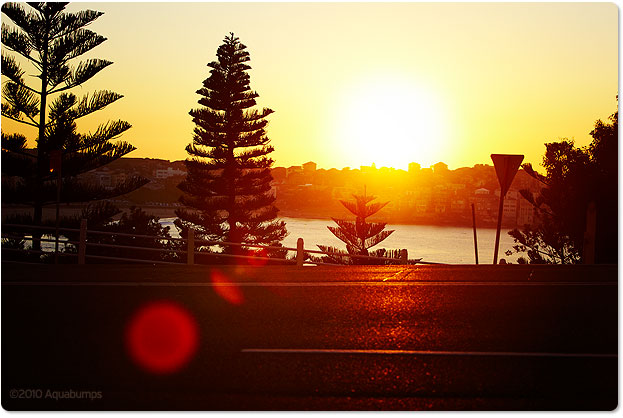 Which has posed a dilemma this week. I just got my hair coloured – darker for the cooler months. But my hairdresser has asked me to stop swimming so much, because it's making my hair dull. I ignored her, but it does make me wince a little when I look at my salty, ratty mop just now.
Therein lies my dilemma as a girl who hates beauty regimes, doesn't brush her hair, hates shopping etc, etc etc…BUT who works in an industry where she has to look and play a certain part. Square peg, round hole?
I tell you it's exhausting. What to do with running top tan lines when you have to wear a strapless dress? I have a scab on my nose and shoulder today from running into a wall on my bike…and have to film on Monday. Oh dear.
My first day at Cosmopolitan, I arrived on crutches. I'd come off my mountain bike and broken my foot in 3 places. I remember a beauty editor came up to me months later and said, the whole building had felt soooo sorry for me because, how ghastly!!, having to turn up to the Cosmo office in flat shoes (or, one flat shoe and a leg brace). I told her I'd thought it was actually pretty cool.
But let's move on. I've been wavering whether to post little bits of news I find. I decided to this week:
This week I loved following the volcano coverage and seeing people admit that the debacle got them thinking about the way they took travel for granted. Heartening!
Loved, also, that following my Fully Sick Rapper post, other bloggers (Mia Freedman) and the Sydney Morning Herald picked up on it.
OK, I said I won't be buying an ipad. But this is a seriously clever use of one.
The ultimate V-neck cashmere sweater. Rolled hems. Long sleeves. Wear with a tutu. From Bondi-based Banjo & Matilda (my mate Belynda's lush label).
And what is it with people who photograph their food!?? Truly odd. And everywhere. But perhaps it's a good mindful eating technique?
And this cheery news: you might as well sit on the couch and eat microwaved popcorn and deepfriend bacon-and-wonderbread sandwiches if you're getting less than 7 hours sleep per night.
A restful weekend to you all!!