Yesterday was surreal. I was caught between two worlds. And, in fact, yesterday was a classic example of the professional balancing act I walk most days. On the one hand I was absorbed by what was going down. I was totally stunned by the fact WE HAVE A NEW PM! And listened to commentary all day on radio (my favourite medium).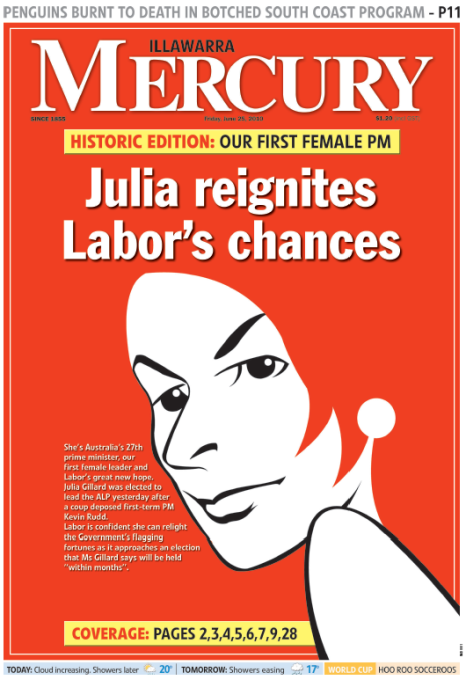 I was doing this while getting ready for the ASTRA awards, held last night. I presented one of the awards (alongside Selling Houses' Andrew Winter who cleaned up the awards last night) and had to slide into my other "role", the one that involves getting dressed up and donning a certain public persona. Not that this persona is false, it's just that it contrasts so starkly with the everyday me. So much so, most of the world doesn't recognise me from one role to the other. Which I rather like.
Anyway, as I was getting my hair and makeup done yesterday, I listened to ABC radio and was online, checking out commentary. So, a few thoughts and links I came upon that you might want to bone up on for some engaged discussion over the weekend.
* How can a "spill" like this happen? Julia Cowdroy wrote a helpful rundown on the anatomy of a "spill" on Mia Freedman's blog yesterday.
* Do you know if you're properly enrolled to vote?  Do it now in, like, 2 minutes here. DO IT NOW BECAUSE YOU ONLY HAVE A FEW DAYS TO DO IT ONCE THE ELECTION IS CALLED. This is an election we must all have a say in!!!
* Did you notice the mood of the day yesterday? It was very still. Like the space between two breathes. I got very emotional. Cried a lot.
* I have this fear: that Gillard's moment might be wasted. I think she is more than up for the job. I think she's the best person for the job and I've been discussing it with senior journalists who work close to it all for a while…no one is doubting this. The issue is that she's going to be tarnished as the woman who unfairly brought down Rudd. And that her chances of remaining PM have been compromised. How her big moment came about is a worry, not the fact of it. Peter Hartcher at SMH discusses this, and the concern she could become a mere factional puppet. VERY SADLY he includes this:
Gillard's "as smart as any man, as tough as any man, as able as any man"….
Which brings me to this discussion point:
won't it be nice when everyone is able to stop referencing Gillard as a woman…before anything else? I think it will take a while, because The Marvel of it all does need to be discussed further for a bit.
But that said, I think it WILL die out quickly. My observation of Guillard is that she rises above gender demarcations. Or at least doesn't get bogged down in them. This is a gift she possesses. She's naturally unaffected, I feel. Unattached.
All kinds of stereotyped commentary and barbs are slugged her way. She has merely watched them fly through the air, she's smiled at them and then watched then land limply behind her. Splat. She doesn't get defensive, or try to define herself around the comments. This is so smart. She's the genuine Teflon politician.
When she was accused of being "barren", when she was given grief about not having a fully stocked pantry and a casserole in the oven (remember the empty fruit bowl fiasco?), she simply hmpf'd at it. A Big Whatever. And moved on to what she's paid to do.
It reminds me of something I read about the new Naomi Watts film, directed by Rodrigo Garcia – Mother and Child. In the film Watts' character has an affair with a black man. The reviews I've read say that one of the best things about the film is the fact that this inter-racial situation isn't referred to once. Not even a nod to it. It's completely normalised, a non-issue. Reviewers have commented on how refreshing this is (although in their very mentioning of it they undo the very thing they're applauding).
I think Gillard's behaviour will operate in a similar way. She'll quickly shift things so that we stop discussing her contributions in terms of her being a woman. She'll move the energy. This is her power. And I'm rather in awe of it. It's a joy to watch. It's our next chapter.
As a final note, Julia Baird wrote a great piece in today's SMH on all the brouhaha about our PM being a woman.
She writes:
This is truly novel: we have a female leader known for her political skill, thick hide and love of debate – not for her personal life, pumpkin scones or love of frocks….

Women are too often expected to float above the political fray, not wade into it, rolling up their sleeves. A failure to understand the way prominent women demonstrate authority is one of the hallmarks of Western culture. When female politicians exercise true power, it is usually described as secondary (deriving from a husband or male ally), surprising (Wow! She really can make decisions!), or severe (insert the "B" word here).
I think this will be one of the most fascinating sub-plots of this unfolding story…observing how female power can work. If we're going to marvel at the fact our PM is a woman, this is the realm we should be meeting in. This is where it will get interesting.
I live in an area with a female Lord Mayor, Premier and Governor, in a country with a female Governor General and PM. Who would've ever have thought???