I've mentioned kale before here. I call it kale. Foodie types with an Italian affection call it cavalo nero. It looks like a more rustic, crinkly version of spinach, and is ssuuuuuuuuuper nutritious. Actually, here's a fact: Kale's one of the most nutritious superfoods on the planet, packed with chlorophyll, calcium, iron & vitamin A. Et-a-cet-er-a.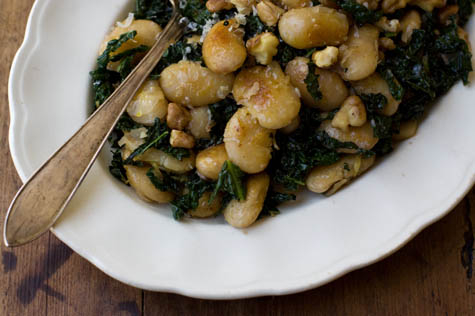 On Saturday I had breakfast at Sopra (if you've never been, you must….the one at Danks St Waterloo is the most divine space in Sydney, I think). I skipped the breakfast bit and had the shaved brussel sprouts with kale and poached egg. That's how much I love the stuff. (Pics below courtesy of spoon fork and chopsticks)
Kale's in season now (in Australia).
Buy it organic if possible. I buy it for $2.50 from Suveran in Bondi Junction…theirs is the best I've come across. But it's suddenly very fashionable and you can buy it in Woolies and Coles. As with most fashionable things. The stem is inedible, cut or pull the leaves off before cooking.
When I've been a bit crappy with my eating, I eat kale.
I juice it with grapefruit, ginger and beetroot. Or I eat My Stupidly Simple and Healthy Fridge Surprise Soup (see below). I make the soup in batches and freeze it, pulling it out for lunch or dinner when I need insta-health-boost.
My Stupidly Simple and Healthy Fridge Surprise Soup
Whatever veggies you've got lurking in the fridge – pumpkin, swede, turnip, celery (including the leaves), parsley, broccoli are best – chopped roughly. About 4-5 cups should do the trick. The more, the better. Also, onion and garlic. I also like to throw in some fresh tumeric (a VERY effective anti-inflammatory).
a bunch of kale, give or take.
some red lentils (washed, unsoaked)…if you feel you need the protein
500ml of stock (whatever flavour). I keep those litre packs in my cupboard. Any I don't use I pour into ice trays and use in stirfries later.

Bring stock and some water (about 500ml) to boil, chuck in veggies  (the harder ones, and the kale, first) and lentils. Simmer for about 20 minutes. Blend with a stab-mixer. Serve with either a blog of sheep's milk yoghurt or a swirl of hemp seed oil, or both. And a squeak of Himalayan rock salt. Freeze the rest in individual portions. Done.
These next two recipes, courtesy of the Health Emporium in Bondi, are also great.
Kale and olive gluten-free pasta


• 250g kale, finely sliced
• 400g dried (gluten-free) pasta
• 3 tbsp butter or olive oil
• 4 cloves garlic, finely chopped
• ½ cup walnut pieces
• ½ cup pitted black olives
• 2 tsp balsamic vinegar
• freshly grated parmesan cheese

Cook the pasta until tender. In the meantime, blanch the kale for 5 minutes in boiling water, then drain. Heat the butter or olive oil in a large fry pan, add the garlic, walnuts or olives, & cook for 3 minutes. Add the kale, drained pasta, vinegar, salt & pepper, mix well. Cook for a further 3 minutes, sprinkle with parmesan & serve.

Braised Kale (a nice n simple Sunday night meal)


• ½ large bunch kale, finely sliced
• 3 rashers bacon (or proscuitto), sliced finely
• 3 cloves garlic, finely chopped
• 3 tbsp olive oil
• 3 tsp red wine vinegar (or lemon juice)
• ¼ cup pine nuts, toasted
Put kale in a small amount of boiling water, cover & simmer very gently for 20-30 minutes, then drain. In the meantime, heat olive oil in a large fry pan, add bacon & cook until brown & crisp. Stir in garlic, fry gently for 2 minutes. Toss through kale, pine nuts, vinegar, salt, pepper & more olive oil if necessary, & cook for a few minutes.
Vegetarian version: leave out bacon or proscuitto & stir through finely grated parmesan.
Bruschetta: for kale bruschetta grill sourdough bread, brush with olive oil, rub with a garlic clove, & pile on braised kale.
This one is from 101 cookbooks:
Pan-fried Beans & Kale

1/2 bunch kale
2 tablespoons extra virgin olive oil
2 – 3 big handfuls of cooked large white beans (cannellini are good)

1/4 teaspoon fine grain sea salt
1/3 cup walnuts, lightly toasted
1 clove garlic, minced
1/8 teaspoon freshly grated nutmeg
1 tablespoon fresh lemon juice
zest of 1 lemon
1/3 cup freshly grated Parmesan cheese

Finely chop the kale, wash it, and shake off as much water as you can. Set aside. Heat the olive oil over medium-high heat in the widest skillet you own. Add the beans in a single layer. Stir to coat the beans, then let them sit long enough to brown on one side, about 3 or 4 minutes, before turning to brown the other side, also about 3 or 4 minutes. The beans should be golden and a bit crunchy on the outside.

Add the kale and salt to the pan and cook for less than a minute, just long enough for the kale to lose a bit of its structure. Stir in the walnuts and garlic, wait 10 seconds, then stir in the nutmeg. Wait ten seconds and stir in the lemon juice and zest. Remove from heat and serve dusted with Parmesan cheese.

Serves 2 – 4.
And, finally, these little snacktasticas. Everyone's obsessed by kale chips. I get it.
Kale Chips

3 or 4 large kale leaves, with stem removed and cut into 5cm pieces
2 tbsp apple cider vinegar
1 tbsp Olive Oil
A few pinches of salt

Preheat oven to 180 c and line a baking sheet with baking paper. Whisk together vinegar, oil, and salt, and toss with kale leaves. Place on tray. Bake 10-15 minutes, flipping halfway through until crispy. Do not overcook.