I predict that in the next year or so the big issue we'll be getting outraged about it is the amount of toxicity we ingest. On Sunday I'll be posting my Sunday Life column about how I got building biologist Nicole Bijlsma to do a toxicity reading on my apartment. But the crap we ingest via cosmetics and beauty products is deserving of a separate mention.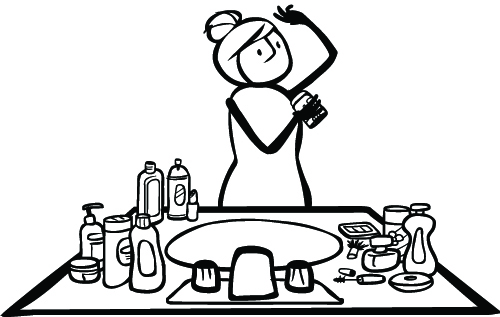 I've posted work by The Story of Stuff chick Annie Leonard before. This week she released The Story of Cosmetics, an 8-minute expose of what we're doing to ourselves when we apply mascara, shampoo, etc. You REALLY need to watch it (below). It coincides with the introduction this week of the US federal Safe Cosmetics Act of 2010 — the first attempt in more than 70 years to overhaul cosmetics regulations to eliminate the use of cancer-causing chemicals and other harmful ingredients.
A few things to chew on:
* Those "pink-ribbon" brands? Dozens of them rank an 8 or higher on the Skin Deep database's toxicity scale (10 is the worst)—including products that contain carcinogens and hormone-disrupting chemicals linked to increased cancer risk.
* The industry is not policed. Less than 20% of all chemicals in cosmetics have been assessed for safety by the industry's safety panel  so we just don't know what they do to us when we use them. A product can list in its ingredients "fragrance" or "parfum" and it could be anything, really. They don't have to declare. BTW, when "fragrance" or "parfum" are listed, it means they're trying to hide something… best to avoid.
* Lipstick poisoning. 61% of tested lipstick brands contain residues of lead.
* Natural much? On cosmetics labels, words like "herbal", "natural", even "organic" have no legal definition.  That means anybody can put anything in a bottle and call it natural.
* Our shampoo is making us fat. Toxins are fat soluble. So our little bodies, when put in contact with toxic substances, protects us by soaking up the toxins in our fat cells. More toxins… more fat cells.
So what should you be doing?
Annie provides these tips:
* Simplify. Use less stuff less often, and choose products with shorter ingredient lists and fewer hazardous synthetic chemicals (do you really need to spray "air freshener" around the house or sit in a tub full of toxic suds?) Want more tips? Visit safecosmetics.
* Just say No to Fragrance. It's best to avoid the mystery concoction known as "fragrance," [or parfum] made from a dozen or more secret chemicals. Everything has a fragrance these days, from make-up, to candles and even clothes. Check labels carefully; even "fragrance free" products may contain fragrance chemicals to cover up the odor of other chemicals. Nicole Bijlsma has provided this link on what ingredients to avoid in cosmetics.
* Read labels. Thankfully there are great resources online to help consumers make sense of confusing product labels. One of the best is the Environmental Working Group's Skin Deep database, which ranks products for toxicity on a scale of 1-10. It's friggen fascinating!!!
Me, I'm quite stumped on this issue. I don't want to toss what I already have in my house. That's too wasteful for me. But I am committing to no longer buying stuff with long lists of ingredients. Not easy. Anyone out there got some good tips? It's all pretty new? Anyone know if there are groups here in Australia acting to get legislative change here about labelling?
Share please! And I'll add to this post