I know this seems like a really daggy post. But stick with me, at least until the jump. It gets really interesting. See this quinoa recipe below, from 101 Cookbooks, an amazing resource for super healthy food ideas…I challenged myself to make it entirely from stuff pulled from my freezer. There are tricks and things to know…read on…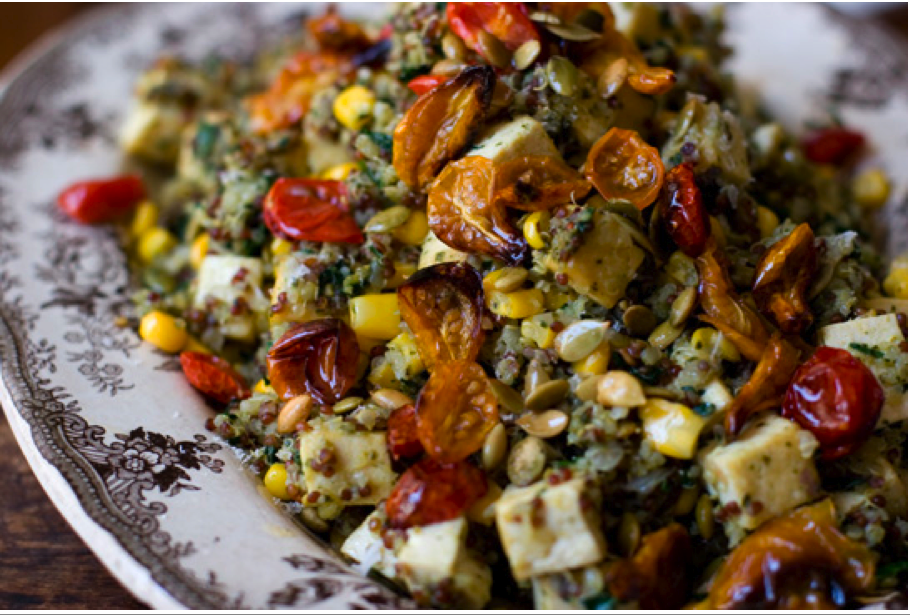 A full freezer is a green freezer
New York Times food columnist Mark Bittman is a mad freezer nut. He wrote recently in Oprah magazine that storing food in the freezer is actually economical because freezers work more efficiently when they're full…something to do with solids stay cold longer than gases, so keep the whole lot at a more consistent temperature. Rad. Mark pretty much stores everything in his – flour, lemons, fruit, bacon. I'm not far off.
Some stuff is better frozen
Frozen tofu, for instance, stirfries better. Also, many starchy vegetables, like corn and peas, are better frozen than "fresh". Starch breaks down as soon as the veggie is picked. Freezing stalls enzyme break-down. So those peas? They're frozen not long after they're picked and are in better nick than those that travel to the markets than to your local shop and then sit in your fridge for a few days…
But bear this in mind…
Watch out for freezer burn – make sure everything is covered, filling containers to the top. Sauces and pesto can be stored with a layer of oil on top. Cooked beans and rice  can be topped off with water.
10 Things to freeze now
1. Fruit: puree fruit that's about to go off in little batches, then add them to smoothies or porridge. Freeze berries or stone-fruit halves spread out on trays, then put into containers, so they don't freeze together in a block.
2. Stock: Me, I store my leftover stock (that I've made, or from one of those Tetra paks) in icecube trays and pop one out when I'm making a stirfry …for flavour and great de-glazing action. To save space, I sometimes reduce the stock and just add more liquid when I thaw it out.
3. Beans and grains: I cook my brown rice, quinoa, chickpeas, etc in large batches to about 90% done and freeze in batches, topping them up with a little bit of water or stock. Then they're ready to go for dinner, or porridge. Chickpeas and other beans are great – you can crumble off a handful as you need them, like peas.
4. Stock-making material: Mark Bittman provides this tip.

Scraps of poultry (most of the chicken parts we don't eat are good for stock), meat (again, especially the less-used, bonier parts) or fish (heads and skeletons in particular), vegetable trimmings, bones and more. Keep separate bags for each, adding to them when you can. Remember, though, that stock is not garbage soup: Carrot and potato peels, cabbage cores, and the like can be used, but in moderation. Animal organs are best avoided (fish gills and guts must be removed, and offal in general makes bitter stock).
5. Tomatoes: I cut fresh ones up into 1/8ths and freeze, breaking them off as I need them). When they thaw the skins slip off a treat. Nice.
6. Bacon: I'm addicted to the stuff. I slice off from the stack as I need it

7. Herbs: Again, Mark provides this tip – freeze in ice cube trays covered with water.
8. Vegetables: I buy organic veggies in bulk and blanche them to 90% done and freeze in portions, ready to throw in a salad or a strifry or with a rice portion and a tin of tuna for lunch. Kale, spinach and broccoli, I find, work really well.
9. Egg whites: I don't really have a need for this, but Mark rates it: If you make a lot of custard, or other recipes that call for a lot of egg yolks, you will have extra whites. Freeze them in batches of two or three for making meringues, macaroons or angel food cake.
10. Nuts: nuts and seeds work sooooooo well frozen. It keeps them really fresh. I like to eat them frozen as a snack. A great way to make use of those huge bags of almonds they sell in the supermarket cheaply.
So, the 101 cookbooks recipe. I made it (and make variations of) using all stuff from my freezer. It uses quinoa and kale, two of my favourite ingredients right now. Sometimes, for lunch, I just grap a portion of quinoa or brown rice, a portion of kale and some frozen peas, toss in a few capers and at lunch I heat it all up together and toss over a tin of Greenseas tuna. Snappy!
Kale and Quinoa Recipe
a splash of extra-virgin olive oil
a pinch of fine grain sea salt
1 shallot, minced (this can be stored in ice cube trays)
3 cups cooked quinoa (see my post for instructions)
1 cup corn,
1 1/2 cups kale or spinach, finely chopped
2 cups extra-firm nigari tofu, browned in a skillet a bit
1/3 cup pesto
1/3 cup pumpkin seeds, toasted
1/4 cup roasted cherry tomatoes

In a big skillet or pot heat the olive oil and salt over medium-high heat. Stir in the shallot and cook for a minute or two. Stir in the quinoa and corn and cook until hot and sizzling. Stir in the kale and then the tofu, cooking until tofu is heated through. Remove the skillet from heat and stir in the pesto and pumpkin seeds. Mix well so the pesto is spread throughout. Turn everything out onto a platter and top with the cherry tomatoes.
Serves 4 – 6.
** To roast cherry tomatoes: Heat oven to 350F degrees. Cut each tomato in half and arrange in a large oven-proof baking dish. Mix together a big splash of olive oil, a spoonful of brown sugar, and a few pinches of salt – pour this over the tomatoes. Gently toss them a bit, making sure they all get coated, finishing with each tomato facing cut-side up. Place in the oven and bake for 45 mintutes or so, until the tomatoes are shrunken and sweet.