I get "city fever" a hell of a lot.
I'm always saying to friends, "I need to get out of Sydney". And so I take off for a weekend. Or a week. Or a month. I guess it's a bit to do with growing up in the country. But I think it has a whole lot to do with the kind of life I (and many of you) lead – frenetic and up close with rarely a view of the horizon.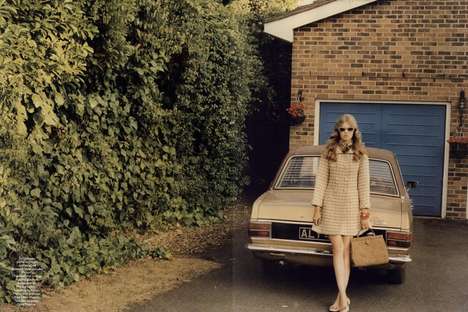 I need to see an horizon to get perspective. And so I do road trips.
They're not always road trips. Sometimes, they're train journeys. Or bike trips. But they always have a destination, require a map and involve camping or pubs in small towns where the crickets are louder than the traffic.
Last week I did a road trip through northern NSW, around the Tweed hinterland area, along parts of the The Rainforest Way. It was sublime and the area is a perfectly cultivated area for a road trip – solo or with others.
I went solo.
A Tweed Valley Road Trip:
This is what I did, in case you'd like to do something similar. I like sharing recommendations about, so I'll give a blow-by-blow account which you might like to save.
I should also highlight that NSW Tourism organized the trip for me, but I was not a guest as such of any of the places I recommend, so they're true recommendations.
Day One: Byron at Byron and a gin martini in the rain
I flew into Gold Coast, hired a peanut of a car and headed south to Byron. And checked into Byron at Byron.
I'm not a resorty, retreaty, spa kind of girl. I prefer more rustic digs where I can do my own thing. So I wasn't as excited about Byron at Byron as I should have been.
B at B is the retreat for the anti-retreaty. The accoutrement are here – the massages, the steamrooms, the yoga classes – but they don't work to a stringent timetable. You can choose to use the facilities or you can choose to simply to be there. And not get too earnest. And not be on a schedule. And instead hang in the rainforest. The accommodation is all about jutting you out into the bush with sunlight and gumtrees and lyrebird cracks seeping in through the louvres and meshed balconies. I also like that they have kitchens. You can self cater. Or you can walk the long boardwalk through the rainforest to the restaurant with chef Gavin Hughes who uses local produce in his bright, fun meals (be sure to have the Bangalow pork!).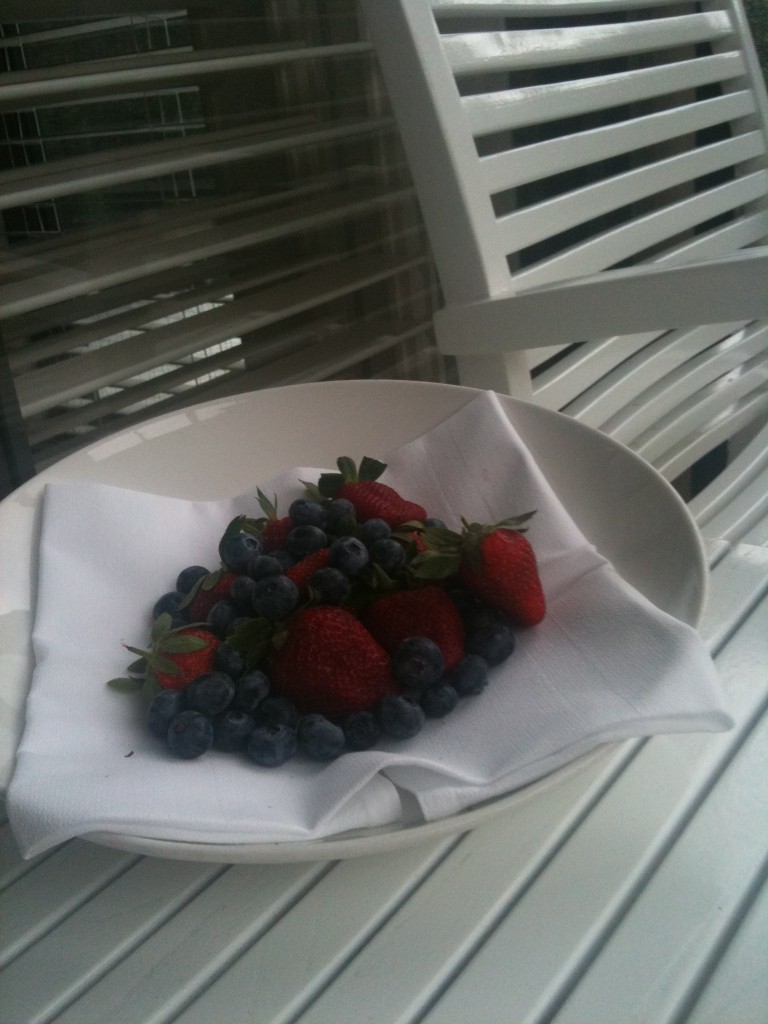 I got still. And sat for a bit. Then went for a very slow shuffle along Tallow's beach, just through the rainforest from my bungalow.
A slow shuffle at sunset in the rain: now that's good for the soul!
I shuffled without getting my heart rate up too much and concentrated on grounding myself into the sand and the sea, and kept going for an hour. I got into a rhythm and just stared out to the horizon.
I felt in a different headspace so I didn't want to do something I'm meant to, like have dinner at 7.30pm. So I drove into town and had a gin martini with olives at St Elmo (buzzy, very Melbourne tapas bar with a good wine list and a great place to sit on your own; corner Fletcher St and Lawson Lane). I sat at the bar as it rained outside. And watched the handsome waiters do their earnest wine thing. Have you read Jean Paul Sartre's The Waiter? A good book to read while sitting at a bar alone with a martini watching handsome, earnest waiters.
It's good to do something that doesn't fit what you'd normally do. Just a small off-kilter move is enough to inject freshness. And a little bit of melancholy and aloneness (rain and martinis can fuel such a state nicely) can get everything feeling real and earthy.
Back at B on B I got room service steamed veggies and read Teach Us to Sit Still (about a dude with prostate issues who's cured through meditation).
In the morning I did their meditation walk through the forest…a lovely walk with rich quotes en route. Checked out. Got on the road. With a map. And a destination.
A tip: If you're looking for ideas or inspirations, ask Lyn the manager of B at B. She knows stuff. And is a mother hen. Who likes to help EVERYONE!
Day two:  meadows, Eltham Valley Pantry and luxury camping
Here are some things I saw along the way from Byron, via Bangalow, through the hinterland to Clunes and Eltham.
Back on the winding, single-lane road through dairy country and forest again…I wound my way through towns called Mooball and Crabbes Creek, past old Post Offices converted into organic produce shops, to Mount Burrell, past Uki. And settled into my luxury tent at Silk Pavilions. These are essentially big army-style tents erected on a wooden platform overlooking a valley with wallabies grazing and Mt Burrell. Right there. In front. There's a king-sized bed and a chandelier and an outdoor bath made from an old barrel. There's a veggie garden – you can pick snow peas and tomatoes for snacks. Sue and John who built the tents and live just up the hill can deliver BBQ hampers. I joined them and the local farmers at the pub/café down the road – the Sphinx Rock Café. They do dinners on Friday nights and it was exactly the experience I felt like – you dine outside at a communal table and the food is all local produce. Try to make it on a Friday night if you can. Fun and wholesome. I had local chicken green curry with brown rice and poppadoms and shared red wine with the farmers under the stars and talked about their kids while dogs ran underfoot. So happy. So happy.
I showered by candle light. And slept sound.
Day three: Radio National, bush runs and Mavis's Kitchen
In the morning I did yoga on the deck in the mist. John rumbled down in his ute and dropped off a breakfast hamper with pawpaw from the property. And I read Jonathon Frazen's Freedom in the sun.
Then it was time for some bush running.  I drove up Border Ranges National Park and shuffled through the forest for an hour or so, pretending I was a Kalahari bushman. What a stellar park. And hardly a soul up there. Ancient and gnarly and gloriously dramatic with Antarctic Pines.
One of the things I like most about road trips: listening to Radio National on long roads. It's daggy and esoteric and a wonderful reminder of how passionate humans get about all kinds of things. So I listened to Radio National the whole way. And learned things.

Enthralled by some new genome project discovery in Sweden, I wound back down the hill and back through Uki and on to Mavis's Kitchen at the base of Mt Warning. I shall dotpoint everything you need to know about Mavis's Kitchen. But perhaps you just need know this: I ate lunch here and my heart leapt with joy and fulfillment. Travel vast distances if you must to experience this place.
–       Mavis's Kitchen is a majestic old Queenslander that owners Charlie and Pete (who owned Harley Street Brasserie) literally moved from the Gold Coast and planted here. And set up as a restaurant, with a guest house. And named it after Charlie's mum.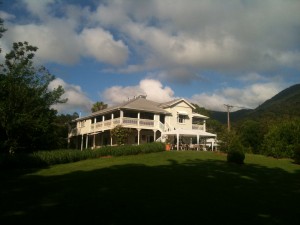 –       You sit on the wide verandah and read the papers. And listen to the cicadas. And wander Charlie's garden.
–       Charlie loves gardening and the menu is an expression of whatever it is that spurts forth from the volcanic earth surrounding the kitchen.
–       Eat the duck. I've read about these ducks. They're from A.J's farm. A.J. from what I can tell tends his ducks by hand, following them around his lush property down the road. This is the duck: with a raspberry sauce, asparagus and a smashed potato.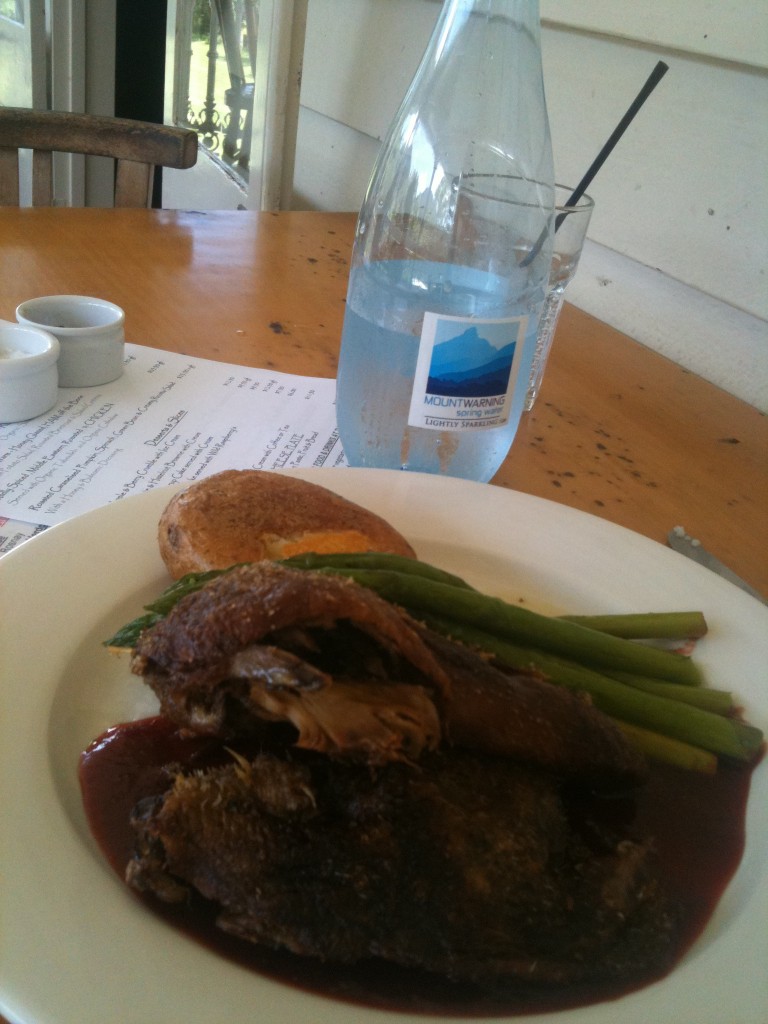 –       The wines are mostly organic. The mineral water is from Mt Warning.
–       You can stay in the guesthouse if it's free. It wasn't the day I was there, so I stayed at some eco lodges nearby.
Day 4: A climb, a wander and home
Now here's the thing. Mount Warning, in the Mt Warning National Park, is a standout bushwalk. The face of the mountain is the first spot to cop the morning sun in the country and it's meant to be amazing to climb it pre-dawn.
But, here's the other thing, the local Koori people don't like to climb it for spiritual reasons, and ask the rest of us to do the same, to "respect" the mountain. What to do? I asked everyone in the area and the sense I got from people was that the operative issue here was "respect". I decided I'd climb most of the way, not all the way. And to be mindful of the significance of the mountain. I felt a bit torn and not entirely comfortable about it. It wasn't a bad discomfort to go through…it got me thinking about the issue broadly. All that said, the climb is extraordinary – 10km roundtrip, with last leg requiring chains to pull yourself up with.
Anyway, that was that. And I drove slowly through the Tweed Valley, through towns called Happy Valley and Tumbulgum to the airport. And then home.
The NSW Tourism tagline I just noticed is "See where it takes you". A lovely invitation, I think. That's the beauty of a road trip…you're just seeing where it goes. No expectation. Nothing to achieve. Let's just see. It's kind of like handing it over to fate/the Gods/the day…and letting things unfold as they need to. All you have to do is journey along a road and look out a window. It's freedom! And, yep, gleans perspective!
If you want to do this trip, feel free to ask me questions…or try your own version. There are some beautiful routes through the hinterland region mapped out at The Rainforest Way.
Or visit NSW Tourism's site. Also feel free to post your trip suggestions below…where have you been in NSW? What areas are perfect for a meander?