I'm shifting my eating a little at the moment. I'll post more on this shortly. But in a nutshell: I'm on a protein mission. When I eat a solid portion of protein at lunch, I'm not hungry until dinner. Again, I'll explain soon.
In the meantime. I just ate this for lunch, prepared in my office kitchen (a microwave…which isn't ideal…but…): two eggs and some Parmesan cheese shavings whisked with a fork in a bowl with a nob of butter, microwaved for a minute or so. I sprinkled basil leaves (chopped), cherry tomatoes, witlof leaves (chopped) and olives on top and stirred through the "omelette". Then poured anchovy oil (I keep the jar of oil after I've eaten the fish) over the top. Holy yum!
Another trick I'm into: taking in ziplock bags of frozen par-cooked broccoli (I do in bulk when it's cheap at my organic veggie shop) and leaving in the office fridge. Then I bring in a quarter of a roast chook (from dinner the night before). I heat a little. With salt and pepper. Plus quarter of an avocado. Happy.
I asked a few of my nutritionist mates for their favourite lunches. My gorgeous e-pal Aran at cannelle et vanille provided this one: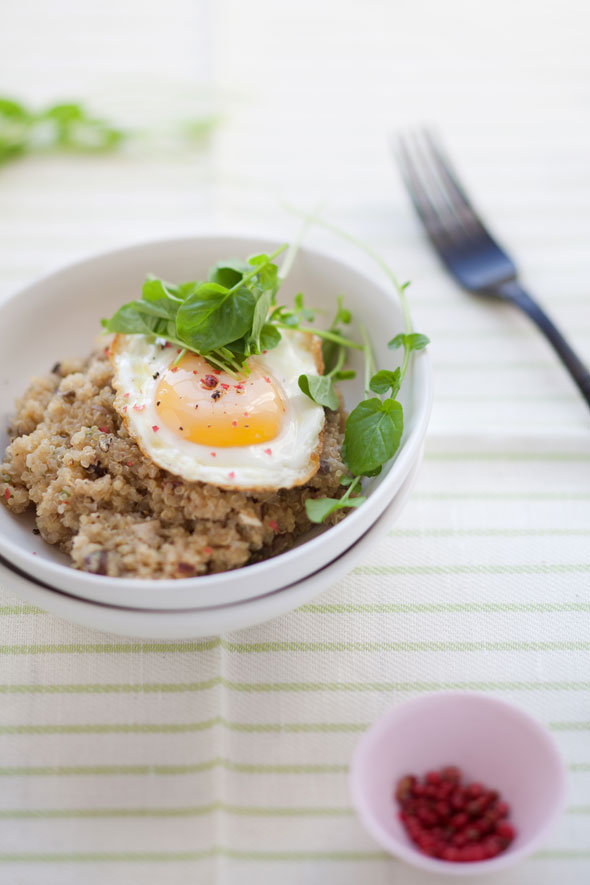 Mushroom, Walnut Quinoa with Fried Egg and Watercress Salad
2 Tbs olive oil
1 clove garlic, minced
1 cup mushrooms (shiitake, oyster and baby bella)
1 cup quinoa, rinsed
2 cups chicken stock
1/2 tsp salt
1 Tbs mascarpone
1 Tbs walnuts, chopped
1 Tbs fresh parsley, chopped
1 Tbs chives, chopped
Eggs, to fry
Watercress to garnish
Salt and pepper to taste
In a medium pot, heat the olive oil and saute the garlic and mushrooms on medium heat for about 2-3 minutes. Add the quinoa and stir for about a minute. Add the chicken stock and salt and bring to a boil. Reduce heat to a simmer, cover and cook for about 15 minutes.
Remove the pot from the heat and add the mascarpone, walnuts, parsley and chives. Adjust seasoning.
Gently cook the eggs in a little bit of olive oil and serve on top of the quinoa. Dress the watercress with olive oil and place on top of the egg.
Nat Kringoudis makes this spiced chickpea & carrot salad: Heat 2 tablespoons of olive oil in a small frying pan over a medium heat. Add 2 cloves of crushed garlic, 1 teaspoon ground cumin, 1 teaspoon ground coriander and 1 teaspoon of paprika. Cook for 1 minute and then pour spiced mixture over a 400gm can of organic chickpeas (rinsed and drained of course). Toss chickpea mixture with 2 coarsely grated carrots, 1 tablespoon white wine vinegar and 1 tablespoon of honey.
Zoe Bingley-Pullin gets super simple with this quinoa ensemble: Quinoa (1/2 a cup cooked and cooled), sheep's yoghurt and chopped dates with nutmeg. Simple, and easy, and delicious!
Emma Sutherland shares this Detoxification Salad:
1 red capsicum
1 cucumber
1 carrot
1/8 red cabbage
40g broccoli sprouts
50g rocket
50g spinach
50g cos lettuce
1 teaspoon black sesame seeds
1 can sustainable fished tuna
½ avocado
Dressing Ingredients
1 teaspoon seeded mustard
1 teaspoon red wine vinegar
Juice of one lemon
100ml extra virgin olive oil
½ teaspoon Dulse flakes
Cracked pepper
Use a mandolin to finely slice the capsicum, cucumber, carrot and cabbage. Put in a large bowl. Add the rocket, spinach, cos lettuce, broccoli sprouts and black sesame seeds. Gently mix together. Cut avocado into slices and add to bowl. Drain tuna and add to bowl. Combine all dressing ingredients in a glass jar, shake vigorously and pour over salad. Mix dressing through the salad until all salad leaves have a shiny appearance. Fill a large salad bowl and enjoy.
Any tricks you want to share? Especially ones involving less than 5 ingredients?