Everyone keeps asking me for lunch ideas…here you go.
I love making a hash of my lunch. Hashes are all about efficiency and sustainability and heightened flavour. For me they entail mixing up leftovers – grains, meat, beans, vegetables – from the night before and frying them with some cheese and/or an egg and tossing through some fresh herbs for zing. I also like to squeeze lemon on mine, to cut through any saturated flavours. And invariably I throw in capers. Oh, and some chia seeds! See what you think of these hashtastic ideas: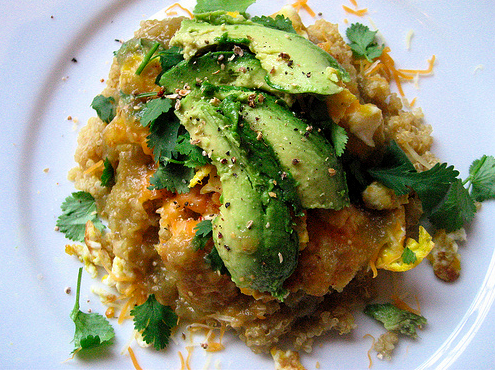 Eggs (two per adult, one per child. For a family of four, I cook six eggs.)
A spoonful of butter or olive oil
An avocado
Shredded cheese of your liking
Coriander (or something similarly green. Chives may just be equally delicious.)
Salsa
Seasoning of your preference
Cook your eggs as you usually do. I cook mine in a weird-wackadoo way which consists of cracking the eggs over the pan and letting them sit for a few seconds before kind of mixing the yolks and sort of pushing it around for three minutes before it's cooked through.
Sprinkle the eggs atop the quinoa [me, I'd personally toss the quinoa through the eggs and the cheese – Sarah] then add a few pinches of shredded cheese, ASAP so it melts from the heat.
Then top with chopped coriander, avocado, salsa and seasoning for taste.
ps: Rebecca's site Girl's Gone Child is so much fun.

Mushroom hash with black rice
This dish is via The New York Times…I'd have it with a poached egg I reckon.
2 tablespoons extra virgin olive oil
2 shallots, finely chopped
2 stalks celery, finely chopped
2 pounds mushrooms, stems trimmed, chopped
2 garlic cloves, minced
1/4 cup dry white wine
1 teaspoon fresh thyme leaves
Salt and freshly ground black pepper
2 tablespoons tomato paste, dissolved in 1/4 cup water
1 cup cooked black rice (optional but recommended)
1/4 cup chopped flat-leaf parsley
Poached eggs for serving (optional)
Heat the olive oil over medium heat in a large, heavy nonstick skillet. Add the shallots and celery. Cook, stirring, until tender, about three minutes. Raise the heat to high, and add the mushrooms. Cook, stirring often, until they begin to color and stick to the pan, about five minutes. Turn the heat to medium-high and cook, stirring often, until the shallots and celery are tender, juicy and fragrant, five to eight minutes.
Add the garlic and stir for a minute, then add the wine, thyme, salt and pepper. Cook over medium heat, stirring often, for five minutes. Add the diluted tomato paste, and cook for about five minutes, pressing the mixture down into the pan, then waiting for a minute until the surface begins to brown, then stirring and pressing it down until the surface browns again. The mixture should be lightly colored and the tomato paste no longer discernible. Taste and adjust seasoning. Stir in the rice and parsley, heat through and serve — topped with a poached egg if desired — with crusty bread and a salad.
Serves four.
The hash will keep for three or four days in the refrigerator.
some more delicious hashy recipes:
Vegetable hash with poached egg