Continuing with the One Thing series… From time to time I come across humans who just astound me with their whimsy. They do something a bit you're-not-meant-to-do-that. I've noticed there's usually One Thing that prompted them, or motivates them, or keeps them happy and therefore whimsical. I'm always busting to tap them on the shoulder and ask, "What's your One Thing".
Gala Darling: my one thing is 'radical self love'
I first met Gala when I was editing Cosmo. I'd seen her blog and loved her writing style and gave her a column in the mag. She then moved to New York, I moved on, but we've stayed in touch. She now earns an income from her blog and the related projects she's involved in via her following.  She's a very special, quirky!!  person. Who has remained true to her soul. And the world has come to her. When she shares a tip for how she keeps it real, you want to listen up!

Sarah: So, what's your One Thing?
Gala: Radical self love. It's my mission, my message, my raison d'être.
Sarah: The One Thing that explains your One Thing?
Gala: It's the most important part of the work that I do.  I write & speak on a slew of topics, from fashion to entrepreneurship, & radical self love is the always the one which receives the loudest, most ecstatic response!
Really, truly loving yourself is radical, simply because it's the opposite to what most people are concerned with!  You only have to look around to realise that most people are living desperately boring & deeply dissatisfying lives.  When you love yourself, you won't accept anything less than what you really desire.  It opens you up to opportunities you could never dream of.  It completely transforms your entire existence.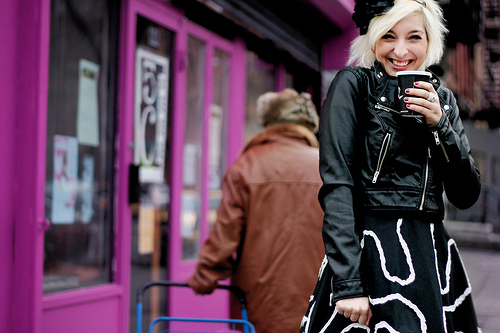 Sarah: Your One Trick that you do that never fails to make your life matter more?
Gala: Engaging in a state of gratitude as often as possible, & further to that, documenting it.  I do this on my site, weekly — it's a feature called Things I Love Thursday — but I also do it whenever I need a boost.  If I'm standing in a queue at the supermarket & getting frustrated at the person in front of me, or my feet hurt, or whatever, I dare myself to come up with ten things I'm really happy about.  It sounds so Julie Andrews & simplistic that you'd think there's no way it could possibly work, & yet, it does.  Every time.  It has improved my life so much!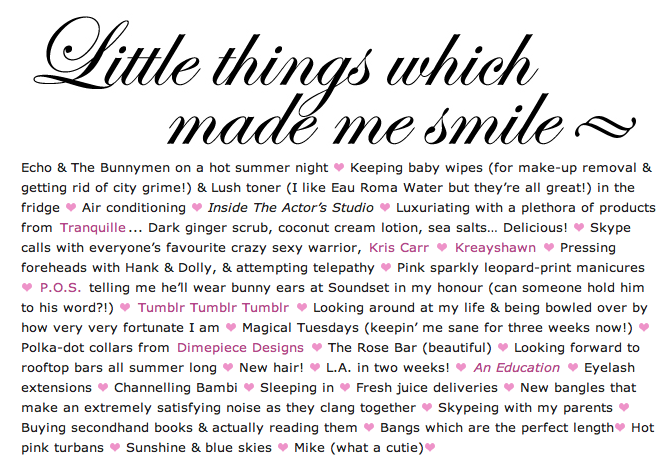 Sarah: The One Thing you do to care for your creative soul?
Gala: Travel.  It is 100% necessary to my creativity & zest for life!  In fact, I'm writing this from a plane bound for Los Angeles!  If you ask me, there's nothing better than getting out of your comfort zone, inhaling some new smells, & walking down unfamiliar streets.  It is true soul salve.  Travel doesn't have to be expensive or overly-orchestrated, either.  Getting on your bike & investigating a new neighbourhood can be just as invigorating as a trip to Miami! It's all in the attitude.
Sarah: The One Thing you'd like to share
Gala: Russell Simmons — co-founder of Def Jam, transcendental meditator & yoga practitioner — wrote this amazing book on business called Do You!, which is one of my favourites.  It's really smart & true.
Follow Gala's whimsical explorations here.
Her tumblr here.
And her radical self love book here.