If you're keen on quinoa (pronounced keen-wah), I've written a bit of a cheat sheet on how to cook and eat it before, and I've also posted additional quinoa recipes here. I'll be honest, a quinoa post always gets folk going, so I've posted some extra recipes…each has a fun twist and all are great for lunch.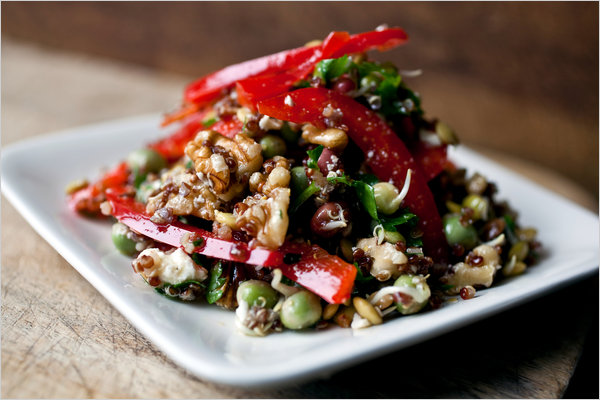 Tara Parker-Pope recently wrote about quinoa on the NYT wellness blog, and shared some clever recipes from Martha Rose Shulman, three of which I've pulled out to share. I love the lentil sprouts and the gluten-free tabbouleh rendition. And the idea of cooking up a whole lot of quinoa and using it for the different dishes over the week. Enjoy!
Quinoa, lentil sprout and rocket salad

(serves 4 – 6)
This recipe uses lentil or sunflower sprouts, which have a peppery flavor. I posted on how to make lentil sprouts the other day.
3/4 cup cooked quinoa, preferably the red or black variety
1 cup sprouted lentils or sunflower seeds
4 cups tightly packed rocket
1/4 red bell pepper (capsicum), sliced thin
1/4 cup broken walnuts
1/4 cup crumbled feta
2 to 3 tablespoons chopped fresh herbs, like dill, tarragon, chives and parsley
For the dressing:
1 tablespoon fresh lemon juice
1 tablespoon sherry vinegar or red wine vinegar
Salt and freshly ground pepper
1/2 teaspoon Dijon mustard
1 small garlic clove, puréed with a pinch of salt
6 tablespoons extra virgin olive oil, or use half olive oil and half grapeseed oil
Combine all of the salad ingredients in a large bowl.
Whisk together the lemon juice, vinegar, salt and pepper, mustard and garlic. Whisk in the oil. Toss with the salad, and serve.
Advance preparation: Cooked quinoa will keep for four days in the refrigerator. The dressing can be made several hours ahead of serving.
Quinoa and Silverbeet cakes

(serves 4)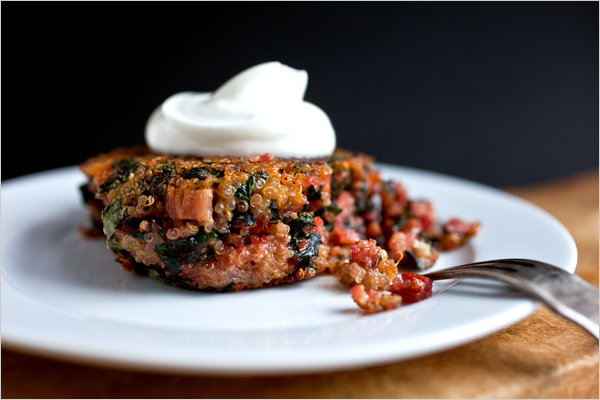 Top these cakes with yoguhrt spiked with puréed garlic.
1 1/2 pounds (600g) Swiss chard (silverbeet), washed and stemmed (do not discard the stems)
2 tablespoons extra virgin olive oil
2 plump garlic cloves, minced, or 2 teaspoons minced green garlic
2 teaspoons cumin seeds, lightly toasted and ground
Salt and freshly ground pepper
1 cup cooked quinoa
1/3 cup freshly grated Parmesan
1 egg, beaten
1 tablespoon canola oil
For serving:
1/2 cup plain yoghurt
1 garlic clove, puréed with a generous pinch of salt
Fill a bowl with ice water. Bring a large pot of water to a boil, salt generously and add the chard leaves. Blanch for two to three minutes until tender, then transfer to the ice water. Drain, squeeze out excess water and chop medium-fine. Add the chard stems to the water, and cook four to five minutes until tender. Transfer to the ice water, then drain and cut in 1/4-inch dice. Measure out 3/4 cup of the stems, and reserve the rest for another purpose.
Alternatively, steam the chard leaves, then the stems, above an inch of boiling water until tender. The leaves will take three to four minutes, the stems five minutes.
Heat 1 tablespoon of the olive oil over medium heat in a medium or large skillet. Add the garlic. When it is fragrant, in 30 seconds to a minute, stir in the chard leaves and stems and the cumin. Stir together for about a minute, and season to taste with salt and pepper. Transfer to a large bowl, and add the quinoa, Parmesan and egg. Stir together.
Heat the remaining tablespoon of olive oil and the canola oil together over medium-high heat in a large, heavy skillet. Moisten your hands, and shape the quinoa and chard mixture into four hamburger-size patties (or make smaller, fritter-ish patties). Carefully place the patties in the hot oil, taking care not to crowd them in the pan. Press down on the tops of the patties with the bottom of your spatula to prevent them from falling apart; if they are thick enough, they should stay together. Cook for four to five minutes on each side until nicely browned. Remove from the heat and serve.
Variation: Substitute 2 pounds bunch spinach for the chard. Stem and wash the leaves (discard the stems) and wilt, in batches, in a large frying pan in the water left on their leaves after washing. Proceed as instructed.
Advance preparation: The cooked chard and cooked quinoa will keep for four days in the refrigerator. The mixture will keep for a day.
Rainbow Quinoa Tabbouleh
(serves 4 – 6)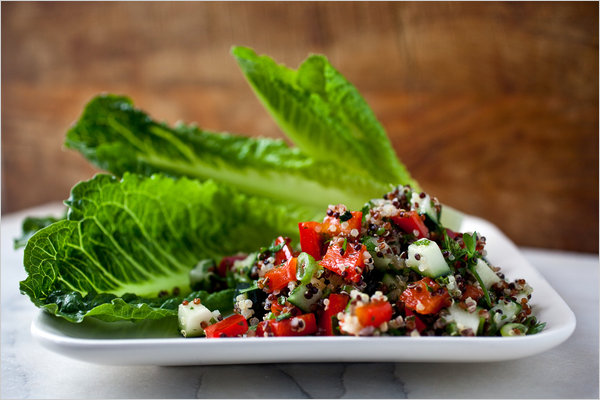 1 cup rainbow quinoa (a mixture of equal parts white, red and black quinoa)
3 cups water
Salt to taste
1/2 cup fresh lemon juice
1/2 teaspoon ground cumin
1/4 cup extra virgin olive oil
1 cup finely chopped flat-leaf parsley
1/4 cup finely chopped fresh mint
1 bunch scallions (green shallots), white part and green, finely chopped
1 red bell pepper (capsicum), chopped
1 cup finely diced cucumber
Small leaves romaine lettuce, for garnish
In summer: 1 pound ripe tomatoes, cut in small dice
Rinse the quinoa thoroughly, and combine with the water and salt to taste in a large saucepan. Bring to a boil, cover and reduce the heat to low. Simmer 15 to 20 minutes until the quinoa displays a little white spiral. Drain through a strainer, tap to remove excess water, then return the quinoa to the pot. Place a dish towel over the top of the pot, and return the lid. Let sit for 15 minutes. The quinoa should now be fluffy.
Transfer the quinoa to a large bowl. Mix together the lemon juice, salt to taste and cumin, and toss half of it with the quinoa. Allow the quinoa to cool. Combine the remaining lemon juice and olive oil, and toss with the cooled quinoa. Add the remaining ingredients, except the lettuce leaves, and toss together. Taste and adjust seasoning. Serve on a large platter or in a wide salad bowl, garnished with the lettuce leaves.
Advance preparation: The cooked quinoa will keep for four days in the refrigerator. You can make the salad several hours ahead and refrigerate.