I've posted on the whole vata thing before – it's an Ayurvedic diagnosis for A-types who move and talk fast, get flighty and unearthed easily, as well as, well, get toxic. You know, joint-achy and congested and bogged up.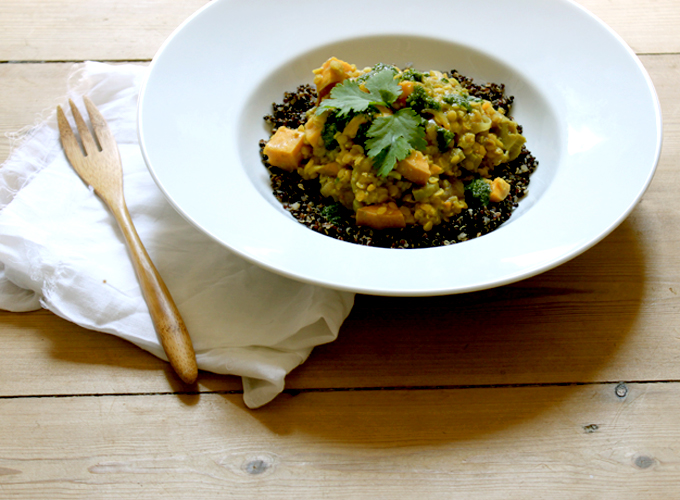 Me, basically.
And many of you, I suspect. I made the point in my previous post that contemporary culture has made us vata-ish.
Anyway, this time of year it's VERY important to eat right for the vata type. That is to eat warm, mushy foods. Root veggies are great. Salads are not. A bit of sweetness is also good (root veggies satisfy this criteria, too). And so it was that I found this recipe on my new favourite food blog My New Roots (thank you to Ness at thelowflygingduck). It combines all the things we Vata's need right now, PLUS the added bonus of coriander (cilantro).
Why coriander? What's the big deal? Well, I recently found out I have high levels of heavy metals in my system (remember the toxic cosmetics story? Yeah, well…the toxic reading was quite extensive…I have mercury poisoning, too). To deal with this, one has to "chelate". I'm doing it with Chlorella powder. Which has been interesting. I spent a week throwing up and racing to the loo in the most violent of manners as it did it's work. It's calmed now. And besides this is a Tuesday Eats food post!
The other effective technique is to eat a stack of coriander.
Which is what makes this recipe so good – it makes use of a massive whack of the green stuff…
Rhubarb and sweet potato stew with coriander oil
1 cup red lentils
2 Tbsp ghee or coconut oil
1 Tbsp mustard seeds
1 Tbsp ground cumin
1 tsp turmeric
5 cardamom pods
1 star anise
1 tsp cayenne (or to your taste)
1 ½ cups diced onions
2 Tbsp Tamari
5 cloves garlic, minced
3 Tbsp fresh ginger, minced
1 large sweet potato, cut into bite-size pieces
7 stalks rhubarb, cut into bite-size pieces
5 cups water
1 to 2 Tbsp. honey
Sea salt and freshly ground black pepper
Steamed brown rice, quinoa, millet, or toasted whole-grain pita, for serving
Wash lentils well by covering them with water in a large bowl and swishing around until the water is murky. Drain and repeat until water is clear (usually 3 to 4 times). Set aside.
Melt the ghee or coconut oil in a large pot on the stove. Add the dried spices and stir constantly, ensuring that they do not burn. When the spices smell fragrant, add onions and tamari and cook for about 5 minutes until the onions have softened. Add the garlic and ginger. If the mixture is too dry, add a little water to prevent burning.
Add remaining ingredients, cover and simmer until lentils are cooked, about 30 minutes. Stir in the honey and season to taste with salt and pepper.
Serve over steamed brown rice, quinoa, millet, or with whole grain pitas. Drizzle with Coriander Oil (below).
Coriander Oil

1 cup chopped fresh coriander
¼ cup extra-virgin olive oil
1 Tbsp freshly squeezed lemon juice
1 tsp honey
Pinch sea salt
Add all ingredients to a blender or food processor and blend in high until the sauce is relatively smooth. Season to taste. Serve over stew. Store leftovers in the fridge.
I also liked My New Root's warm salad recipes, like this one…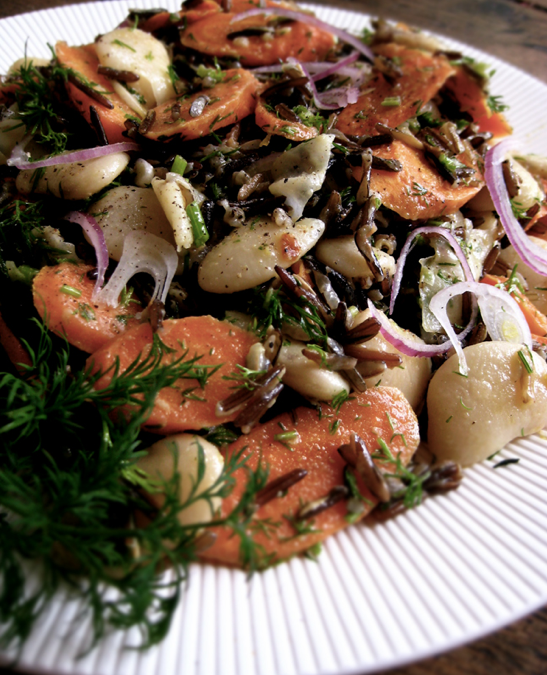 Have you chelated? Got any other great rooty, Vata-kind eating ideas you're trying out now?