One of my favourite things to do is to come up with a meal from… nothing. It's a sport. And I find myself competing in it often because I travel almost weekly and have to empty my fridge of random ingredients. Oh the thrill of it!?!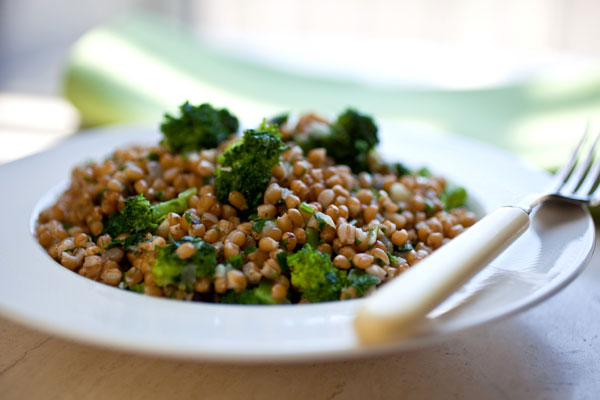 So I always have a few staples on hand that can stretch out the random fridge surprise ingredients. Eggs, tinned tuna, tinned sardines,  frozen spinach, peas and broccoli (I steam, bag and freeze myself, as explained here), capers and activated nuts and seeds (which I keep in the freezer…they keep longer and stay crisper).
Me, at the moment I'm loving these ideas:
* Freezer spinach, pea and parmesan surprise: Take two cubes of frozen spinach (I buy the one that comes in a pack of 6 cubes) and a handful of frozen peas in a bowl and microwave (I know, not ideal, but frozen spinach is dodgy in a pot and this meal works best in a microwave) for a minute or so. I drain a little water out and stir through one egg and some grated Parmesan (which I store in the freezer) and heat for another minute or so. Breakfast!
* Mushroom mush: I saute mushrooms in a pan and some shaved ham (I keep a container in the fridge for such moments) and swirl through some lightly forked eggs, a splash of milk and some chia seeds.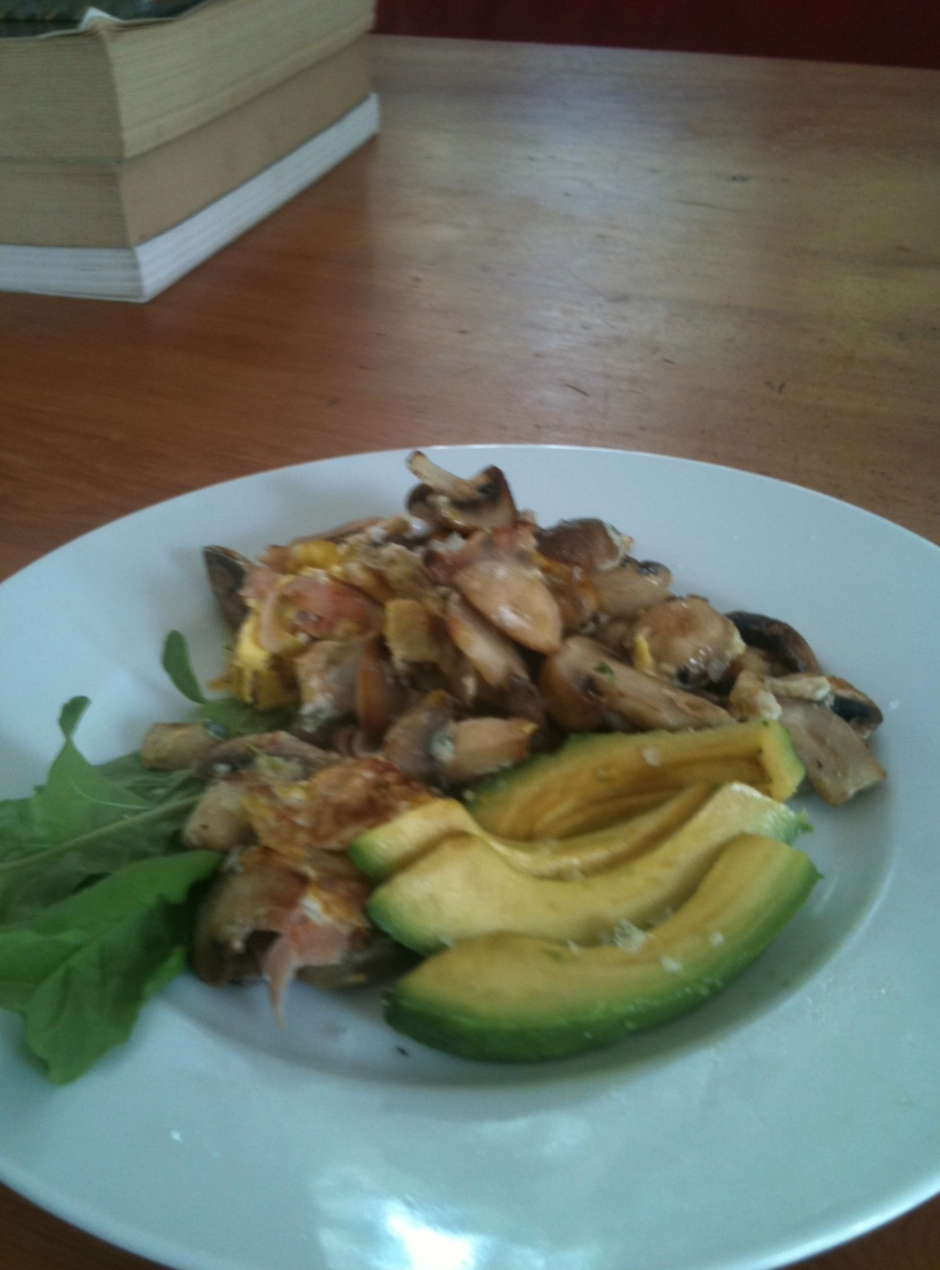 * Broccoli and ….: I steam broccoli cut up pretty fine (as mentioned I do this in advance – a head or two at a time – put in containers and freeze ready to grab) and add:  some shredded chicken (I buy 1/2 a chook and use it across 3-4 meals), a few anchovies and some garlic, a tin of tuna and an egg…I swirl it through the hot broccoli and it "cooks" into a cheesy bind. Sometimes I toss in some finely cut celery  and swirl through some whole-egg mayo (sugar-free). And some activated pepitas (again, which I keep in the freezer). And bang. Lunch. Or breakfast (the other day I took it on the plane with me on my way to Sydney at 9am).
* Meffins (meat, veggie and egg muffins): I came across this in a Westin A Price newsletter – brown 500g pork (or beef, but pork is milder) mince in a pan. Set aside. Then saute a cup of chopped leftover veggies – onion, carrot, pumpkin, peas – (using the fat in the pan from the pork). In another bowl beat 12 eggs and add meat, veggies, 1 cup cottage cheese, herbs and spices (I use fresh sage and thyme). Spoon into a 12-cup muffin tin, sprinkle with cheese and cook 15-20 minutes in a 180 degree oven.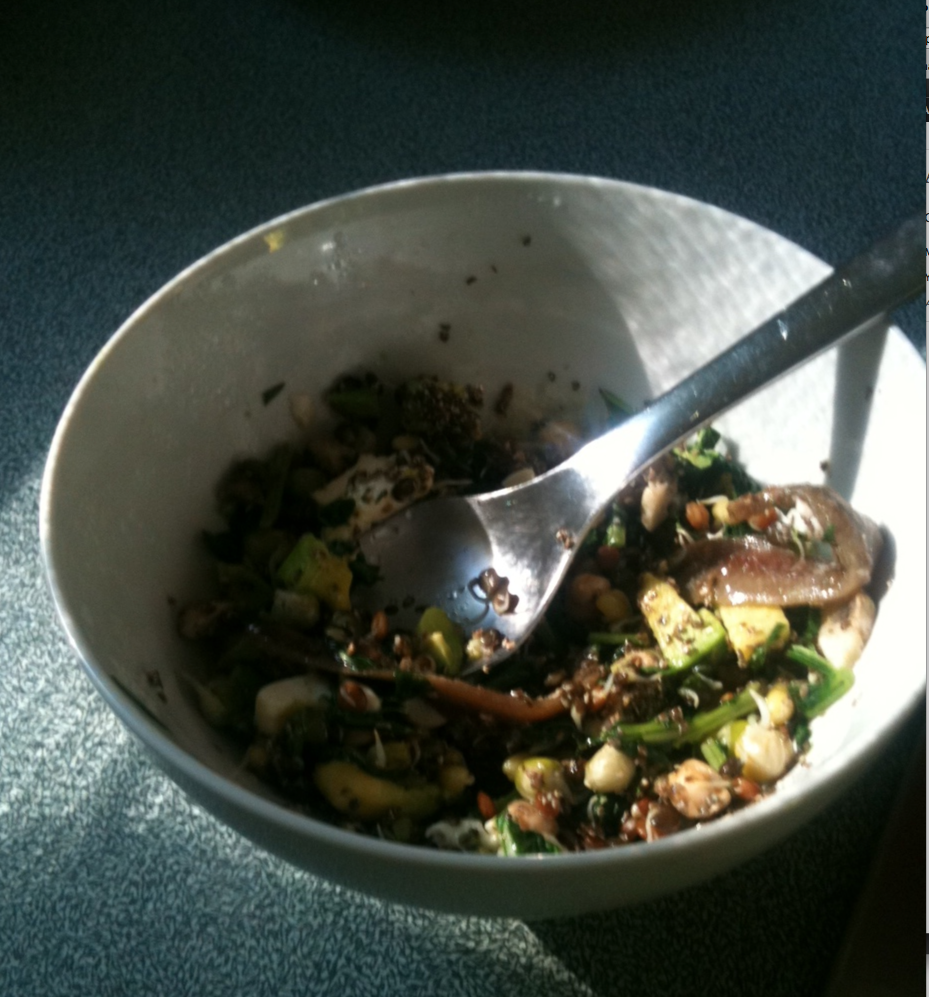 * handy tip: I toss chia seeds through many of these kind of meals…they soak up any excess liquid and make the meal seem weightier and goobier. They also add instant protein and fibre…a boon if you're travelling a lot and need to make sure you're getting enough of both.
My favourite new foodie blogger Lee Holmes has supplied this mish-mash recipe for Veggie Omelettes.

Lee says:
Vegie omelettes are boundary free, you can use any vegies that you have in your fridge, or even leftovers from the night before, as well as herbs to create a colourful, nutrient-rich and satisfying meal in minutes. If you're low on veg then throw in some frozen spinach for added greens.

Chop the vegies into squares, along with two sliced garlic cloves, whisk two large eggs in a bowl add the vegies to the eggs with a pinch of celtic sea salt and freshly cracked pepper. Pour mixture into omelette pan and cook on medium heat until set. Turn onto a plate, sprinkle with nutritional yeast flakes and enjoy!
Oh, and a while back I posted seventeen of my best cooking tricks for wellness which prompted a bunch of you shared some fantastic mish-mash meals with me. Here's a few:
Sarah shared this: I save the tough leek tops, broccoli stems, and any other random bits of veggies (that I would have thrown away) to make stock. When I buy cauliflower, radishes, carrots, beets, or otherwise, I always buy with the greens attached and add them to salads! I add spices to EVERYTHING.
A seriously quick lunch from Narelle Chenery (the chick behind Miessence):  I pour some water (1/2 cup) into a saucepan, stuff it full of whatever leafy greens I have on hand (beetroot greens, kale, spinach, collards, anything green and leafy from the markets, or chopped fennel or celery), lay a piece of raw chicken breast or thigh over the top, sprinkle with herbs and spices (ginger and turmeric powders are a great combo), put the lid on and steam on high for about 5 minutes, or just until the chicken is cooked through. Seriously quick and seriously delicious. Plus, low fat, low simple carbs, high protein, high complex carbs.
Lara said "I stick blend bio yoghurt, rice milk, whey powder, a handful of frozen berries (this time of year I add them first with a little hot water to defrost), chia seeds, coconut oil, and barley greens and blend them up to make a yummy smoothie daily – brilliant breaky or post-workout/recovery drink.'
Here's a great savoury gluten-free scone recipe from Pip that uses up some mashed pumpkin:
1 cup brown rice flour
1 cup buckweat
2 tsp baking powder
1 tsp vege salt
1 tbsp grated onion
1 beaten egg (or 1/2 cup cold pressed oil)
1/2 milk (i use rice milk)
1/2 cup mashed pumpkin
Combine, place spoonfuls onto baking tray and cook in hot oven for 10 mins
Tiff listed a few of her favourite tricks as well: To use up leftovers I grate the vegies that lurk in the fridge at the end of the week, and mix with eggs and almond meal to make quick and healthy veggie patties. Sometimes I mash in some lentils or chickpeas. (Can you tell I hate waste!?)  Black swan vanilla bean greek yoghurt is a godsend for the sugar free life. It is naturally sweet because lactase is added to break down the lactose in the milk, making it taste sweeter. Tonight I had some with grilled figs for dessert. Walnuts and goji berries mixed together as a snack, just cos it tastes ahh-mazing! Porridge made from homemade muesli (oats, linseeds, almond, pepitas, sunflower seeds, soya grits).
For more 'clean out the cupboard' recipes go here.
Feel free to add your ideas too!