As readers of this blog might know, I can't do gluten or sugar, which makes breakfast tricky. If not toast or porridge or muesli or fruit, then what? Eggs. And more eggs.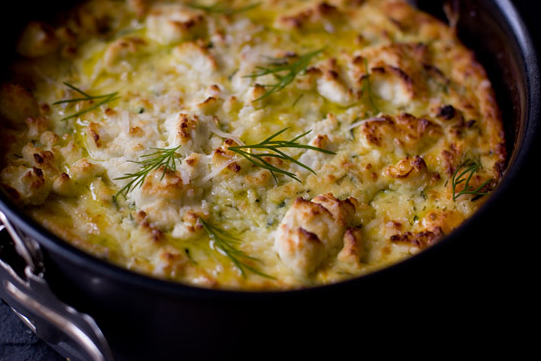 zucchini ricotta cheesecake, via 101cookbooks
Not a sad predicament, but variety is required. Lately I've also been experimenting with cutting back on grains overall. I'm not wholly paleo (caveman diet follower); I tend to follow Weston A Price's eating ideas (although not strictly). I can see merits in not eating so many carbs…doing so does curb my cravings…which I have problems with. I still eat carbs, just not as many.
So back to breakfast…no sugar, no gluten and… less grains. A challenge? Yes, but one I'm up for.
Tell me what you think of these ideas, and please add your own.
Zucchini Ricotta Cheesecake
I use a springform pan, but you could use an equivalent baking dish or deep tart pan as well.

serves 8
2 cups zucchini, unpeeled & grated
1 teaspoon fine grain sea salt
2 1/2 cups ricotta cheese
1/2 cup freshly shredded Parmesan cheese
2 shallots, chopped
2 cloves garlic, chopped
1/4 cup fresh dill, chopped
zest of one lemon
2 large eggs, well beaten
1/3 cup goat cheese, crumbled
drizzle of olive oil
Preheat oven to 170C degrees. Butter/oil a 7-inch springform pan.
In a strainer, toss the grated zucchini with the salt and let sit for ten minutes. Now aggressively squeeze and press out as much moisture as you can. Set aside.
Combine the ricotta cheese, Parmesan, shallots, garlic, dill and lemon zest. Stir in the eggs and mix. Now stir in the zucchini. Fill the pan with the mixture and place on a baking sheet and in the oven and for sixty minutes. Sprinkle with the goat cheese and return to the oven for another 20 -30 minutes or until the goat cheese is melted and the cake barely jiggles in the center (it will set up more as it cools).
Let cool five minutes, then release the cake from its pan. Serve at room temperature drizzled with a bit of olive oil and a few sprigs of dill.

Chia Omelette
I stumbled upon this idea when making an omelette where I'd put in too much milk by accident. I added chia seeds to soak up the liquid (I do the same with casseroles and soups…a few teaspoons get everything nice and thick again). Lee Holmes at Supercharged foods, it turns out, does the same, so I thought I'd post her instructions.
1 tsp olive oil
2 eggs
1 tsp chia seeds
Basil and oven roasted tomatoes
sea salt and black pepper to taste
Beat eggs for one minute then add chia seeds.
Warm olive oil in omelette pan.
Pour mixture in and swirl until thinly covered.
Cook on medium heat and then fold.
Remove from pan and serve with basil and tomato.
Season with sea salt and freshly ground black pepper.
Spinach "Bread"
Also from Supercharged Foods, this spinach bread recipe is delicious, and with a video to boot!
(Makes approximately 10 slices)
6 packets frozen chopped spinach, thawed and drained (no additives)
1 egg, beaten
1 tsp crushed garlic
Salt and freshly ground black pepper
Preheat oven to 200 degrees celsius.
Grease baking tray or ceramic roasting pan.
Mix together spinach, eggs, and garlic in a bowl.
Season with salt and pepper.
Spoon mixture into prepared pan and flatten, pressing down with fingers.
Bake for 15- 20 minutes or until set.
Allow to cool slightly then using a knife or pizza cutter slice into 10 rectangles.
Use a spatula to remove individual slices from pan.
Wrap slices in freezer wrap and freeze until ready to use.
Coconut granola
4-5 tbl butter or coconut oil
3 cups coconut flakes
1 cup chopped or ground almonds (pref activated ones…see my recipe here)
2-4 tbs rice malt syrup
1 cup each of crispy cashews and pecans or walnuts (see my recipe here)
Mix all ingredients in a bowl, spread evenly on baking paper on a tray and bake in a preheated oven at 120 celsius. When golden, pull out and cool immediately (to get it crispy).
Homemade Socca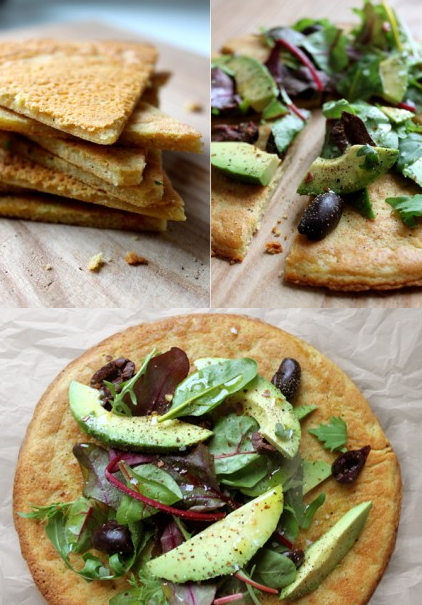 I've been making this recipe for a while. I sometimes make a similar pancake (with eggs and a little milk). Chickpea flour is also called besan flour and it's not technically flour – you'll find it at some supermarkets and it's cheap.  Whole Living posted the recipe below and provided this little tip:
If you have the time and the foresight, I highly suggest mixing your socca batter well in advance to aid digestion. Much like soaking beans and legumes before cooking, soaking the flour (especially if it is raw) will undoubtedly help your body break down the complex starches in ground chickpeas, and will aid in mineral absorption.
(Makes about three seven-inch soccas.)

1 cup chickpea flour
1/2 tsp sea salt
1/2 tsp freshly ground black pepper
1 ¼ cup lukewarm water
3 Tbsp extra-virgin olive oil
Ghee or coconut oil, for pan
In a large bowl, sift chickpea flour, salt, and pepper. Whisk in warm water and olive oil. Let sit, covered, for as many hours as possible (making this before you leave the house in the morning is perfect for making socca for dinner), but at least 30 minutes.
Place heavy (preferably cast-iron) skillet in oven and preheat to 230 C.
Remove skillet from oven. Add a knob of ghee or coconut oil to the hot pan, and pour batter in a steady stream until it reaches the edges of the pan. Bake for 8 to 10 minutes or until the pancake is firm and the edges are set.
At this point, you can flip the socca, or set it a few inches below your broiler for a couple minutes, just long enough for it to brown. Cut into wedges and serve hot, with toppings of your choice.
Grain-free breakfast bars
1 1/4 cup almond flour
big pinch of salt
1/4 cup coconut oil
1/2 cup coconut shredded
2 1/4 cups of nuts and seeds (pref activated ones… see my recipe here)
1/4 tsp baking soda (baking soda is always gluten-free, baking powder sometimes isn't)
4 tbls of stevia (or 1/4 cup rice malt syrup)
1 tsp vanilla extract
Combine the dry ingredients in one bowl, the wet in another. Then pour the dry into the wet. Press into a greased baking dish and bake at 180 C for 20 mins. Cool and cut. To make a crispy version, place the "bars" back in the oven (once cut) for another 10 minutes.
Also see a great meffin (meat and veggie muffin) recipe here.
And my frozen spinach and egg creation here. I'm a little obsessed with this right now. I sometimes add mushroom as well (and pop in the microwave with the rest).
And some previous breakfast creations here and here.
Do you have any simple ideas to share?