I have an obsession with frozen peas. I add a small handful to almost every meal. They are instant sweet starch and can balance out rich salty kicks like olives and anchovies (which I consume a lot), and pad out all kinds mish-mash meals, like curries and omelettes.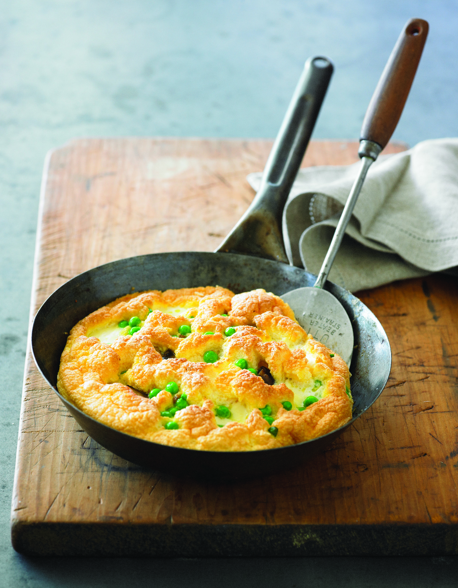 I tell you, I'm yet to find a meal that can't be improved with a frozen pea!
Anyhow. I was recently sent a copy of chef Michael Moore's Blood Sugar and was elated (!) to find these two recipes brimful of peas. I first met Michael when I filled in for Kerri-Anne one day, and then again hosting the Morning Show. He's owned big restaurants around the globe (including Summit in Sydney) and recently collapsed from a stroke at a dinner party. He had diabetes. Which fired him up to develop the Blood Sugar lineup of nutritious recipes. He's kindly offered to share two very pretty lunch recipes here (he's used fresh peas…feel free to substitute with frozen). I've also posted a few of my favourite Things to Do With a Pea below. Feel free to contribute to my homage…
mushroom, pea and bocconcini omelette
1 tablespoon olive oil
1 clove of garlic, crushed
120g mushrooms, quartered
90g fresh peas
3 egg whites, lightly beaten
2 egg yolks, lightly beaten
sea salt and freshly ground black pepper
4 baby bocconcini balls
Heat oil in a small non-stick skillet and cook garlic and mushrooms for 2-3 minutes. Add peas and cook for a further 2 minutes.
Carefully fold beaten egg whites and yolks together. Season with salt and pepper. Pour over mushrooms and peas and allow to set for 15 seconds on the bottom of the pan.
Drop bocconcini over the top and place directly under a hot grill (broiler) for 2 minutes, or until puffed up and cooked through.
Serve wedges with crusty sourdough or linseed bread.
Serves 4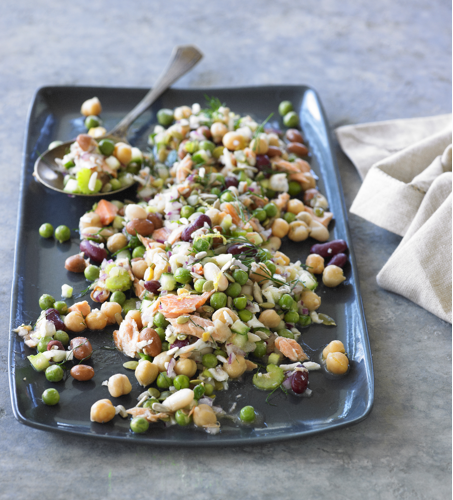 the power salad
1 x 150g can chickpeas
1 x 150g can 3-bean mix
1 large red onion, finely diced
1 green apple
2 large celery sticks
2 carrots
juice and zest of ½ lemon
6 egg whites
1 cucumber, diced
1 cup fresh podded peas
½ bunch dill, leaves picked
180g hot smoked salmon, flaked
1 tablespoon each pumpkin and sunflower seeds
2 tablespoons olive oil
low-fat fetta cheese to garnish (optional)
Rinse and drain chickpeas and mixed beans. Place into a bowl with finely chopped red onion. Using a juicer, juice apple, 1 celery stick and 1 carrot. Mix with lemon juice and zest. Pour this juice over chickpea, bean and onion mix, cover and refrigerate overnight.
Lightly beat egg whites and pour into a large hot non-stick skillet. Cook a few minutes each side, then turn the omelette out onto a board and roll up. Allow to cool and slice finely.
Drain the chickpeas and bean mixture. Place into a large bowl, retaining the liquid. Add 1 diced cucumber and 1 diced carrot with all remaining ingredients.
Whisk half of the reserved liquid with olive oil and drizzle over the salad to serve. Crumble fetta over the top if desired.
Serves 4
Chef's note: Hot smoked salmon is available in most good supermarkets and delicatessens. Alternatively, you can use fresh cooked salmon or trout.
my pea ideas…
* stirfry finely chopped mushrooms, onions and peas (a sublime combo) and toss through two beaten eggs, for breakfast
* try this freezer surprise, too.
* throw into a curry, any curry, ALL curries. Particularly good with pumpkin curries.
* ricotta, mint, peas = quick salad. Add shallots or rocket, too.
* an easy lunch: steam broccoli in a steamer, throw in peas in the boiling water underneath, then put some shreaded roast chook and some shallots on top of the broccoli for the final 30 seconds to heat through. Drain. Toss with some whole-egg mayo in a bowl.
* steam some shredded fennel and peas then place in a heat-proof dish with some Parmesan cheese on top and grill until crispy. I ate this last night with some grilled whiting (multi use of the grill!)
Want to add your own ideas here?