I'm a big fan of Sally Fallon and her "bible" Nourishing Traditions (in fact it's my all-time favourite manual…I VERY much recommend it). She's an adherent to the Weston A Price way of living, which is similar to Paleo living, which is similar to how I eat (I've personally found it the best approach for my auto-immune issues).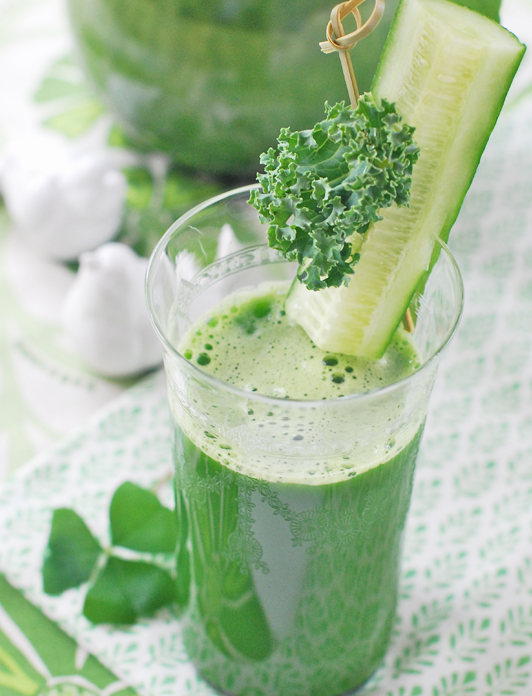 Anyway, in a recent edition of WAP's Wise Traditions Magazine (by Jen Allbritton), they ran a rundown on the best tricks for eating breakfast based on Sally's principles. So I've shared a few below. I recently shared a post on how to eat breakfast without sugar and grains…this kinda builds on it. I know a stack of you were interested in reading more. Yeah?
5 Weston A Price breakfast tricks:
fats and protein should be the featured nutrients, as they are critical for brain chemistry balance (these include egg, meat, fish, full fat dairy including yoghurt, kefir, nuts and seeds, coconut oil, butter, avocados).
fruit, veggies, tubers and whole grains make a wonderful side note.
make at least a portion of breakfast food easily digestible through soaking grains, or sour leavening, culturing dairy, fermenting fruits and vegetables.
don't rush. Relax through your morning meal.
plan ahead.
Some breakfast favourites from fellow WAP foodies:
Sally Fallon: bake no-nitrate bacon in a pan with fruit (such as apple slices, apricot, peaches or nectarines, or with cherry tomatoes and mushrooms). Serve with eggs of any style – scrambled, fried. Enjoyed with a glass of raw milk. Breakfast tonic favourites include swedish bitters, beet kvass, cod liver oil, high vitamin butter oil mixed with warm water.
Jill Cruz: try this berry smoothie – three tablespoons of raw yoghurt, two tablespoons of raw cream, one half cup of fresh berries, two/three raw egg yolks. Blend and drink. If you leave out the yoghurt, increase the cream to 3/4 tablespoons and only add 2 egg yolks, it turns into a lovely mousse that you can eat with a spoon!
Jen Allbritton:  my favourite is a one-skillet veggie egg scramble. Saute veggies (whatever is handy – something like a mix of onion, cabbage, carrots, zucchini, and peppers) in plenty of butter or coconut oil. Once the veggies are soft, drop in two eggs and mix in. Flip the mixture until the eggs are cooked through. Accompany with feta cheese, raw cherry tomatoes and a clump of raw sauerkraut.
I've been cooking these:
I posted these breakfast ideas on Twitter recently: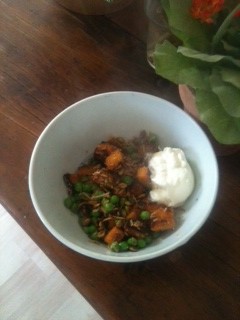 This one is pumpkin cooked off in coconut oil (when you sprinkle a little salt on pumpkin in the pan, it softens and cooks nice n fast), cinnamon, toasted pepitas (tossed in towards the end with the pumpkin), coconut (tossed in right at the end; it toasts super fast) and frozen peas (added in the bowl). I ate it with sheeps milk yoghurt.
And the one below is warm sprouted peas (I always cook them a little in a pan with some chicken stock that I keep in the freezer in the iceblock tray; click here for my directions for making sprouts), avocado, spinach, chia seeds, corn (left over, hanging in the fridge), anchovies and fetta!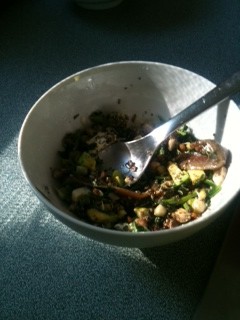 Some recipes that you provided:
Pip: I make a breakfast 'salsa' which can really be made from anything on hand. I generally have boiled eggs in the fridge, so I start with one or two of those, and chop them up. Then I add chopped avocado, tomato, fresh parsley (or coriander), kale or baby spinach (wilted if I have time, fresh if I don't), sometimes some meat (salmon, bacon or ham) and sometimes some lemon or lime juice. Just chop into chunks, toss and eat! Looks good, is light but filling and transports well to work too.
Mia: I love eggs with a dash of chilli powder (to wake you up!) with a side of avocado and tomato. Occasionally bacon also. Yuuuum.
Caitlin: Pear and Cinnamon compote with coconut cream: Peal, core and chop 3 pears. Toss in saucepan with chunk of organic butter, splash of cinnamon, handful of coconut flakes, goji berries and/or sultanas. Heat on low for around 10 mins depending how mushy you want your pears. Serve with dollop of coconut cream or yoghurt if desired! Warming and lovely for winter.
Kate:  Handful each of frozen raspberries and blueberries (thawed). Large handful of nuts (I rotate between almonds, macadamias, walnuts and pecans). Small handful of pepitas. Half a tablespoon of chia seeds (soaked in water overnight to aid digestion). Half a teaspoon of cinnamon. Pinch each of nutmeg and cloves. Small handful organic coconut flakes. Coconut milk – enough to mix plus a little more if you like. Mix and eat!! YUMM!
Amy:  I have been making this sort of thing into a quick and easy mug muffin. Mash .5-1 banana in a mug, mix in 1 tablespoon Almond Meal + a dash of cinnamon, a sprinkle of Sultanas and 1 beaten egg. Mix it all together. Pop in the microwave for 90 seconds and Voila! Mug Muffin, sans grains, dairy and refined sugar. These are great as a quick Pre/Post workout meal. And they can be made the night before and eaten cold too. Just make sure they cool completely before you put them in a tuppaware container or the moisture makes them a little soggy. Another option for those who can't do sugar, but would like some carbs/starch, is to add mashed Sweet Potato instead of the Banana. And then spread some nut butter on it to beef it up a little bit more. Just like conventional muffins, you could really put almost anything in them.. Pumpkin, Zucchini, Berries, Apple etc
Alejandra:  A shake made with 1/2 refrigerated and 1/2 frozen coconut milk (I freeze it in ice cube trays), unsweetened cocoa powder, cayenne, turmeric, ginger, cardamom, black pepper, and a bit of celtic salt. The spice is just fantastic. Another option is some mushrooms diced really tiny and sauteed with butter, onions, and tarragon. (Something about the tarragon is especially lovely with mushrooms).
 PS Alejandra, love the coconut milk in ice cube tray idea! And Amy, Mug muffin! That is awesome!