When things that were a big part of my life have a birthday I'm taken aback. Twenty years!? Thelma and Louise!? I first saw Thelma & Louise smack-bang in the middle of my vocal feminist period. I was women's officer at my university. I ran a mountain bike group (for men and women…but mostly to get women into it) and set up rape support and eating disorder programs. In 1994 I took a scholarship to study women's studies in California. Do people do such things anymore?!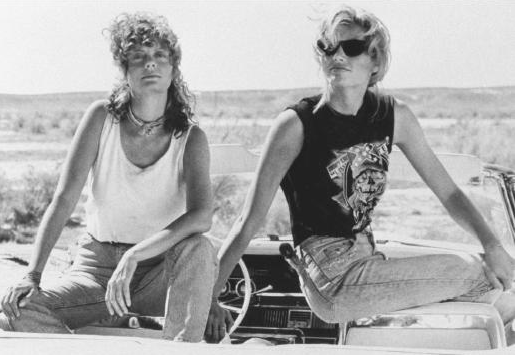 I loved this movie. I loved the strong women with their muscle t-shirts and bad-ass jeans. Their friendship, which wasn't girly or sappy or based around a wedding. It was robust.
I loved the end. When they have to choose between being arrested (and facing the death penalty) and flinging off a cliff. Something about what they did (fling… we're led to presume) left me feeling, "Yes, that's what life is about". Even if it's the last few minutes of it.
Atlantic ran a great read on how the film was the last great film about women. They make a really compelling argument. Slapped me in the face. Especially the bit about where women are at today. The stats are American but the Australian ones are much the same. That is, they explain why movies about chicks are so rare and only ever involve weddings:
US Stats:
in 2011, the number of women in Congress dropped for the first time since 1978.
in 2010, women held only 15.7 % of board seats and 14.4 % of executive officer positions in Fortune 500 companies.
the number of women working as writers and directors on prime-time television programs dropped significantly in the 2010-11 season.
women now account for only 15 % of writers on the major television networks' prime-time dramas, comedies, and reality shows, down from 29 % in the 2009-10 season.
only 11 % of directors in this year's television season were women, and only 25 % of series creators, producers, executive producers, directors, writers, editors and directors of photography were women, representing a decline of two percentage points from last season.
AUST stats:
in 2010, women made up just 4.9 % of all directors of media companies, which was down from 8.3 % in 2004, according to a survey by the federal government's Equal Opportunity for Women in the Workplace Agency.
women held 14 % of executive management positions in the media industry, which was down from 15.4 % in 2004, although still better than the national average of 10.2 % across all sectors.
a Media survey of 15 boards of commercial media companies and public broadcasters backs this result, finding 13 of them have between zero and two female directors. (The exceptions are the ABC and SBS, which each have four women on their boards.)
Thelma: "Something's crossed over in me and I can't go back." We taste another way. There is no way we can turn back. I get that. It's small to turn back. We have to jump. Fling. Fling into life, not away from it.
And their jump? This from the screenwriter Callie Khouri:
We did everything possible to make sure you didn't see a literal death. That you didn't see the car land, you didn't see a big puff of smoke come up out of the canyon. You were left with the image of them flying. They flew away, out of this world and into the mass unconscious. Women who are completely free from all the shackles that restrain them have no place in this world.

The world is not big enough to support them …

I loved that ending and I loved the imagery. After all they went through, I didn't want anybody to be able to touch them.
Anyway, just a rant. The world is not big enough to support women…or anyone…who chooses their own way. Who flings towards life and away from everything that chases them. I know I would jump.