Phew! Yes. Indeed. I've been working on this ebook for months now. And now it's ready and I'm a little bit scared, but ultimately really happy to be able to share something that has truly changed my life. I hope you enjoy it….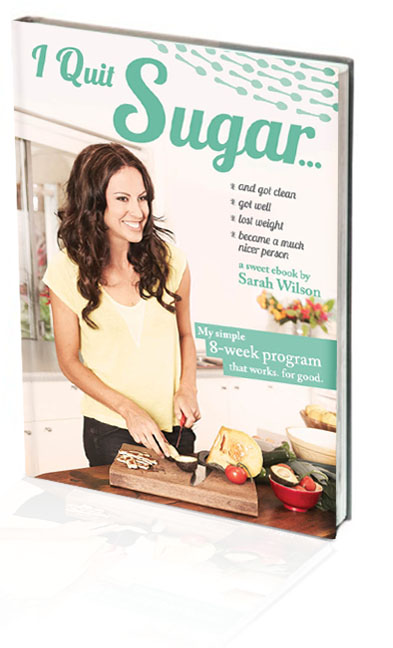 I quit sugar: a simple 8-week program
by Sarah Wilson
If you've thought about quitting sugar, tried different ways, but can't quite cut the ties… this ebook is your sweet, effective solution.
in eight weeks get clean + vibrant + yes, lose weight
Inspired by my own personal experience, my work as a health coach, and from some of the best experts from around the world, I Quit Sugar is practical week-by-week guide full of tips, recipes, advice and inspiration to quit the sweet stuff – for good.

Curious?
If you want to know a little more before you buy, go here and I give a little more info.
Love the design?
Well, thank you. Actually, I have some very special women to thank for that. Siri, Emily and Anna fromRed Handed Studio are responsible for the feel, the vibe, the super clever info-graphics (you'll need to read the book to know what I mean…but they've GONE TO TOWN with some really kooky culinary treatments). Designing an ebook full of different grabs of info and making it readable IS A SKILL. And involves love and passion. These ladies have oodles of both. Ask for their portfolio – a blend of illustration and design prettiness – to see more of their work. You'll certainly be seeing more of it here on my blog!