Me, I get a little tired of food types banging on about their amazing eating habits. I mean, I MUST really annoy some of you with all my "sprout this", "slow cook" that rants. So perhaps I should mention, I also eat in food courts. And at 7-Eleven. Because I get really hungry and I move about a bit and just have to eat and not be too precious sometimes.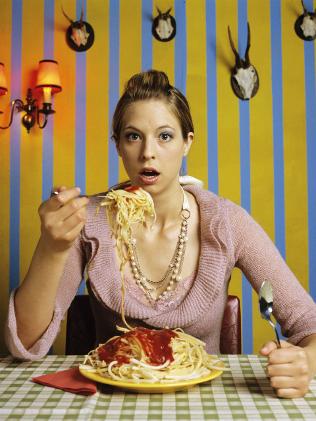 I approached some of the food types who contribute on this blog and asked if they'd come clean with their on-the-run eating  tricks. We all do it. Eat crap and live to see another day!
Mine are thus,
* I avoid Thai (the coconut cream is great, but it's full of palm sugar). Greek is great. Pubs are my favourite. Indian is OK (coconut cream with less sugar!)
* At food courts, I eat meat. Kebab joints – the straight up meat (with their salady stuff). The beef stew. etc. These stews are likely to have homely ingredients (my experience dating chefs is that Mum makes these dishes and keeps it pretty unadulterated). I avoid anything with sauce, or bready stuff and steer wellllllll clear of salad bars with dressing.
* If you eat sandwiches, ask for it to be made up with your ingredients – pre-made ones are full of gunky sauces. Ask for mustard. Full fat cheese and tuna, toasted, is pretty safe.
* At corner shops/ 7-elevens:  I like Kat's advice below – just buy the dark chocolate and be done with it.
* Soup is always a good option. Again, often made simply and sometimes by a Mum.
* I've written about what I eat when I'm traveling here.
But over to the others now…do add your ideas below!
Thai
Lee Holmes is author of Supercharged Food: I usually order a chicken and cashew nut dish and ask for no sauce.  I say I'd just like to have it stir fried with garlic.  If you're ordering a curry you can ask for it without sugar too and most Thai restaurants are happy to accommodate you.
Kat Eden is a nutritional coach, an author, and a motivational speaker: I eat chicken and cashew nut stirfry with vegetables as my main dish. I usually ask for sauce on the side and either avoid it altogether or use just a little bit. Most of these sort of sauces will contain gluten, so if you're looking to remain gluten free it's best to avoid them. I do occasionally order prawn spring rolls, and will usually pull off most of the pastry. For me, given that I rarely eat this sort of food out, I tend to treat it as a semi-treat meal.
When it comes to Vietnamese food, one of my favourite (and healthiest) dishes to enjoy is a mango and prawn salad. This usually comes with a fresh chili sauce, which you could also order on the side.
Nat Kringoudis is a doctor of traditional Chinese medicine, acupuncturist, natural fertility educator, writer and blogger: Salads are great although if you are sugar free, dressings can be chocked with sugar so asking for salad with a lemon wedge works for me (no dressing) and a steamed piece of fish.  I just try to keep it simple – the more complicated you make the order, the less likely you are to get what you ask for.
Zoe Bigley-Pulin is a nutritionist and chef:  Thai beef salad, beef or chicken satays, dry curries (without coconut milk) all served with jasmine rice and steamed vegetables.
Vanessa Rowe blogs at Low Flying Duck, sharing her experiences of living with coeliac disease: fresh rice paper rolls are a good option, but I check the dipping sauces, and ask about the use of soy sauce and thickeners. Soups can also be good – depending on how the stock and seasonings are done.
On the road at servos and 7-Elevens
Kat:  I don't even bother trying to find good quality protein or fresh food – even if they do have fruit it's probably been there a good week or two! Last week at 7/11 I bought an small bar of Lindt 70% dark chocolate, a small bag of Nobby's raw nuts and seed mix, and a little block of cheddar cheese. This kept me going until I arrived home to 'real' food, and it didn't give me that rapid spike followed by the crash that most snack foods will cause.
Nat: most servos stock natural yoghurt these days and many with fruits too – so I grab an apple or a banana and natural yoghurt to go, or a can of tuna and a salad – many also have salads in the fridge with the dressing separate.  My other fave is peanut butter and apple – if they have an ok small tub of peanut butter.  Nuts and dried fruit can also be available to grab for a snack on the run – oh and if I see an Emma and Tom's fruit bar I know they are made with 3-4 ingredients and no sugar so I stock up!
Vanessa: No Chiko Rolls for me. Rice crackers, corn thins, yoghurt, nuts and fruit are usually my standards.
Pubs
Lee:  I order simple pub grub, usually steak and vegetables and I ask them to hold the sides.
Kat: I've found that allowing the fries to arrive and pretending you'll have just one or two is a recipe for disaster! If if it's served with sweet potato mash I  have some of that and order an additional side salad.  If we're having a drink before ordering, and everyone else is snacking on bread, I'll often order something like grilled prawns or calamari as a starter. It means spending more money, but I'd rather wake up the next day feeling great about having had a fun night out with good food choices, than have a bloated stomach and poor energy. As far as alcohol goes, my first choice is always red wine. Red wine is high in the antioxidant resveratrol, and choosing organic means no nasty toxins (which I believe are the main culprit when it comes to feeling hungover. White wine or champagne are the next best choice, also due to their antioxidant qualities. Pinot and merlot are best for helping to induce sleep, as they stimulate melatonin production. Shiraz tends to have the highest naturally occurring antioxidants.
Nat: If they have a slow cooked something on the menu I will often go for that also.
Vanessa: steak or seafood and salad are usually a possibility.
Sandwich bars/delis
Kat: This is probably one of my least favourite places to find myself needing food, as most of the options are heavy on starch and sugar and low on nutrition! If there is any sort of salad option I will choose that – definitely with sauce on the side. To be honest, most sandwich bars would have me just buying some nuts and maybe some fruit rather than try to make do with any of the foccacia/panini/past type options. I
Nat: make your own antipasto platter!  Yes they will look at you weird but they aren't the ones who will regret it later if you don't.  Sometimes they also have quiches.
Breakfast joints
Lee: Breakfast joints are fun cause you can order delicious omelettes and poached eggs and ask for it without toast. I try to order a green side with it too, so perhaps avocado or spinach so that the nutrients from the greens are delivered directly to my body with the combination of good fats.
Kat: This is an easy one! I'll generally order an omelette or some poached eggs, with spinach/mushrooms/avocado, and no toast. Sometimes I'll have avocado with that, or goats cheese if it's available. Interestingly, one of the things I loved about travelling in the states was that all egg dishes come with potato – which they are happy to switch for fruit, and it was mostly berries. Berries are my favourite low GI carb to add to breaky; aside from that I prefer to start the day with protein and fat. This is optimal for slow-release energy and the minimisation of food cravings. You'll also 'program' your body to burn fat when you start the day this day, rather than spiking insulin with so-called healthy cereals or even wholegrains, and programming your body to store fat.
Nat: Eggs!  I find breakfast quite easy to eat out for.  Many places offer GF bread which is a bonus – although often very high in sugar so weigh up your options.  I will do a big plate of eggs, spinach, tomato, mushrooms etc.  Or if there is a homemade muesli, I'll grab some yoghurt (provided it's without sugar) and eat that.  Beans work – just remember if beans get your pipes going, you can counteract the effects by chomping on any calming herbs that might appear with your dish – they are there for a reason!
Food courts
Lee: Felafal stores are good but if you have the works you could Felafal (feel awful) if you've over- indulged, so a good alternative is to order the felafal balls with salad, onion and hommus.
Kat: My go-to food court shop is Nandos or Grill'd. At Nandos I would order the chicken thighs with no sauce, and that's it. And at Grill'd as you might no you can order a gluten free bun, but I prefer to save my carbs for less processed foods than bread, so I just go bunless. Usually they arrange it all nicely for you as a salad. If neither of those outlets are there, Japanese usually offers plenty of protein and veg options which can be ordered without sauce! If worst comes to worst it's back to the salad bar.
Zoe: Lebanese/turkish meat on spit. This can be a good choice, as the fat drips away from the rotating spit roast and you get plenty of salad, tabouleh and hummus.
Nat: If there is Japanese, I often opt for that – many now use brown rice with their dishes, many do very basic curries etc and make it up in front of you rather than eating something that has been sitting there for 10+ hours (gross and as nutritional as CARDBOARD!). If I find Nando's I can generally get a grilled something a rather with salad.  Fruit salad and suitable yoghurts are sometimes also available.
McDonalds/Burger King etc (when things are desperate)
Kat: Actually this did happen to me a year or so back on a road trip. We'd been stuck in traffic exiting Melbourne for over 2 hours and when we finally hit the freeway Maccas was the first thing we encountered. I was starving! I ordered an Angus burger and ate just the insides. My theory is that Angus beef is better quality 🙂 … actually I was somewhat pleasantly surprised by this burger but it did still leave an oily taste. In theory going for a chicken salad is the healthier option but I find the salad ingredients to be very poor quality and you're lucky to get a skerrick of chicken. Depending on the mix, some fast food outlet salads come in with a higher calorie and fat count than their burgers!