Breakfast seems to be a big topic on this blog (a few previous posts here and here).  I often get walloped with responses like, "but I don't have enough time" and "I'm not a breakfast fan". My answer to such queries is protein shakes.  HOWEVER, there are protein shakes and then there are protein shakes. Some are full of sugar and crud, some are geared at blokes with bulging muscles and odd little gym swaggers. But I've come across this one which is neither: 180 nutrition's protein superfood.  Below, Jo has outlined the deal with protein shakes and some great recipes for this sponsored review. Enjoy!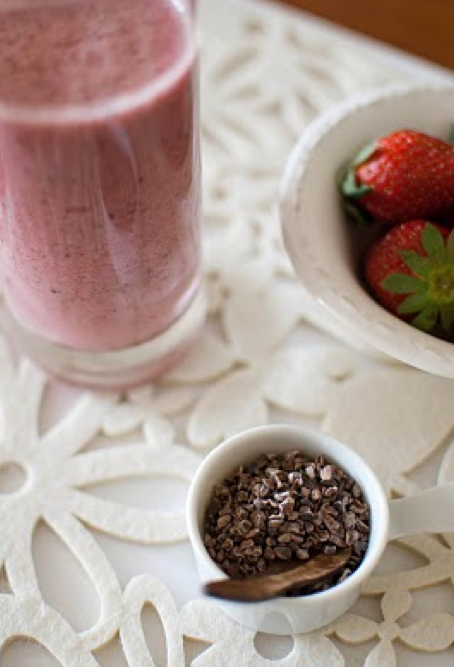 what to look for in a protein shake: 
Most of the info out there advises it's all about whey protein. But know this: the whey needs to be…
raw

cold pressed

derived from grass fed cows

free of hormones, chemicals

free of sugar
180 nutrition's protein superfood ticks all these boxes.
Also, less is more. This superfood contains only a handful of (recognisable, no "numbers" involved) ingredients:
grass fed whey protein isolate

flaxseed

almond meal

sunflower kernels

coconut flour

cocoa (chocolate flavour only)

chia seeds

pepitas (pumpkin seeds)

sesame seeds

pysillium husks

inactive brewers yeast

stevia
So: no gluten, no artificial flavourings or preservatives, no processed sugars and sweeteners, no bulking agents or thickeners. PLUS the whole lot is 100% raw and organic.
This combo is geared at helping muscle recovery after excercise, and increases your daily energy levels. But is also a no-brainer, fuss-free way to  have a breakfast with no sugar or processed crap, to get enough fibre, protein and good fats (without the carb, sugar, insulin overload!!!)…and to trim down, if that's your caper.
three 180 Nutrition breakfast recipes
You can just add a few scoops to some water or kefir or coconut water and shake. Sarah tried a tablespoon of 180 powder sprinkled into a big splodge of yoghurt in a cup, wtih some cinnamon and vanilla powder sprinkled on top, and a handful of walnuts. Insta-breakfast!
Or you might like to try these:
1. a smooth morning smoothie
2-3 big spoonfuls of 180 natural protein superfood

100ml water

100ml coconut milk

1 organic/free range egg (raw)

dollop of probiotic yoghurt

handful of berries (blueberry or strawberry)
In a blender, combine all the ingredients and blend until smooth.
Tip: pour into a jar with a lid and you can take to work or drink en route!
2. high protein pancakes
¾ cup 180 natural protein superfood

½ cup besan (chickpea) flour

¼ tsp bicarbonate of soda

¾ cup coconut milk

1 large egg

1tsp vanilla extract
Whisk milk, egg and vanilla together in a jug. Sift flour and bicarbonate of soda into a bowl. Stir in the egg mixture and 180 Natural Protein Superfood. Whisk until just combined.
Heat a non-stick frying pan over medium heat. Brush pan with butter. Using a small ladle, scoop approx 1/4 cup of mixture (or less) per pancake and pour into frying pan. Cook for 2 – 3 minutes or until bubbles appear on the surface and pancake is golden brown underneath. Turn pancake and cook for 1 minute or until golden brown and cooked through. Transfer to a plate.
Cover loosely with foil to keep warm. Repeat with remaining mixture, brushing pan with butter between batches.
For a sweeter option, serve with a sliced banana or strawberries. And yoghurt!
3. hazelnut orange muffins
1 cup hazelnut meal

1/2 cup coconut flakes

1/2 cup 180 natural protein superfood

1/3 cup blueberries (optional)

zest of 1 orange

1 mashed banana

3 egg yolks

3 egg whites

juice of half an orange and flesh

1/4 tsp vanilla essence
Mix together the hazelnut meal, coconut flakes, protein powder, blueberries and orange. In a separate bowl, mix together the mashed banana, egg yolks, juice of an orange and flesh, and the vanilla essence.
Stir the two bowls together.
Whip the 3 egg whites into hard peaks. Gently fold the egg whites into the mixture (a metal spoon is best so you loose less bubbles). Pour the mixture into greased muffin tins, about two-thirds full. Bake at 180° for 20 minutes.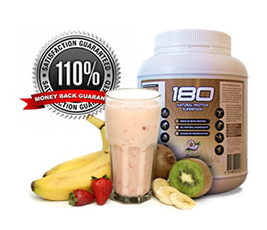 You can order 180 Nutrition's Protein Superfood here. And there's free postage on the starter packs here.

180 nutrition's facebook page and blog are often updated with new recipes, and interesting health and wellness articles. Why not 'like' them, and stay in touch for more recipes and ideas.
Tried protein powders yourself? Any tips for ways to use them in quick and easy meals? 
Posts on sarahwilson.com may contain links to sponsors and affiliates with the capacity to receive monetary compensation, which helps to support the growth and development of this site. Giveaways are sponsored promotions and will always be stated as such on the post. Books, eBooks and other products that align with my site and ethos may potentially be accepted for review, but please respect my desire not to clutter my life with "stuff" before you send your wonderful product or press release. I am not a medical professional; rather, a wellness advocate, therefore anything written by myself on this site is my own (researched) opinion and not advice from a trained doctor. Here is a full breakdown of my position on sponsored posts and advertising.