Honestly, you shouldn't be allowed to leave home not knowing this critical life skill. But, alas, some do. And then you email me. And so I post a little guide…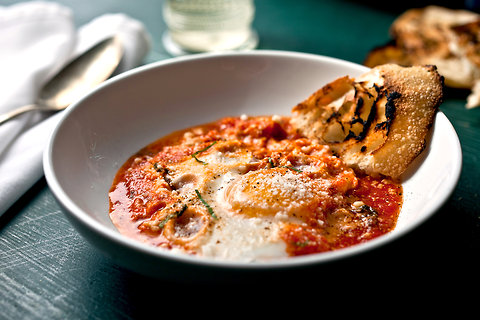 how I poach an egg…
Fill a shallow pan (a small frying pan that has a lid) with water. Bring to boil.
Add a dash of white or rice vinegar – it helps the egg whites to congeal. Don't worry if you don't have any.
One at a time, break the eggs into a teacup, then tip from  cup into the water. Do a few eggs at a time if you like.
Turn off the heat immediately and cover tightly. Leave 3-4 minutes.
Remove with a slotted spoon.
BONUS TIP: You can poach eggs a few days ahead and store in a bowl of cold water in the fridge! They'll keep several days.

put a poached egg on top…
This little parcels of goodness are designed to plop ontop of a meal that is otherwise a little lacklustre/lacking in protein/lacking in goobiness
Try this:
Using the hot egg water after you've removed the eggs, steam up some frozen peas and chopped zucchini. Place in a bowl with a tin of tuna, some shallots (green onions) or red onion finely chopped and capers, eggs on top.
While the eggs are poaching saute some garlic and silverbeet (that perhaps you've already presteamed and frozen). Toss in some parmesan. Put in bowl, eggs on top.
Made some bubble and squeak? Or corn fritters? A bit dry and blah? Add a poachie and things are smoother and comfortingly goobier in an instant
A big chickpea stew is made "meatier" with a poachie in the mix
I like this idea: cook the egg in the tomato-ey sauce. The New York Times did this recently with a curried tomato sauce. I like the idea of doing it in a basic sauce:
eggs poached in tomato Sauce
1/2 cup tomato sauce – make it in advance and store in the freezer…the New York Times has recipes made with fresh or canned tomatoes. I make mine with chilli. Or simply use pasta sauce from the night before…or even a soup!
A sprinkle of herbs, maybe some cut olives and some extra Tabasco or paprika
2 eggs
parmesan cheese
1. Heat the sauce in a small omelet pan with the herbs etc.
2. Poach the eggs, as above, tipping them into the tomato sauce. Cover the pan and simmer over low heat for 3 to 4 minutes, until the tops of the whites are set. Sprinkle with cheese.
3. Carefully ladle into a bowl.
What do you do with poached eggs? Any tips and tricks you'd like to share?