I've been cooking a little lately. Experimenting. And I've found a few things that I reckon will make very nice Christmas gifts. I've got some friends coming around over the weekend to whip up some of the below to hand to Good People Who've Done Good Things By Me in 2011. And boy have there have been a few. Got some ideas yourself…share below!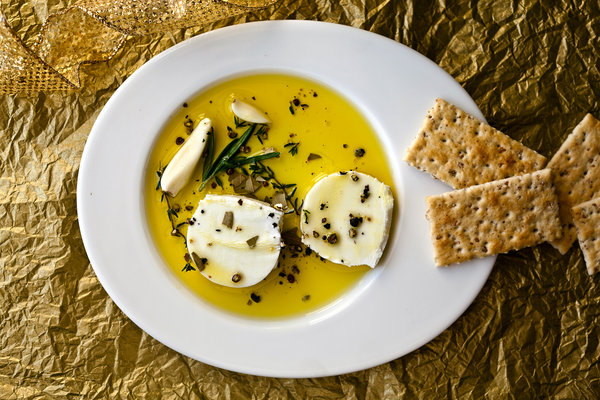 I love this idea, which I'm modifying from Martha Rose Shulman.
 marinated goat cheese
For a 1-cup jar:
1 teaspoon mixed red, black and white peppercorns, lightly crushed
2 garlic cloves, peeled
2 bay leaves, broken into pieces
A 3 ounce log of goat cheese (I buy mine from the local markets here. Martha used a round log, but you could do squares from a block…I did)
2 sprigs thyme
2 sprigs rosemary
Extra virgin olive oil as needed
Whack peppercorns, garlic cloves and bay leaves in a clean, sterilized wide-mouthed jar. Pour in a film of olive oil.
Cut the goat cheese into rounds 1/2 inch thick (Martha uses unflavored dental floss to cut through the cheese!! Clever!!). Place one round in the jar and drizzle on some olive oil. Stack the remaining rounds, drizzling oil onto each round before topping with the next. Add the thyme and rosemary sprigs to the jar and pour in olive oil to cover the goat cheese rounds completely. Cover the jar and leave at room temperature for several hours, then refrigerate.
I like these edible gift ideas from My New Roots, too:
green coriander pesto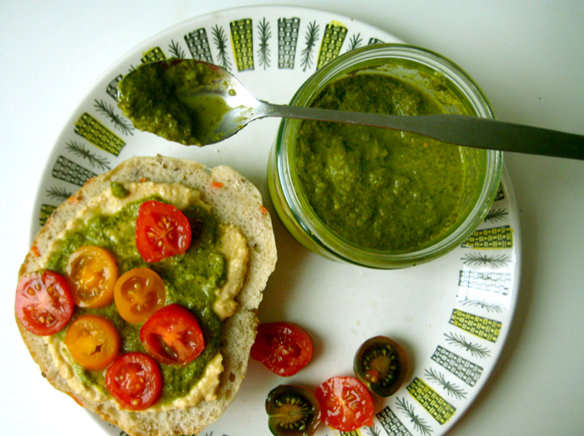 Full recipe here.
spicy zatar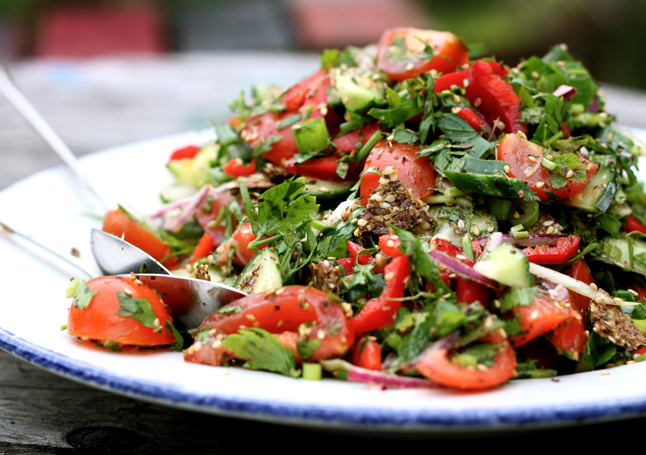 Full recipe here.
some other ideas I've tried
Little bags of salt and vinegar almonds
I've posted about activated nuts before…why not make a batch of "salt and vinegar" almonds, an idea Lee from Supercharged Food shared. Toss 3 tbls of apple cider vinegar and some seal salt over the nuts as you place them in the oven (enough for about 2 cups of nuts). These will last 6 months or so.
A nice big jar of marsala Chai
Sarah's My New Roots' recipe here is a cracker.
My chocolate nut balls
The recipe is here…but you'll need to keep these refrigerated…they melt a little!
And, of course, my pickled daikon
 1.5kg of daikon radish, grated
2 tbls of sea salt (use 1 tbs of salt and 4 tbls of whey if you have it)
Place the lot in a bowl and pound gently with a wooden device (a meat hammer) to release the juice. Place in a small mason jar (the ones with the spring seal) and press down with the hammer so the juices rise to the surface. DON'T fill to brim because it will expand. Cover n leave at room temperature for a few days, then refrigerate. The pickle gets better with age!