I'm coming to terms with coconut flour. I wrote about the stuff a few weeks back and have been experimenting since. It's tricky stuff. But once you get it…it gets you. Since a few of you asked…here are some more recipes I've been playing with.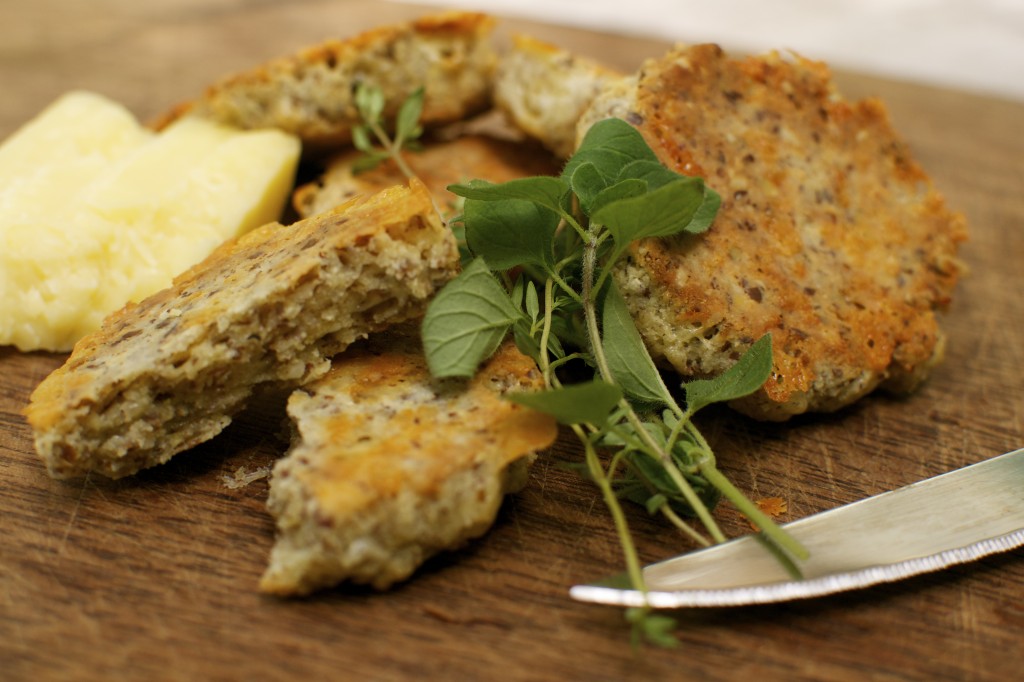 These biscuits (above) were an experiment…that worked. They're (good) fat 'n' protein bombs. And as with everything I make, you can't stuff them up. I just throw in ingredients until they're the right consistency…so don't fret about exacts.
I made a batch and froze them. This week I've been taking out two for breakfast and heating in the microwave (I know, I know…I haven't parted with it yet; you can also reheat in a medium oven for a few minutes…but the energy to heat up an oven for a few minutes concerns me…ergo microwave). Great for putting in lunch boxes or for work.
But be warned: they're super filling and nourishing. You won't have cravings for hours. (Some of you have been asking about craving busters…).
PS. They taste like something between a cheese cracker and a scone…but denser, like a crumpet.
So, the recipe.
coconut and cheese biscuits
½ cup almond flour or LSA (or other nut flour)
3 eggs
¼ cup butter, melted
Salt, a good grind or two
2 cups cheddar cheese, grated
a generous shake of chilli flakes or paprika
1/2 – 3/4 cup sifted coconut flour
Blend the almond flour, eggs, butter, salt, chilli and cheese.
Add the coconut flour and kneed the dough until a moist play dough consistency (1/2 cup of coconut flour might be enough…just see…you don't want it too dry because it will continue to soak up the eggs…if your dough seems too dry, add another egg or extra butter).
Form dough into balls and put on a tray lined with baking paper. Flatten to either a thin cracker or a thicker (1cm) biscuit.
Bake at 200 C for 15 minutes. I turned them once to get crispy cheese action on both sides.
Makes about 16.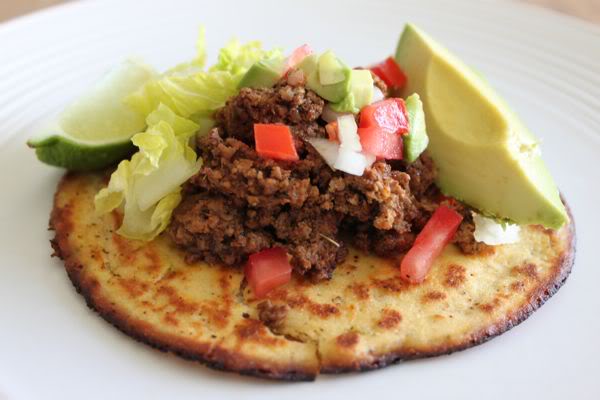 coconut tortillas
I love this paleo recipe, from Mark's Daily Apple. Makes 4 tortillas.
1/4 cup plus 2 tablespoons water
2 eggs
2 tablespoons olive oil
1 teaspoon lime juice
2 tablespoons coconut flour
1/4 teaspoon baking powder
1/2 teaspoon cumin
1/4 teaspoon chili powder
Whisk together water, eggs, olive oil and lime.
Mix together coconut flour, baking powder, cumin and chili powder.
Slowly pour wet ingredients into the dry ingredients, whisking as you pour so clumps don't form.
Heat several tablespoons of olive oil over medium high heat. When the oil is hot, pour 1/4 cup of batter in the pan, tilting pan so the batter spreads thinly.
Let the batter sit untouched for one minute then put a lid on the pan and cook one minute more. Flip the tortilla and fry for 2 more minutes
beetroot chocolate fudge cake
This, from my friend Violet, who says:
For the beetroot cake I actually used the flour mix recommended by the grainfreeliving website, to replace the normal flour (you replace the amount of flour with 1/3 coconut flour, 1/3 almond meal, and 1/3 potato starch. I have used both rice flour and tapioca starch in place of the potato). The cake is amazing, rich and dense, but definitely not sugar free. Perhaps if you experimented a little you could make something work. The beetroot and chocolate combination is amazing, there is a great earthiness to it.

[If you're sugar-free you could easily replace the honey and maple syrup with rice malt syrup which is fructose free…it works really well in cakes – Sarah]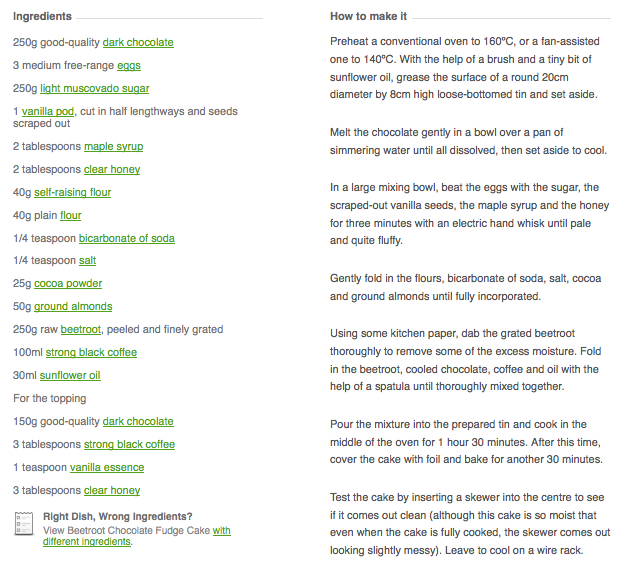 fluffy coconut pancakes
This recipe also came via Violet.
4 eggs, room temperature
1 cup milk (raw, or coconut)
2 teaspoons vanilla extract
1 tablespoon stevia
1/2 cup coconut flour
1 teaspoon baking soda
1/2 teaspoon sea salt
coconut oil for frying
Preheat griddle over medium-low heat.
In a small bowl, beat eggs until frothy, about two minutes. Mix in milk, vanilla and stevia.
In a medium bowl combine coconut flour, baking soda, sea salt, and whisk together. Stir wet mixture into dry until coconut flour is incorporated.
Grease pan with coconut oil. Ladle a few teaspoons of batter into pan for each pancake. Spread out slightly with the back of a spoon. The pancakes should be 2 – 3 inches in diameter, and fairly thick. Cook for a few minutes on each side, until the tops dry out slightly, and the bottoms begin to brown. Flip and cook an additional 2 – 3 minutes.
Serve hot with butter, coconut oil, and fruit.
Loving coconut flour? What are you doing with it?