Happy first-Friday-of-February! To continue our Friday giveaways, this week I'm giving away
5 x 150g bags (a month's supply) of RioLife organic freeze dried acai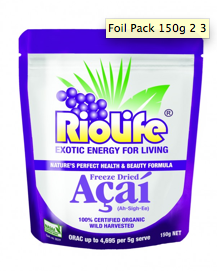 Our last Acai giveaway proved very popular, and the generous RioLife team have offered to share a little more. Each serve of acai berries is equivalent in antioxidant levels to eating about 120 blue berries. With Omega's 3, 6 and 9, it's a slow release source of energy, with plenty of fibre and other vitamin's and minerals to keep us healthy.
These acai berries are sustainably sourced and wild harvested from the Amazon rainforests of Brazil. RioLife add absolutely nothing to their powder, they're certified organic, and the Australian boys behind the brand donate part of the sales to ACAIMU,
a project of the Amazon Friendly Program to help build and fund schools in the areas where the Acai berries are sourced.
To be one of the five winners, simply buy a copy of my I Quit Sugar ebook here, before the end of the day. We will pass on five names to RioLife, and the team will send you your berries!
Things to note:
Acai berries contain pretty much no sugar.
They're one of the most anti-oxidising things going around.
Sprinkled on a range of different "treats" they make for a great dessert, and are a KEY ingredient in my sugar-free pantry.
I've written before on some ways to use the acai powder here and here.