How good is this: people I've never met join me in quitting sugar via I Quit Sugar, and then get in touch to share some very pretty recipes that they've adapted or made up from scratch. Feeling the love much? I did. It's V-day, so I'm paying it forward. Let me know if you get inspired to make one of these for a loved one?
ricotta with raspberries, lavender and coconut
Recipe from Maria at EcoNest [love the image and serving jar – Sarah]
Mix together:
Three heaped tablespoons of fresh ricotta (I used ricotta from a local farmer who uses biodynamic milk, but will be having a shot at making my own soon!)
One tablespoon coconut oil
Then sprinkle with:
A handful of fresh raspberries
A tiny sprinkle of dried lavender buds (go easy as they can overpower)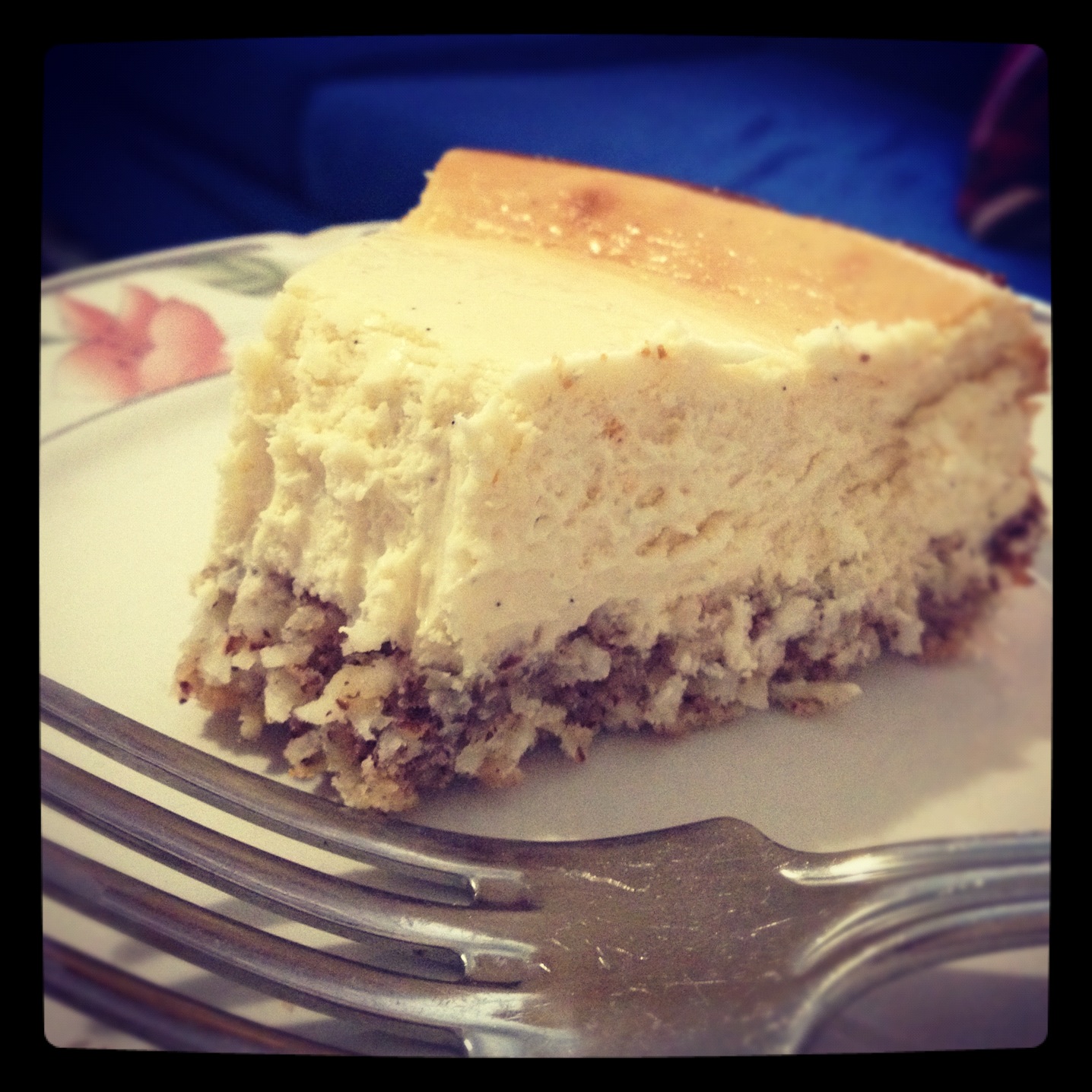 lime and coconut cheesecake
From Erin. Erin told me via twitter that she based this recipe off my recent cheesecake recipe. You can find mine here.
Base
100g hazelnut meal
150g shredded coconut
About 60g of melted butter
Combine all together and press into base and bake for about 10 minutes in 180 oven

Filling
2 packets of cream cheese
Juice and zest of one lime
1/2 cup of coconut cream
Vanilla bean
1 egg
1/2 cup rice syrup
1-2 Tablespoons of natvia
Chuck all of it in a food processor and blend. Top the base with the filling and bake for about 35 minutes on 160. Chill, then eat.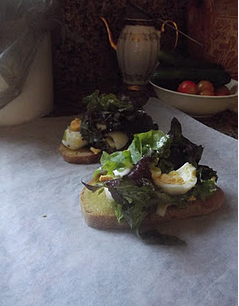 breakfast beauty
From Kallie Kitas
two slices bread
butter
2 eggs
parsley
lettuce
coriander
4 T olive oil
pinch of celtic sea salt and pepper to taste
Toasted the bread in the oven on 120 degrees.
While that is crankin' in the oven, boil 2 pastured eggs in a pot on medium heat. It's your choice if you like them soft which is 8 minutes and hard boiled 12 minutes.
While the eggs boil, prepare your green leafy vegetables – parsely, coriander, lettuce and any other vegetable you would like. Mix with 4 tablespoons of extra-virgin olive oil, pinch of celtic sea salt and pepper.

Place bread on plate. Spread grass-fed butter on the bread, as much as you like. Cut the eggs into 1/4's and place on bread. Finally, add the green leafy vegetables, drizzle with olive oil, sprinkle salt and pepper, and you are ready to eat a beautiful and nourishing breakfast!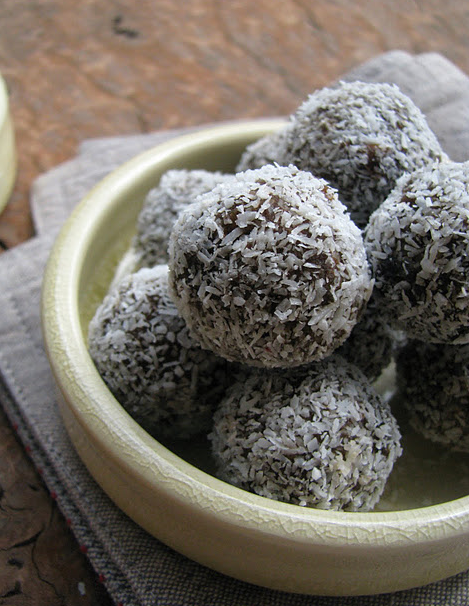 carob tofu bliss balls
Emma says: I used a medium-firm tofu. You don't want to use a really firm tofu unless you are happy with chunks throughout the bliss balls and silken tofu would be too wet. If you really aren't keen to try carob, cocoa powder can be used instead, just use a little less than the carob amount given below.
Makes approx 30 small balls
250g tofu
3/4 cup pitted dates, finely chopped
1 tablespoon brown rice syrup
2-3 tablespoons carob powder, sifted
1 teaspoon pure vanilla essence
1 tablespoon tahini
1 cup almond meal (ground almonds)
1/2 cup desiccated coconut
extra coconut for coating
Pat the tofu dry with paper towels to remove excess water. Place into a bowl and mash with a fork. Add the rest of the ingredients and mix using your hands to evenly combine.

Form into small balls and roll in extra desiccated coconut. Transfer to a container in a single layer and refrigerate overnight. Keeps 4-5 days in the fridge.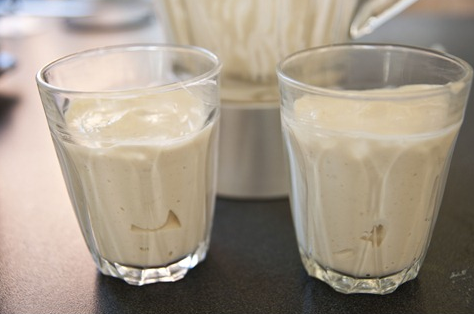 sugar-free peanut butter mousse
From Melbourne Maharini
"Sig" says: Gluten-free, sugar/fructose-free, low-carb and high-protein. You can experiment with this recipe – I've made a blueberry version using frozen blueberries, try it with cocoa powder and a hint of peppermint essence to make it a choc-mint mousse – options are endless! I've also used this as a filling in various desserts too.
250 gm (~10 oz) cottage cheese

1.5 –2 Tb natural smooth Peanut Butter

1 sachet/tsp Stevia (You can use dextrose if you like)
Add all ingredients into a high-powered blender (haven't tried, but I'm sure you could try this with an immersion/stick blender and a bowl).
Blend until you get a smooth consistency and all lumps from the cottage cheese are gone. I actually used a tiny bit of water to get things going as it's quite a thick mixture. Don't use too much otherwise it'll get too runny.
Divide mousse mixture evenly into two glasses. If you're impatient like me, you can eat it straight away, but I like to chill it in the freezer for about 10 minutes to let it H(TF)U* for a bit.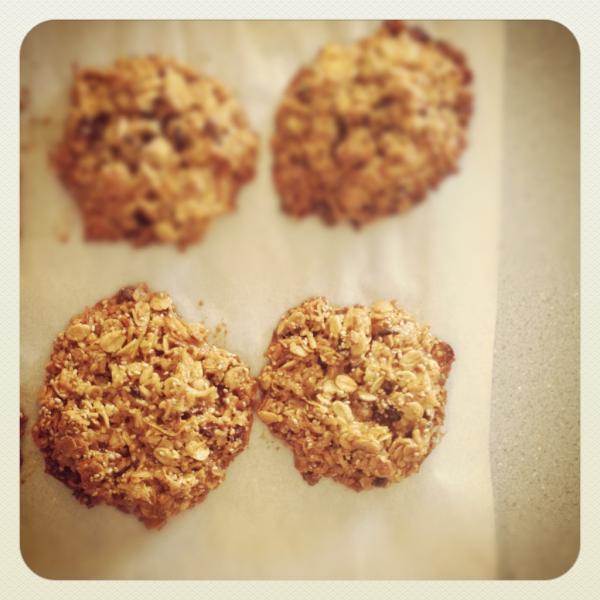 choc chip chia cookies
From Erin
2 cups of oats
1 cup shredded coconut
1/3 cup cacao nibs
1/4 cup chia seeds
2 tablespoons of natvia
2 tablespoons hazelnut meal
100g butter
1/2 cup Brown rice syrup
1 teaspoon bi carb soda
1/2 teaspoon of salt
1 teaspoon of vanilla extract
1 egg
Preheat oven to 160 degrees. Combine oats, coconut, hazlenut meal, cacao nibs, Natvia and chia seeds in a bowl. Place the rice syrup on the stove in a saucepan and bring to the boil. Add the chopped butter, melt, then bring to the boil while whisking. Remove from the heat and add the bicarb and whisk. Then add the vanilla and salt. Add the brown syrup mix to the dry ingredients, combine, then add the egg.
Use a tablespoon to measure out equal amounts of the mixture on a lined baking tray. Press down the balls firmly onto the tray. Bake in the oven for 12- 15 minutes. Watch them as they tend to brown easily.
copha-and-sugar-free chocolate crackles
From Sofie Camili [I was just talking about choc crackles on the weekend…great that you've come up with one – Sarah.]
4 cups organic puffed rice
1 cup organic desiccated coconut
250ml organic coconut oil
1/2 cup sugar free drinking chocolate – I purchased this one from Coles [You could try the Miessence one, too – Sarah]
to give depth, add a couple of tablespoons of organic cacao (optional)
Combine dry ingredients in bowl. As with the old style recipe using an entire block of Copha (yikes!), heat coconut oil until melted and allow to cool slightly, then pour over dry ingredients.  Stir and spoon into patty pans. Refrigerate for around an hour or until set.
If you're well and truly off the IQS program and want some more sweet inspiration, I've posted some options here and here.
Feel free to add in more recipes below… or questions for the various recipe developers in this post. I'm sure they'll answer them.