I'm not vegan. Nor vegetarian. But I eat a heavily plant-based diet. AND I get a lot of requests from vegos/vegans for non-dairy, non-meat, non-egg sugar-free eating. So it was that I noticed Maria at Scandi foodie had done a 21 day sugar free vegan challenge after doing my I Quit Sugar program a few months back so I invited her to share her 5 favourite recipes from the challenge. Go to her site for more ideas and recipes…so clever and pretty!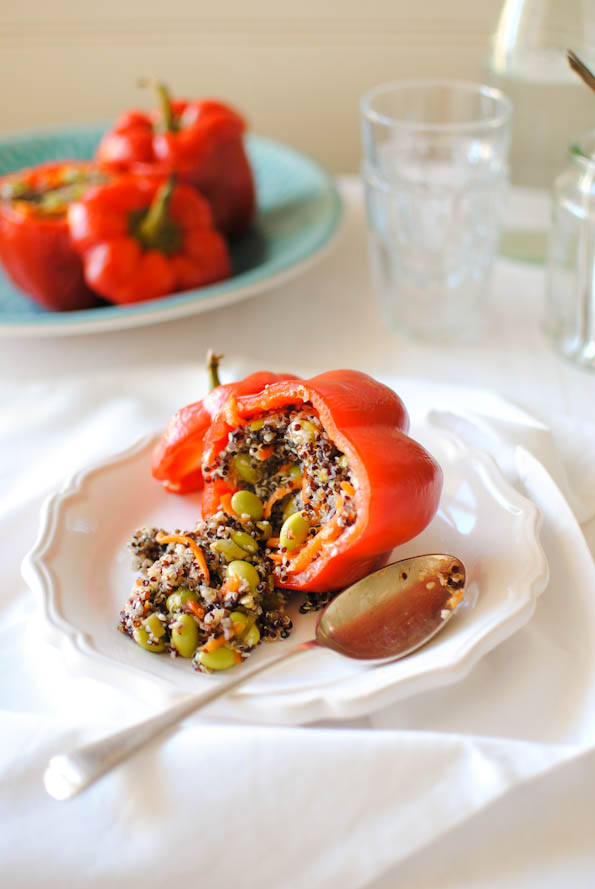 Maria says:
At the start of the New Year, I set myself a little challenge. What if I go vegan for 21 days?

My goal with this challenge is simply to inspire and raise awareness. I encourage you to give vegan cooking a go, even if it means just adding one or two extra vegan meals in your weekly menu. Here are some of my favourite recipes from the challenge to get you started….
amaranth and quinoa stuffed capsicums
This recipe is one of my favourites and a perfect dish to impress vegans and non-vegans alike!
4 red capsicums (bell peppers) *
1/2 cup black quinoa, rinsed
1/2 cup amaranth
1 1/2 cups water
1 cup edamame, thawed
1 carrot, grated
2 shallots/green onions, finely chopped
2 tbl sesame seeds, lightly toasted
2 tbl brown rice vinegar
pinch of sea salt
freshly ground black pepper
*I used 3 capsicums, but the filling makes enough for 4 medium sized ones. Any leftovers can be served as a salad the next day.
Place the quinoa and amaranth in a saucepan and cover with one and a half cups of water. Bring to boil and let simmer for about 12 minutes. Turn off the heat, cover and let sit for 5 more minutes. Fluff with a fork.
Preheat the oven to 180C. Cut the tops of the capsicums and remove the insides and the seeds.
Combine the quinoa and amaranth mixture with the edamame, carrot, shallots and sesame seeds in a large mixing bowl. Season with brown rice vinegar, pinch of salt and freshly ground black pepper.
Stuff the capsicums with the mixture and place in an oven proof dish. Cover with the 'lids' of the capsicums. Pour 1/4 cups of water into the baking dish. Cover the dish with foil and bake for about 40-50 minutes or until tender.

baked rhubarb oatmeal
230g rhubarb, chopped into 2cm pieces (fresh or frozen)
230g rolled oats (use gluten-free, if you prefer)
100g almonds, roughly chopped
2 tablespoons chia seeds
1 teaspoon ground cinnamon
pinch of salt
500ml home-made almond milk (recipe here)
olive oil, for brushing
Preheat oven to 180C and brush a medium-sized oven dish lightly with olive oil.
Cover the bottom of the dish with rhubarb pieces. Combine the oats, almond, chia seeds, cinnamon and salt in a separate bowl. Pour the mixture on top of the rhubarbs and finally pour the almond milk (evenly) on top.
Bake for 30 minutes. Serve warm.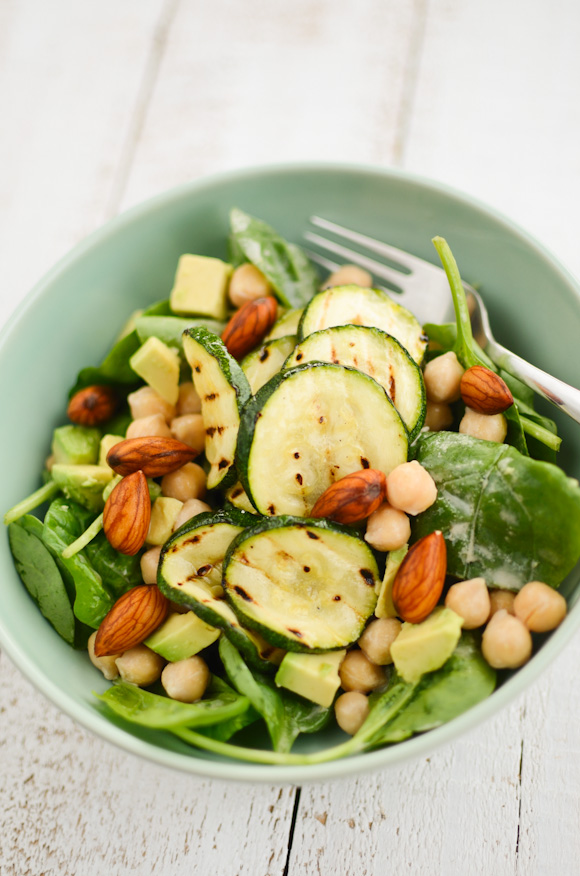 skin beauty salad
This salad combines many of those ingredients vital to a good skin health. Tahini dressing coats the chickpeas and the baby spinach leaves, grilled zucchini and diced avocado bring extra creaminess to the dish. I also added some soaked almonds for an extra layer of texture. 
230g cooked chickpeas (or use 1 tin)
2 big handfuls of baby spinach leaves
1/2 avocado, diced
small handful of almonds, soaked in water overnight
1 zucchini, sliced into 1/2 cm disks
olive oil, for brushing
2 tablespoons unhulled tahini (or use this recipe)
1/2 lemon, juiced
water
pinch of salt
1 small garlic clove
freshly ground black pepper
Lightly brush the zucchini slices with olive oil and grill on a pan for a couple of minutes on each side. Set aside.
Combine tahini, lemon juice and grated garlic in a small bowl. Add enough water to form a smooth, runny dressing. Season with a pinch of salt and pepper.
Place the chickpeas in a bowl and coat them with the tahini dressing.
Place the baby spinach leaves in serving bowls, top with tahini coated chickpeas, diced avocado and the zucchini slices. Sprinkle with soaked almonds (or seeds of choice).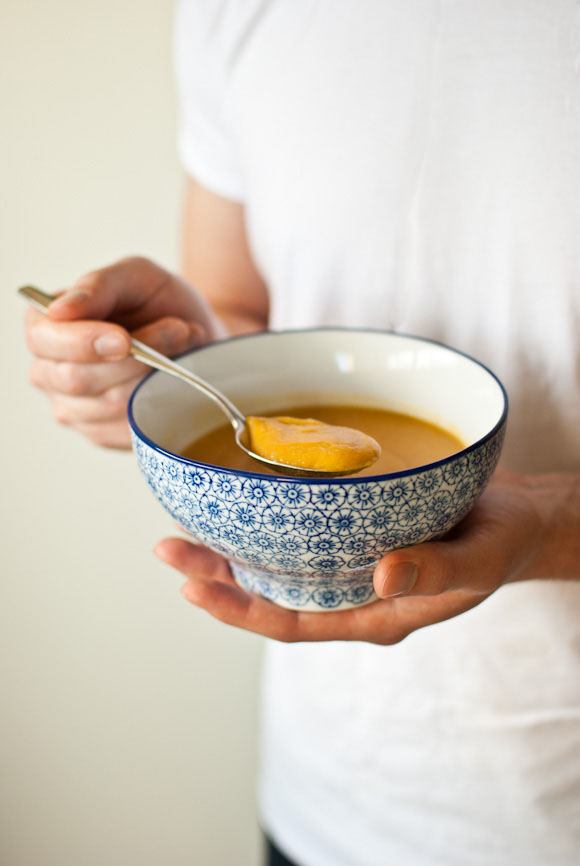 red lentil and sweet potato soup
I love this thick and velvety soup any time of the year! It's filling and satisfying and full of goodness.
1 tablespoon extra-virgin coconut oil
1 brown onion, finely chopped
1 teaspoon ground cumin
1/2 teaspoon ground turmeric
1/2 teaspoon yellow mustard seeds
pinch of sea salt
1 cup red lentils, rinsed
1 medium sized sweet potato, peeled and cut into chunks
5-6 cups water
1 tablespoon tamari
freshly ground black pepper
Heat the coconut oil in a heavy-based pan. Add onion, spices and salt and simmer for a few minutes.
Add the lentils, sweet potato and water and simmer for 30 minutes or until the potato is tender.
Season the mixture with tamari and freshly ground black pepper and puree into a smooth, thick soup.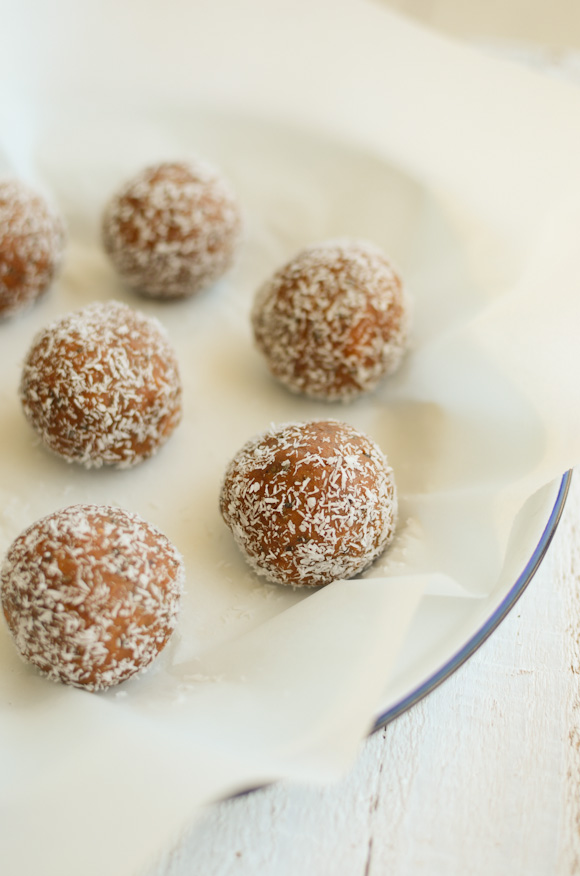 power balls
I adore these gooey, spiced sweet potato and cacao power balls. They are a perfect snack after exercise or whenever you feel like a little extra energy!
450g cooked and mashed sweet potato
2 heaped tablespoons almond butter (made with 1/2 cup raw almonds, recipe here)
1 tablespoon chia seeds
2 teaspoons pure, raw cacao powder (unsweetened)
1 teaspoon ground cinnamon
1/4 teaspoon ground ginger
1/4 teaspoon ground cardamom
1/4 teaspoon ground licorice
virgin coconut oil, for rolling
unsweetened desiccated coconut, for rolling (optional)
Combine the sweet potato, almond butter and chia seeds in a bowl.
Mix together the cacao and the spices and stir into the mixture. You should have a gooey, sticky mixture. Rub your hands lightly with coconut oil and roll the dough into about 10 balls.
Chill the balls in the fridge (20-30 minutes), then roll the balls in desiccated coconut before serving. These will keep in the fridge for 2-3 days.
If you're interested in doing a 21 day sugar-free vegan challenge, check Maria's blog here for more recipes, meal plans, tips and shopping lists. Whatta you think? Enough to turn you??