So you've reached the end of eight weeks of sugar-free life. Here's to a new, calm, life – free of sugar (!)
To that end, this week I'm giving away
five x premium memberships to Science of Stillness, each valued at $297
to help you kick off your new life.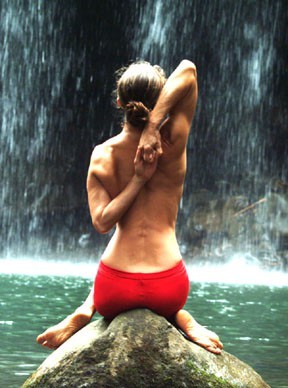 Tom Cronin (who I met in Bondi a few years back) and Nick Broadhurst have created the Science of Stillness , an online personal transformation program that teaches you meditation.
My assistant Jo has been testing it out for the past few weeks and I asked her to share the gist:
Jo: I was keen to check out the Stillness Sessions as I've been wanting to try this meditation style for a while now. The Science of Stillness program is a seven module online video program. Once you're logged in, you have a personalised dashboard, which you can edit and update, and use to search posts, comments, and the forums. Easy, clean to navigate. No angst!


At the core of the program are the Stillness Sessions, a meditation program teaching a technique based on the vedic style of meditation [the style I practice, you can read about here – Sarah]. Each person gets their own specific mantra which Tom calls a Stillness Sound. After you've gone through a series of preparation videos, Tom teaches you your own specific Stillness Sound and spends twenty minutes with you through a video where you practice your sound, and practice stilling yourself. Then you're able to meditate on your own, with your Stillness Sound, wherever you are. 

Research shows that two months of techniques like these Stillness Sessions actually changes the brain, not just making it calmer but also increasing a person's sense of self, empathy and memory. A pilot study for veterans with Post Traumatic Stress Disorder showed Stillness techniques improved these soldiers brain function, decreased their symptoms of PDST and increased their overall quality of life.

Meditation techniques like the Stillness sessions have been credited with:

curing anxiety, stress and panic attacks
raising consciousness to whole new levels
helping people achieve life long dreams and goals they previously thought impossible
allowing people to be more compassionate, understanding and supportive of friends and family
giving an overall feeling of calm and relaxation even in the most stressful situations

Through the various Science of Stillness videos, you're taught how to meditate under any circumstances, you learn adaptability and how to embrace change. There is also a video where Tom explains how the Science of Stillness can also be taught for children.

I personally loved the video on the circle of stress – which talks about how we accumulate stress, and how the Stillness Sound, and your own Stillness Sessions, can help to break that cycle.

Once you've completed the videos under the meditation module of the program, more modules are unlocked, and you move on to modules on the mind, the body, body balance, nutrition ammunition, mind power, and advanced awareness.

Tom and Nick are very active in the online forums, and answer questions, and guide members through the entire process. There's a help desk online if you're stuck at all.

The Science of Stillness is available on all desktop and mobile devices, so you can meditate in your car if you're stuck in traffic (!).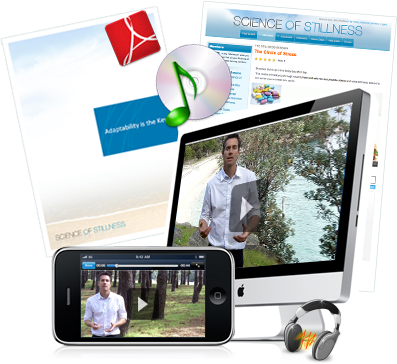 Today, Science of Stillness are giving away five premium memberships to their program, each valued at $297.
* To win, simply buy a copy of my I Quit Sugar ebook, and comment on the IQS facebook page that you'd like to be in the running. The winners will be randomly chosen on Wednesday 29th February at 5pm.
If you're thinking of signing up, but feeling a little unsure, why not watch a couple of free videos on the Science of Stillness website.
And a happy Friday to you all…x