I dunno, perhaps Thelma & Louise are to blame. But every woman I knows loves the idea of donning a head scarf and taking off with a girlfriend. For an unbridled adventure. Rooftop down.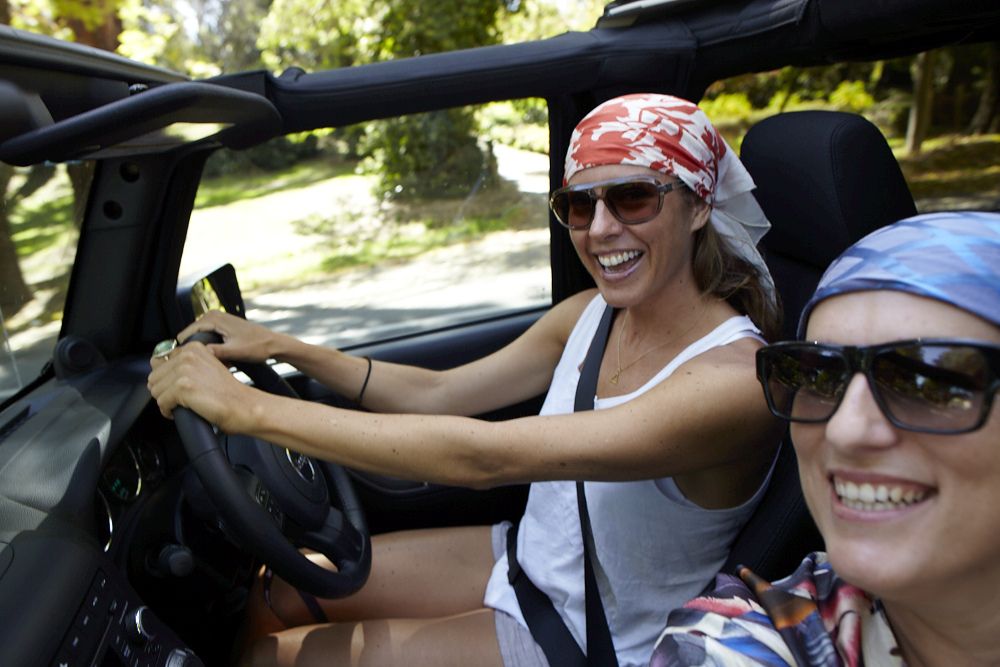 I've been hankering for a while, and lo! I was contacted by the town of Daylesford in Victoria and invited to come tour the region and… eat. The region is renowned for its ethical, locavore, organic and "slow food" eating. Meredith cheese, Istra Smallgoods, mushrooms, rabbit, hare, berries, venison, pork, duck, beets…I could go on.
Too many boxes here to ignore. So it was a yes from me. And how lovely that it all came just as I found myself in Melbourne (see my smooth flow rant from yesterday!).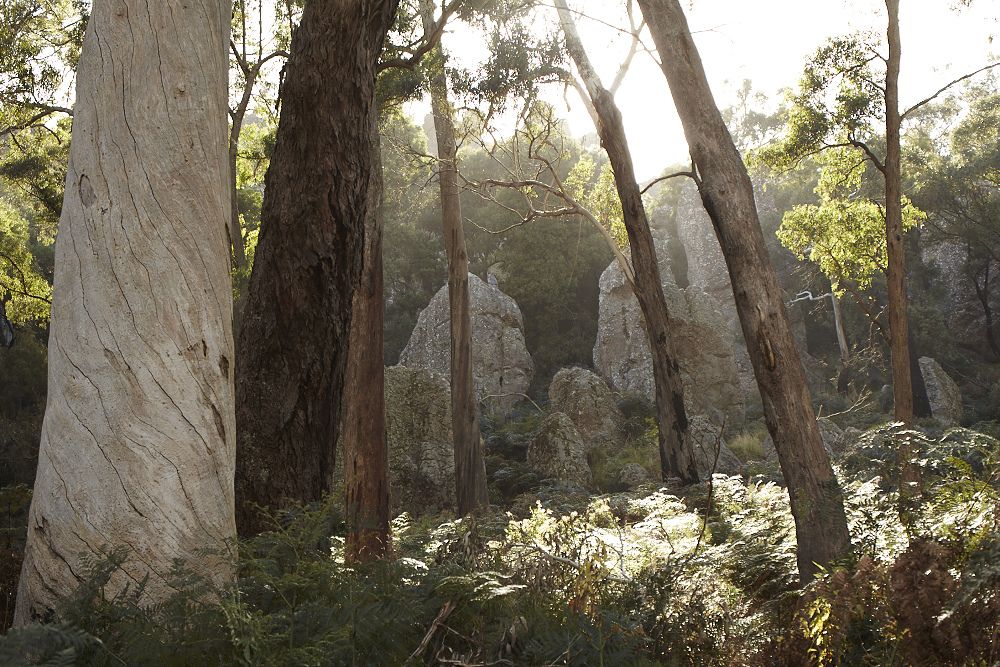 I'm going to share a bunch of photos here and tips for doing the same trip. The photos are too good not to include a lot. My mate Marija took them. She's good at such things. And the headscarves were her idea. And the cabbage idiocy…more in a moment.
Some basics for a Slow Foodie Road Trip to Daylesford:
How far is it? Just a little over an hour from Melbourne
What route to take? We went up the Calder and flung off to Hanging Rock for a walk first, then trundled in to Trentham (about 15 minutes), then on into Daylesford (another 20 minutes).
What time of year is best? Right now is beyond good. Autumn is Daylesford is elbow-your-mate-in-the-ribs-over-and-over-in-astonishment beautiful, plus it's foraging time. Plus, the Harvest Festival is on April 27-May 6. Spring is also bountiful.
What to bring? Head scarves. A very funny friend who likes to eat as much as you do. A fun car. We took a Jeep. Walking shoes. And togs…for the spas. And wooly socks for the chilly nights (it gets coooooold up here at night, but is deadly crisp and sunny during the day). Oh, and heaps of face moisturiser. It also gets dry.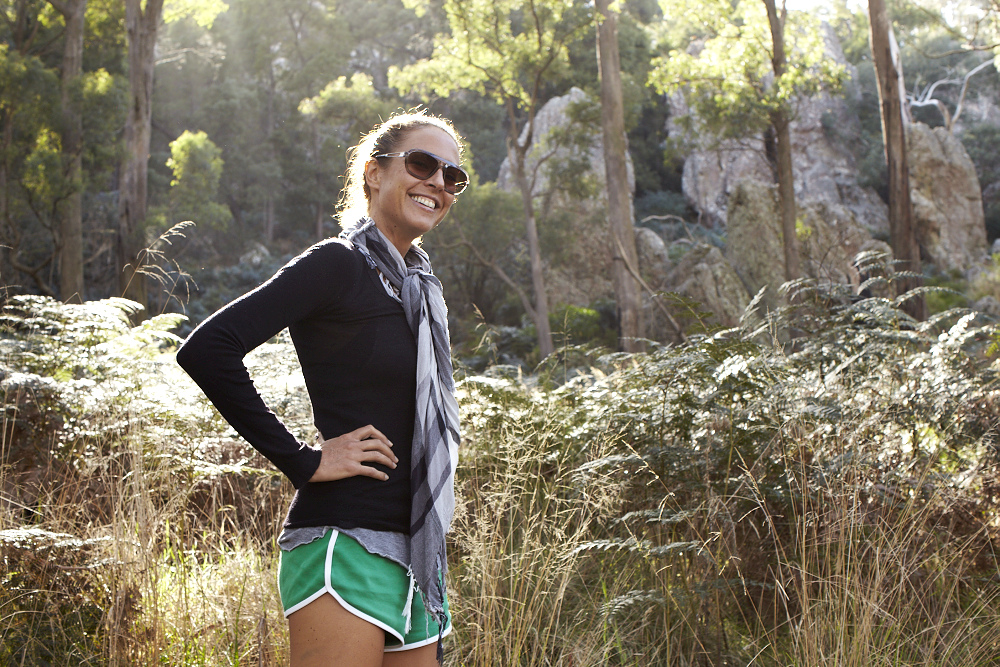 Other tips? Factor in some bushwalking while you're there (more on this below). In part to burn off the food. But also because the area offers some of the most scenic meanderings through dense Picnic at Hanging Rock-ish bush and mineral spa-ish Autumnal forest.
Anything else? Yes, I would ensure you connect with Alla Wolf Tasker and her daughter Larissa. They run the Lake House and Wombat Hill cafe in town, and as food writer Simon Thompson said to me, what Alla doesn't know about food in Daylesford isn't worth knowing. They are massive proponents of all the local farmers and suppliers. If you want to do a forage or slow foodie tour, they'll set you up with maps and instructions…but more on this in a moment.
Worth the bother? What bother? It's the easiest getaway around. I'd even recommend it to anyone visiting Melbourne – do a day trip here at the very least. But to answer the question, yes. I can't recommend the trip enough. One of the best jaunts I've done in years.
So the details with handy links and so forth.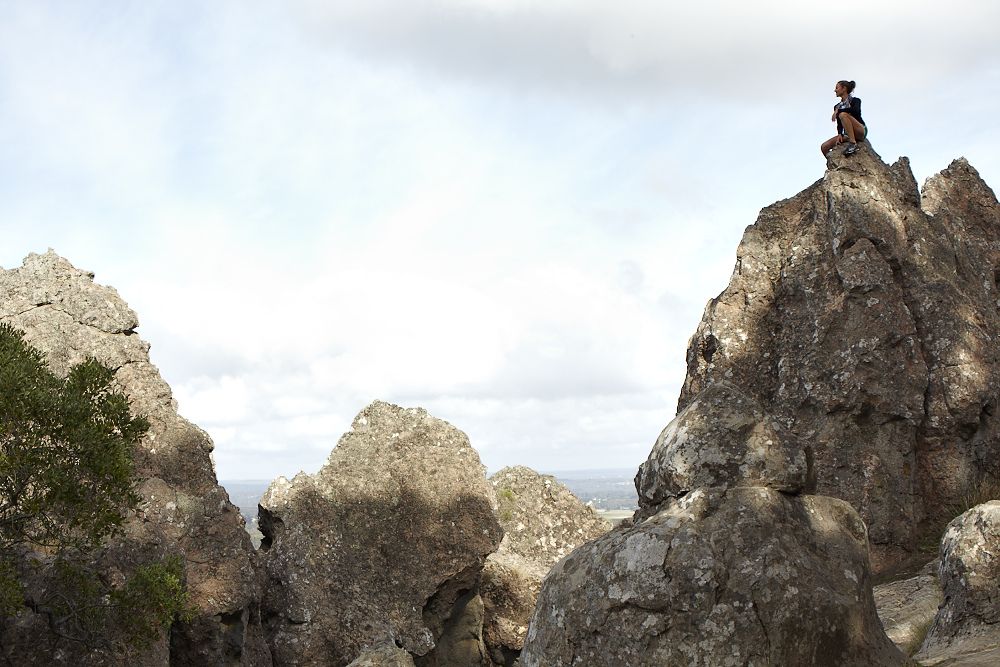 First stop: Hanging Rock. Worth a climb up the hill for the view (and say Hi to Guido the ranger). I don't really know if the schoolgirls really disappeared here at their infamous picnic. No one does, not even Guido. But I do know the view from up there is crisp and heart-expanding. My inner kid came bubbling up and out and I had to mount the granite. I used to do this to my parents. Bolt and climb.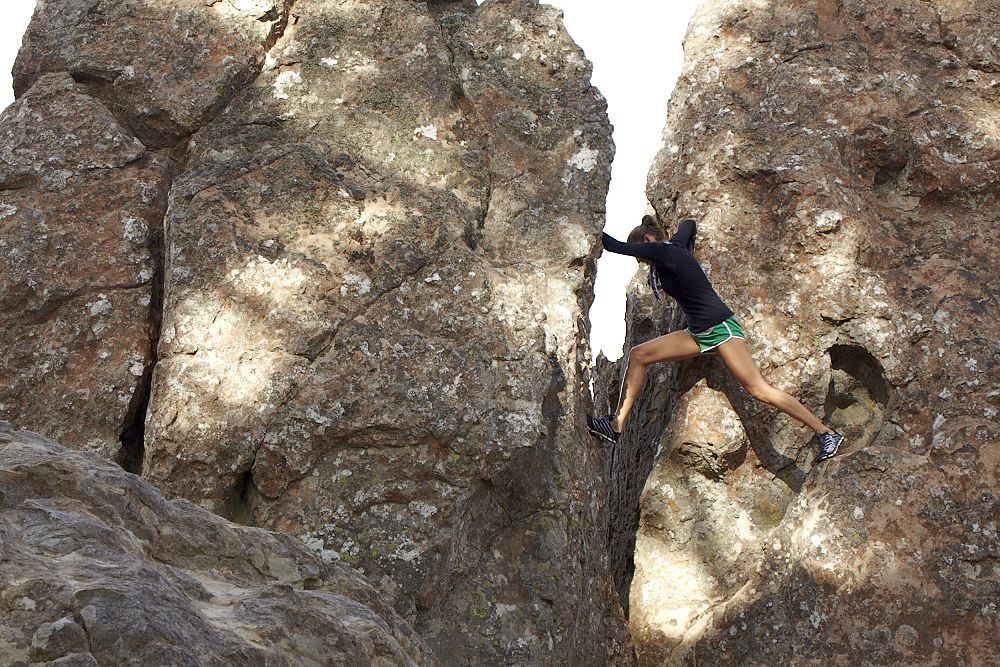 It was only after that I spotted the Please Don't Climb The Rocks sign. So this bit is the bit I DON'T RECOMMEND, OK kids?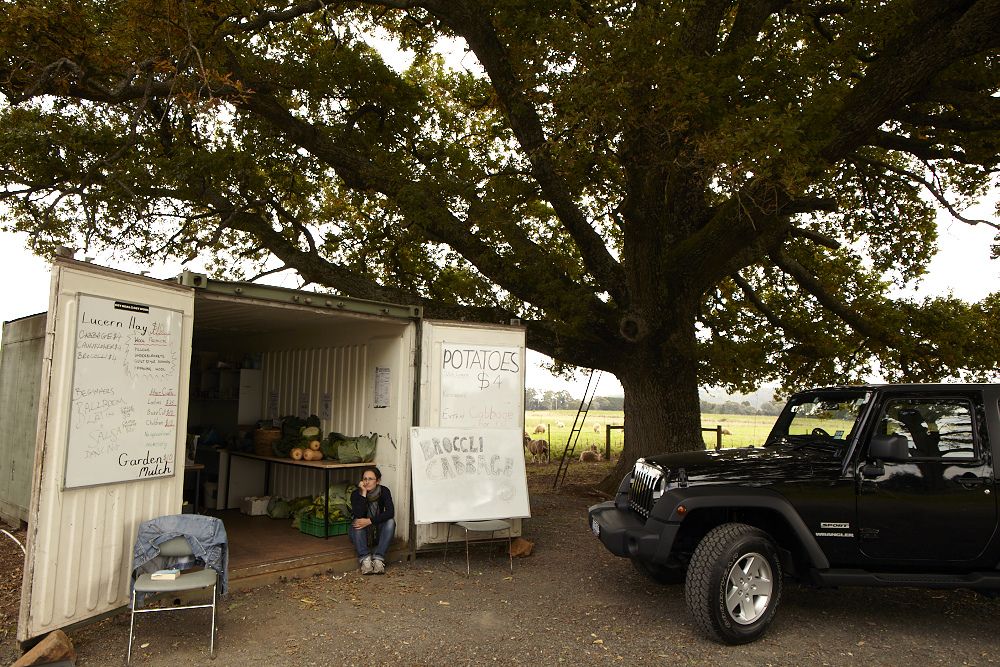 We then went for a forage/wander towards Trentham. There are farm gates along the way and you can stock up for home on all kinds of things. This place sells haircuts, doonas and Latin dancing lessons. As well as cabbage. The farmer thought we needed a cabbage. And a sheep. And a husband. We hoped there was no link between the three. He took off in his ute to get us a sheep (??) after stuffing a cabbage onto my lap. "You need cabbage. Stay there. I'm getting you a sheep." We didn't wait around for the sheep.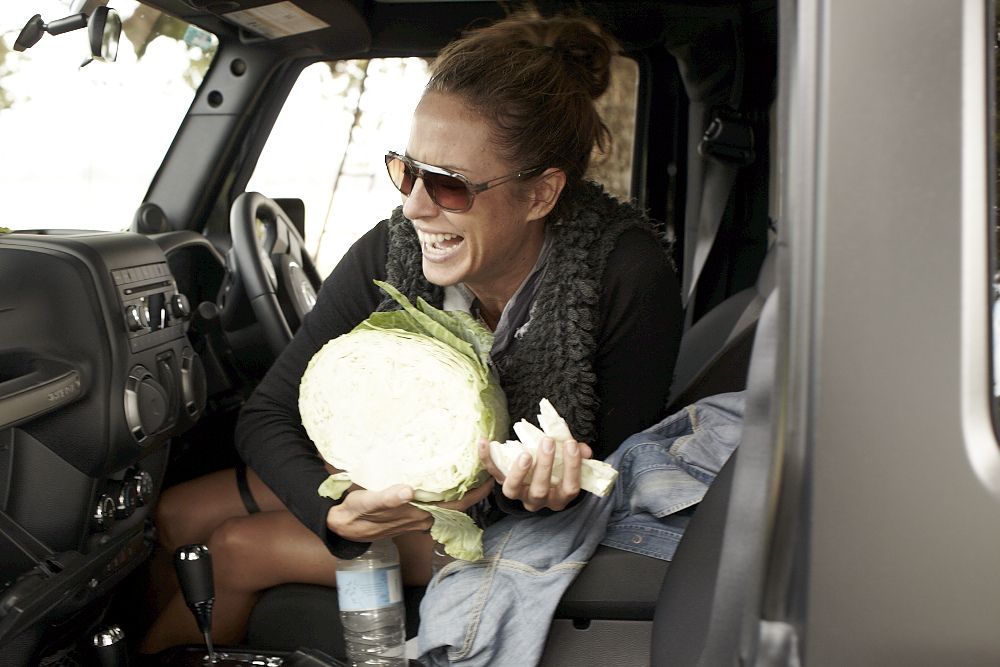 And so it was, the cabbage joined our Slow Foodie Road Trip. (To see more cabbage stupidity, visit my instagram site.)
A visit to Istra Small Goods in Musk is mandatory. Bernie and his parents make nitrate-free bacon, chorizo, proscuitto, salamis etc and stock all manner of odd Croatian Things in Cans. Stock up. And look out for their produce in cafes in town (and around Australia, actually; they supply Victor Churchill in Sydney, for instance). They're much loved and respected in the 'hood.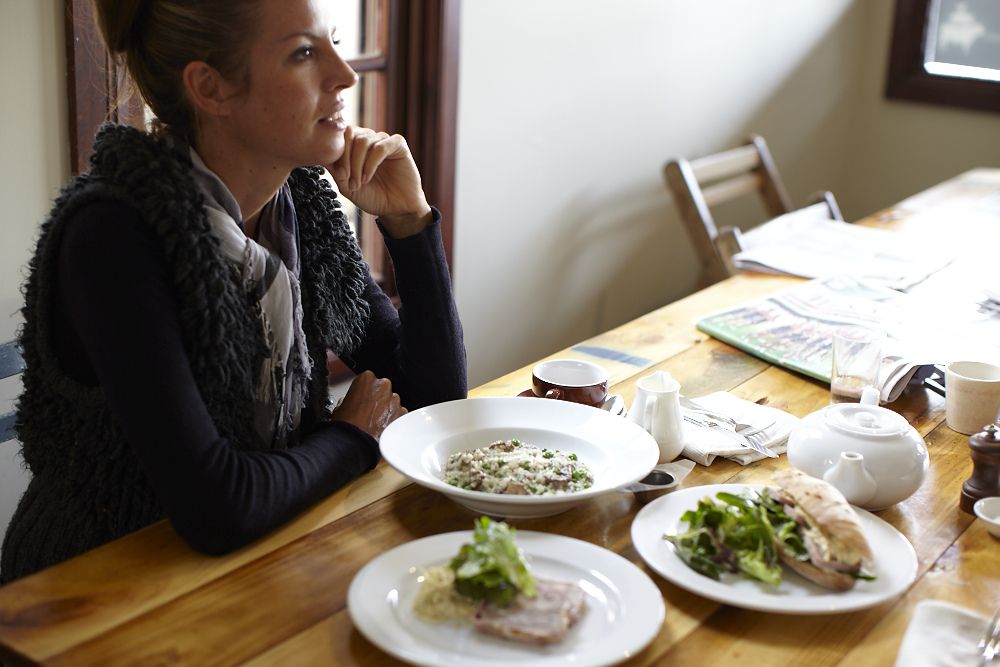 Ooops. I almost forgot. Trentham. It's the new Kyneton. Which is the new Daylesford, if you're into new things. The town's tiny (and crying out to be a set for a movie starring Ben Mendelsohn), but has several brilliant foodie stop-offs. Annie Smithers – a slow food legend in the area; check out her new cookbook that launched last weekend – has just opened her latest venture du Fermier here. It's cosy and cottage garden-y and the blackboard menu is an  A-Z of EVERYTHING I like to eat. Most of it is foraged-type stuff (forage being the theme of the region….seriously, locals go "foraging" in their time off for their groceries). We ate pork terrine baguette with remoulade and a foraged mushroom risotto. With Earl Grey tea. Dan and his partner Dan (not a typo) run the place with cosy country congeniality.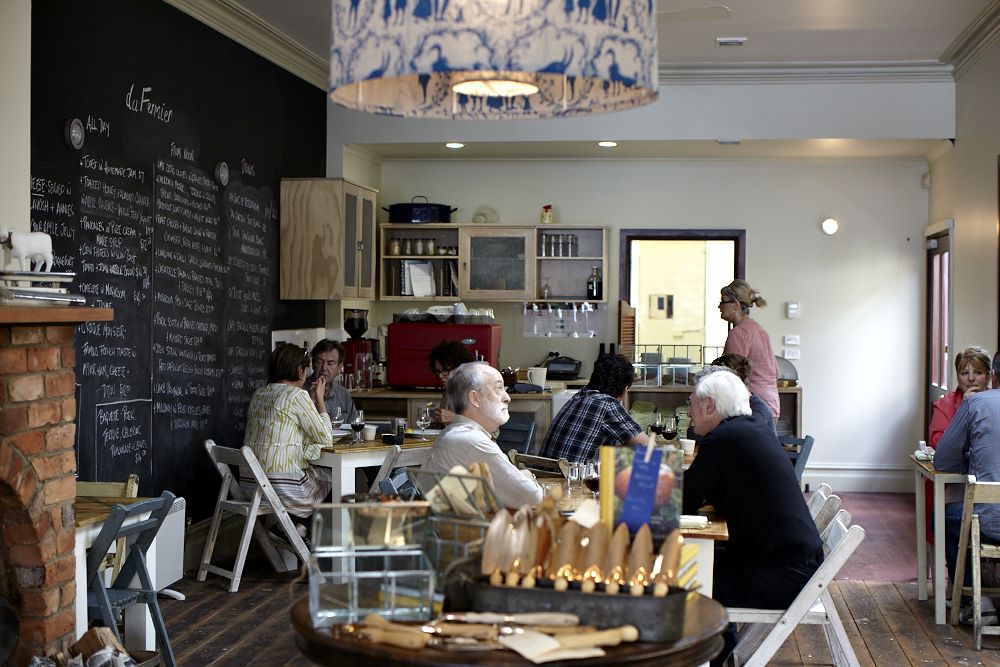 Also in Trentham, the RedBeard bakery. Al and his brother have run it for six years or so, but the bakery's been there – with its Scotch oven – for 140 years. They make genuine sourdough. The cafe is gorgeous, too. Again, cosy, with a sunny garden outside. And they run sourdough baking workshops as well. I interrupted Al as he made his hot-cross buns. He was keen to chat about the whole gluten intolerance debate, and how REAL sourdough is often very digestible for a lot of people with gluten issues. Watch the video – it's really interesting.
[youtube]http://www.youtube.com/watch?v=O19iNpqcFEA&context=C4ffb6c0ADvjVQa1PpcFOVHEyqJFVNk_xQC33vLviPjy-3wCS5rTE=[/youtube]
Where to stay? There's stacks of options. But we stayed at the Lake House, which is an institution in the area. As I mentioned above, if you're wanting a slow foodie experience, connect with Alla, who launched the guesthouse and restaurant in the early '80s (as a woman, with a young daughter, when everyone thought she was insane), is a must. If you don't stay here, you really must eat at the restaurant (more below) or take part in one of her workshops.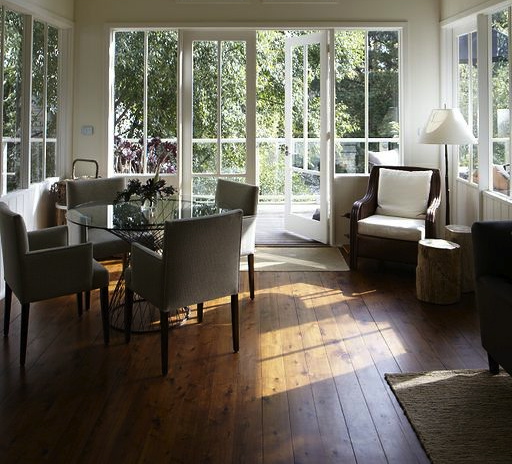 The guesthouses are elegant and cosy and perched in the trees. If you had a bunch of friends heading up, think about booking out the "retreat" rooms, which have a kitchen. That way you can forage and cook and then eat in front of the fire.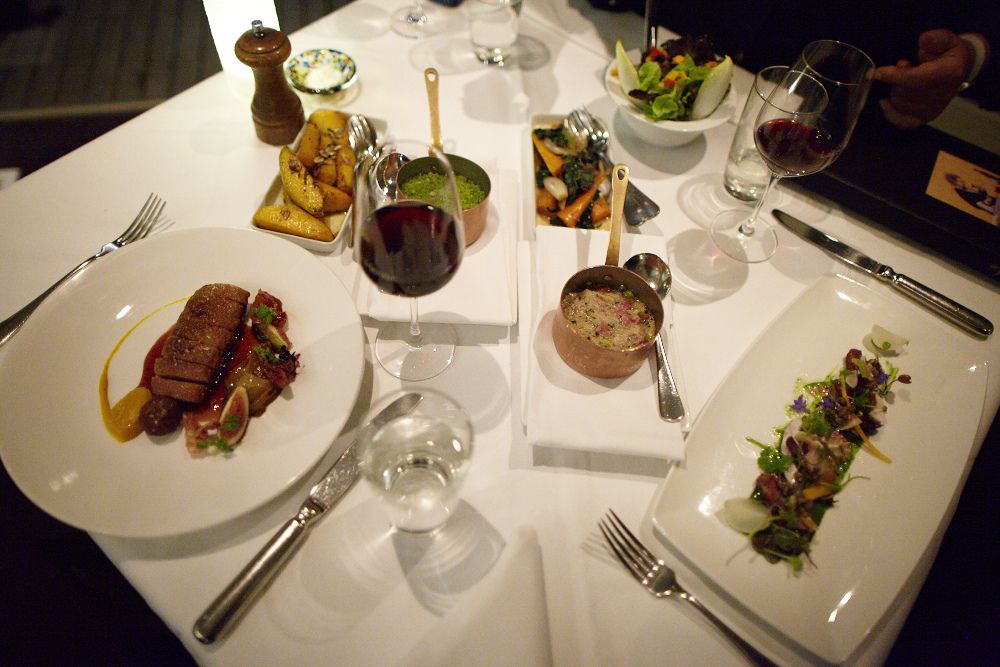 The place has won several chef hats and awards and is listed in Tatler's 101 Best Hotels in the World, 2012. The food is THAT good. We ate – wait for it – smoked eel wrapped in Istra pancetta with local beetroot, and then a cassoulet of wild rabbit slow-cooked with white beans, white wine and herbs. The other dish there on the left is roast duck with local figs and foraged elderberries. All the side vegetables were local (the farmers literally drop things to her door) and cooked in organic butter. The ingredients jumped from the plate with freshness. I got teary, it was THAT good. So much care and earthiness…it was too much.  Two courses is $76.
Three ways to have a slow foodie experience:
Locals here seriously forage for fun. I'd recommend doing the same, especially in Autumn. You can wander the area and stock up on venison, mushrooms, apples, chestnuts, pheasant, hare, rabbit, damsons, crab apples…and cabbage.
1. Ask Alla and Larissa. They do a Forage and Feast package via Lake House. Or can just give you a map and instructions and introductions to the local farmers.

2. Check out the Farmer's Markets on the first Sunday of the month

3. Visit during Harvest Festival. See below.
Sussing Secret Forest Walks' GPS

Three more ways to see the area

I love this little business. I stumbled on it looking for bushwalks in the area. Secret Forest Walks sets you up to explore parts of the Wombat forest where you'll not see a soul. The trick: Brendan, who started the business two years ago, gives you a GPS device to find your way. As well as a backpack with snacks and water. He meets you at Breakfast and Beer cafe for a coffee to talk you through things…he also has packages for family treasure hunts etc.

1. Do one of Brendan's secret walks. They're seriously secret and great for people like me who HATE well-trodden paths. We saw not a soul. Apart from a guy on a horse who said he'd never seen anyone on the track in 20 years. We had so much fun doing our walk. We hugged trees. And tried to fool the GPS, but it would have none of it. It was all very Amazing Race.

2. Do one of Brendan's rides. Same deal but on bikes, with a foodie theme. Visit Istra and various farmgates. Or do a pub ride. Ride. Eat. Ride back.

3. Simply head out from Lake House along the spa track out to Tipperary Spring.


Some other stop-offs:

Wombat Hill cafe: Larissa runs this place up on the hill in the Botanic Gardens. Gorgeous food, set in a vegetable garden. Nice and casual. You might like to takeaway and sit on the lawns overlooking town. Lots of people did when we there. Again, all the food is local and nutritious and beautifully presented.

Jimmy's Bar: This is pretty new. Greek food that uses local ingredients.

A Perfect Drop: An amazing old home turned into a cosy restaurant. Have a wine there on the chaise lounge in front of the fire.

Hepburn Bathhouse and Spa: Visit the spahouse for a mineral spa

Two Fat Wombats: in Trentham. A whacky curios shop of the weirdest crap you can buy. Worth a visit. Rob the owner will crack bad Dad gags and it will make your day.

Cliffy's: a deli in town, great for rustic breakfast and no-nonsenseness…check out the chai/soy notice below

Tip:  check out Lost magazine… great local listings.

Tip: I'd really try to make it during the Harvest Festival, April 27-May 6. There are preserve, cheese, pizza and sourdough-making workshops, truffle foraging, trout farm slow lunches, feasts and tastings and a fantastic masterclass with some of my favourite chefs: Justin North, Teage Ezard and Alla.

OK.  I think you have the gist. Over and out from… me with a possum bottom moustache (during our Secret Forest walk)…

And Marija (with some of Two Fat Wombat's curios).

To be upfront with you: Daylesford Tourism hosted my visit. However, all destinations and experiences are true recommendations. I'm upfront with all sponsors that I will report honestly on my experience. It works better this way.


Also, Jeep supplied me with one of their two-door Wranglers. I drive one at home, too.