It's not quite winter but it's already getting chilly. Time to get set up on your bike. We asked Joyce from Cycle Style to give us some tips: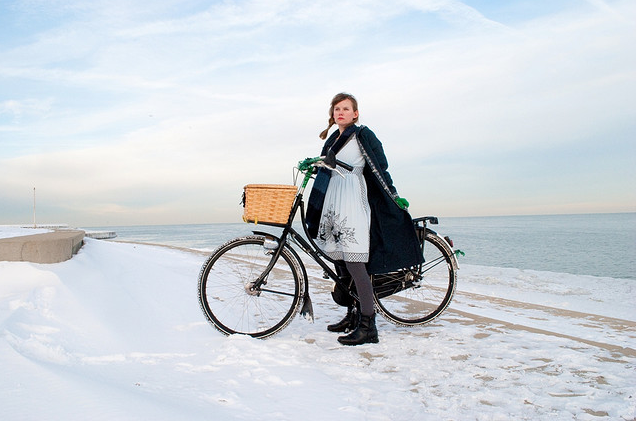 The mornings and nights are getting darker, windier and colder – but that's not a reason to hibernate with your bike. If Dottie can ride through the frigid Chicago winters, so can we! (This bike blogger is my winter cycling hero, check out her beautiful Flickr stream)
In my view, cycling through winter is the best fun – the air is exhilarating, pedalling warms you up in a jiffy, there are fewer cyclists on the road and let's face it, winter fashions are more chic. All that incidental exercise also helps keep off the winter weight when you indulge in another helping of molten chocolate pudding.
Here are my top 5 tips for how to cycle your way stylishly through winter:
Wear layers. The key to stylish winter cycling is to layer up in fabrics that breathe. My favourite base layers are garments made of merino wool and bamboo – they are thin, wick sweat, don't smell and feel great against the skin. Check out the range from New Zealand's Icebreaker.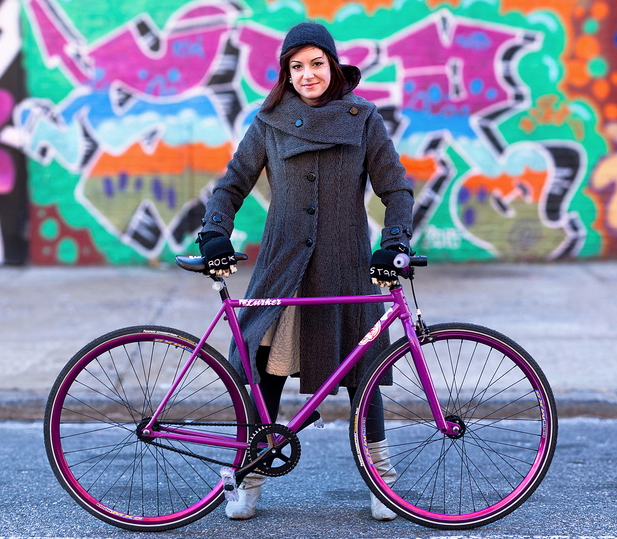 Accessorise with panache. Scarves and gloves will be your best friend in the cold, as they keep you warm during the initial chill and can be easily taken off on the bike at the lights as you warm up. We stock lovely scarves and gloves by one of Australia's last remaining knitting factories, Otto & Spike and crochet accessories with knitted with reflective thread handmade by Angelina, the lady cyclist behind CultureCycle. During winter I also wear a lot of tights and leggings under my favourite skirts and dresses as they can give a greater range of movement than pants.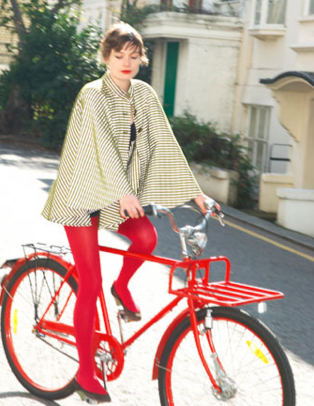 Be ready for inclement weather. Drizzle and wind is part of the winter reality, but there are lots of fashionable weatherwear options. Try the raincoat range from Wet and Wendy, the made-for-cyclists trenchcoats by  HappyRainyDays, or the waterproof and reflective wool capes from Dashing Tweeds.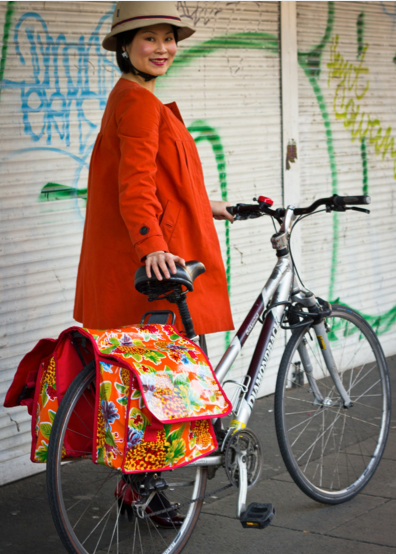 Keep yourself and your belongings dry. You could put your things in a plastic bag – or you could put them in some oilcloth panniers, or top your basket with a waterproof cover. To keep the cold and wet off your feet, back and bike, I highly recommend installing fenders too.
And this, from Berlin Cycle Chic. Child friendly, and gorgeous!
Happy winter cycling!
Are you ready for cycling in the cold? Anything you'd like to share?