I first wrote this guide in 2012 when I was living just outside Byron in an old army shed in the forest. I put it together as a rundown of Things to Do as recommended by me and a bunch of friends from up there for our various mates when they came to visit.  I've updated it regularly since. The most recent now in April 2019.
As a bit of background, I went to Byron to rest and heal. Which is what it has done for thousands of years. For the local Arakwal Bumberlin people it's always been a healing and fertility place. The locals say you come here to get healed. Once healed, you need to move on or, if you stay, you must heal others. After 18 months in Byron, I knew my time was up. But it will always be a special place for me.
PS You might also like to read about the road trip I did in the area quite a while back.
PPS In recent times, downtown has become way too crowded and "for the tourists". The best joints are in the industrial estate. Which ain't as grim as it sounds these days. It's where the locals go for yoga, great food, art etc.
FOOD AND DRINK
Byron Industrial Estate
Barrio is my pick these days. The menu is probably The Best Array of Stuff I Love, including iceberg lettuce with sardine yoghurt and roast pork with cabbage, etc etc.  It's brought to you by the crew who do Harvest out in Newrybar (see below) super wonderfully. It's out in the Habitat precinct in the industrial estate and is great for all three meals. Book for dinner.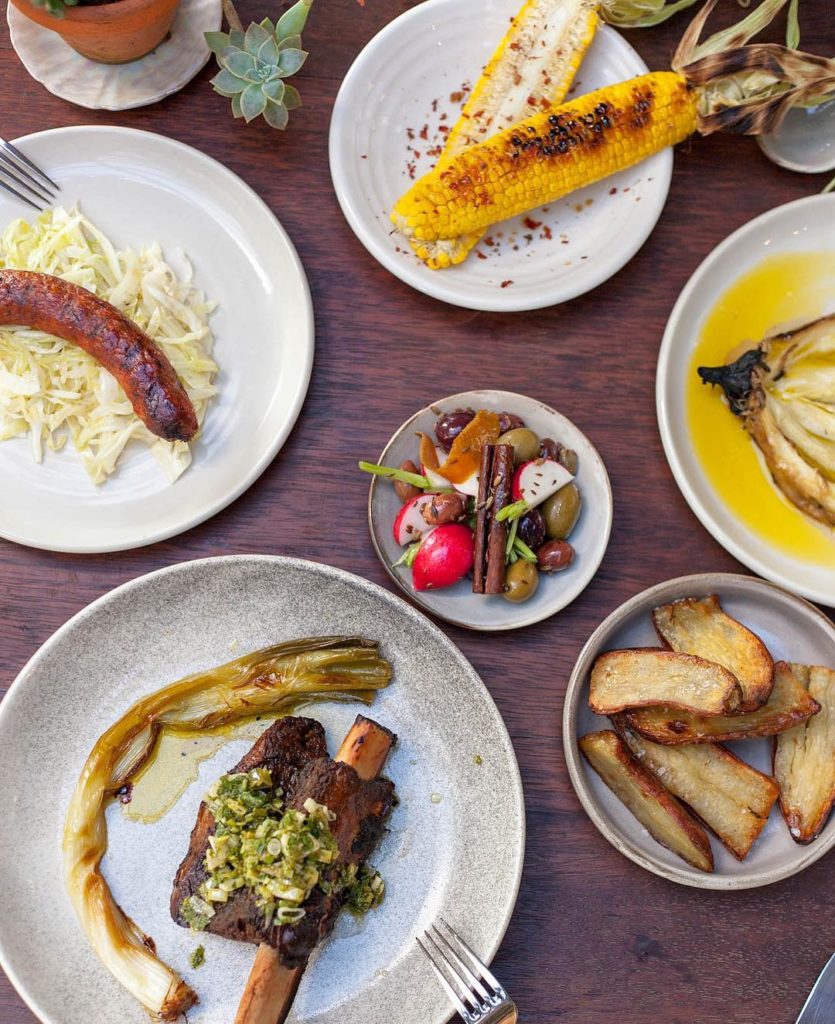 Mactavish in the industrial estate is an iconically Byron surfboard shop with a great cafe. And across the road
Stone & Wood have their new brewery. And 110-mile Table (see above) do their food. My mate Paul from Art Park loves their fish and chip butties, but there's also other options including a picked salad
Sun Bistro Bottleshop –  Again from Paul: "Juilan owns and runs what is possibly the best small bottleshop in NSW..  huge selection of natural wines, the best beers and fascinating new spirits . A local secret."
Allpress coffee. Out in the industrial estate. Paul says: Best coffee in town. (don't forget to take your own cup)
Kouzina Byron Bay This one from my mate Tory Bauer….a new traditional Greek Restaurant with a communal atmosphere of shared platters, mezzes and Greek coffee. They are open lunchtimes and also Thursday, Friday and Saturday nights if you're looking to escape Byron.
La Cuisine Byron Olive Company – is a tiny Mediterranean style deli offering marinated olives, tapenades, cheeses, marinated garlic, salami – plus they have great picnic options
La Bottega by Peppe Pizza – Tory shares this one, too. A lovely little Italian deli which also has fresh salads and woodfired pizza. On Monday nights they have a pop up at the Broken Head Hall – which has Gluten Free options.
Folk. My mates Lizzie, co-owner of boutique Spell & the Gypsy Collective (check them out on Instagram), and Paul love this place. It's a little out of town, toward the industrial estate with a great vibe. The decor is straight out of Frankie magazine and the food is very Melbourne via the 1970s. They have another cafe in Bangalow – Woods – which I hear is super cute, too.

100-Mile Table. This place is phenomenal. It's a cafe with All The Food You'd Go to Byron For. But mostly it's a catering company and they do pop-up dinners which you should keep an eye out for when you're up there.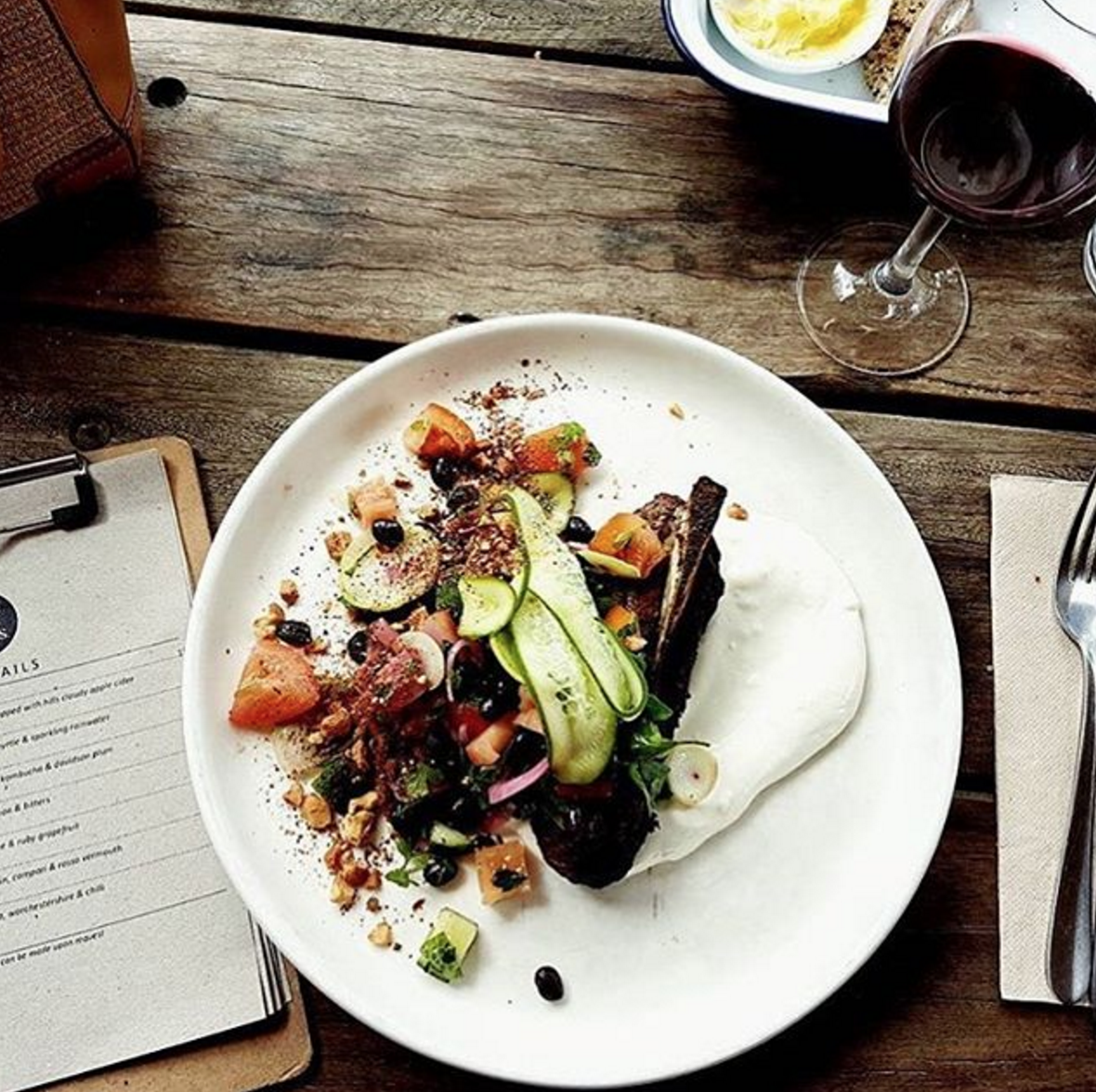 The Farm. This is the Three Blue Ducks joint, just outside Byron, that must be experienced. It's an outing. It's an experience. It might involve a wait. Paul says the baker out there –
The Bread Social "Rivals all the great Sydney bakeries for Bread and pastries. Delicious!!!"
Downtown Byron
Bang Bang. Everyone loves this South Asian joint with great kitchen pedigree and cocktails. I hear.
Sunday Sustainable Bakery. Best bakery in town, opposite Woolies. According to my mates.
Byron General Store is organic, local and vegan. It's on the way out toward Suffolk Park. And is a hit with many of my clean ocean friends, judged purely by the fact they all seem to follow them on instagram! An amazing place for kids and for chilling. And I LOVE this: "Ride your bike for a 10% discount! Bring your own coffee cup for 50c off your coffee!"
We are Combi is Instagram and mylk-everything manna. Says my mate Tim, "These guys actually have great food and the best Gluten free Pancakes". Quite a bit of stuff without sugar, too.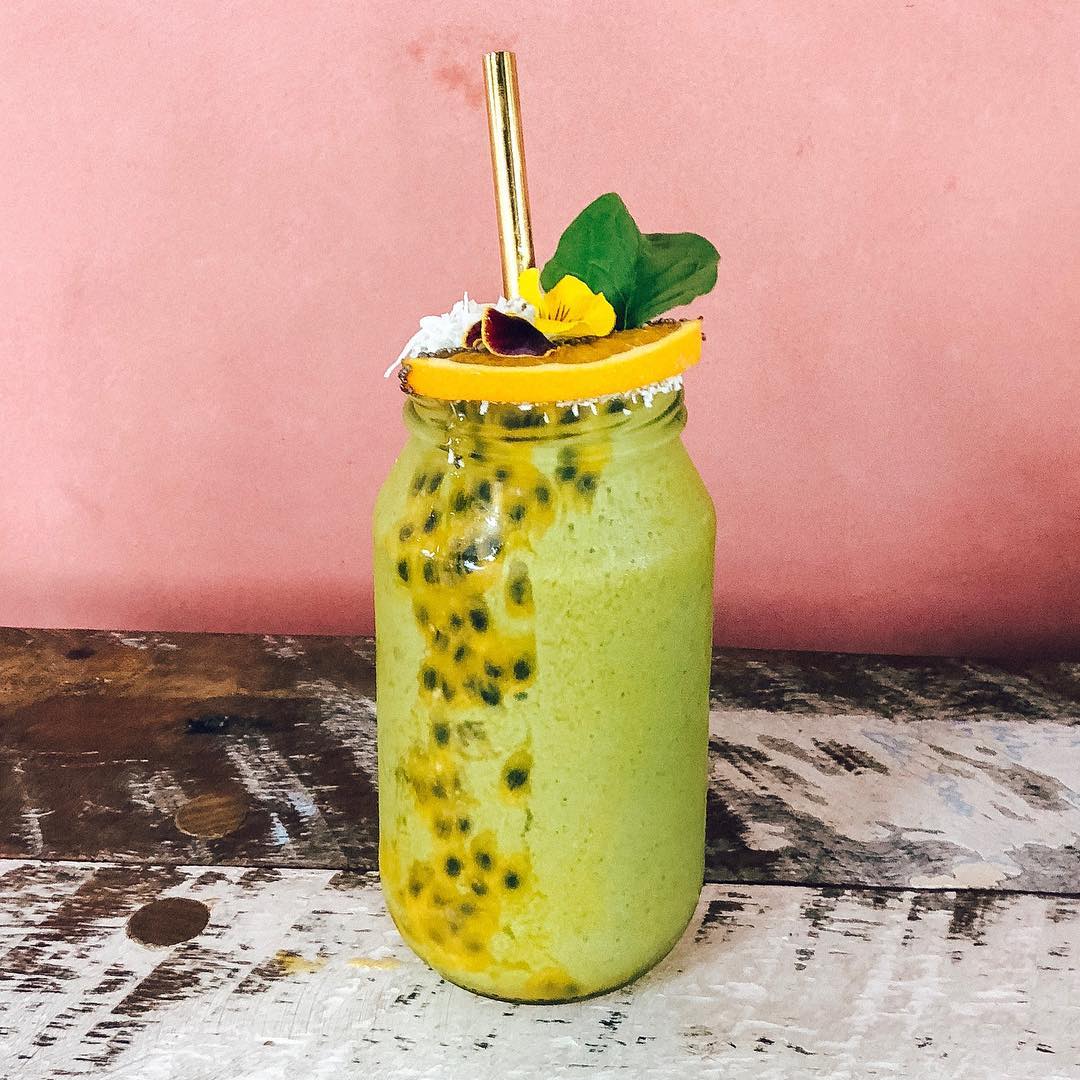 The Roadhouse. By day they do organic coffee made with organic milk, fermented turmeric and ginger kombucha and gut-healthy breakfasts with sauerkraut and sprouted bread…you get the picture, right? They're totally Sally Fallon'ed up! Everything in the place is mainly organic and mostly local. There is a fireplace. And herb gardens outside. Love it.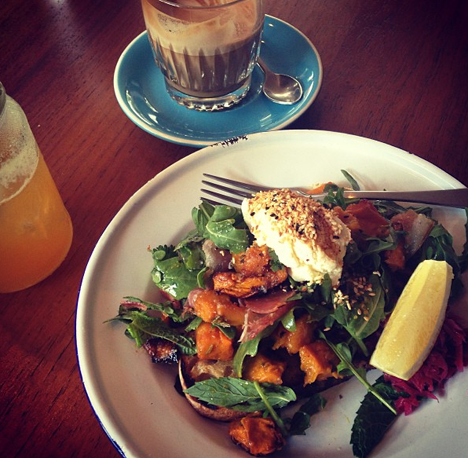 Bayleaf. The breakfast greens (with or without pulled pork) is fabulous at Bayleaf,– it still makes an excellent breakfast (possibly the best).
De Vino is in the main part of town and, says my mate Paul from Art Park: "cool casual Italian with excellent! wine list".
OzyMex Café on the roundabout in the centre of town is great. John (the owner) makes the Byron Bay Chili Co. sauces and corn chips that you can find in supermarkets. I love the nachos and fish tacos and he makes all his own mince and sauces, too. The REAL deal.
The Beach Hotel.  This place has such a great atmosphere in the mornings and is a local favourite. If you want simple and breezy, this is perfect. Jacqueline McCoach, a Byron-based jewellery designer and owner of 'Jewels by Jacqueline' agrees. You can find the Beach Hotel website here.
The Byron at Byron has happy hour from 4-6pm Sun-Thurs and is arguably still the best kept local secret in town.
The Rails is fun for some local action (and the best pub food in town – look out for the pork belly and the kangaroo special). Their website is here.
Top Shop is great post-surf….but bring your own cup (and plate!). They serve up disposables only, sadly. The omelette roll at Top Shop is superb. Their burgers are amazing; they have fennel seeds in the patty. The eggs and bacon are organic and they bake their own bread and pastries. They serve Prem's Chai tea, too. That stuff is gold.
Locura in town is awesome for Mexican  including local seafood from Freckle across the road and vegan tacos. Magdalena says the tostadas and the tortillas are locally made with organic corn. Lacto- fermented pickles, fermented hot sauces. Great cocktails and natural wines on the list too!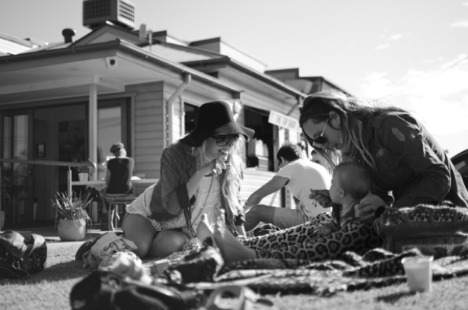 Around Byron (Bangalow, Suffolk Park, Newrybar, Brunswick Heads and Federal)
Chupacabra for fun Mexican. This place is out in Suffolk Park and are, again, owned by the Harvest (and Barrio) crew. Locals, like my mate Tim and Claire head here cos so many live out that way.
The Belle General is a little further afield… Jacqui and two of her cousins have opened the café on Shelly Beach in East Ballina. Their focus is gluten, dairy and sugar free foods.  I try to plan my trip to Ballina airport to incorporate a coffee or meal here.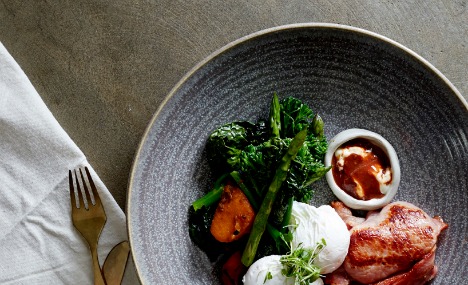 Harvest at Newrybar is ace for vibe and makes for a great excursion en route to Bangalow out to the green rolling hills of Byron Bay.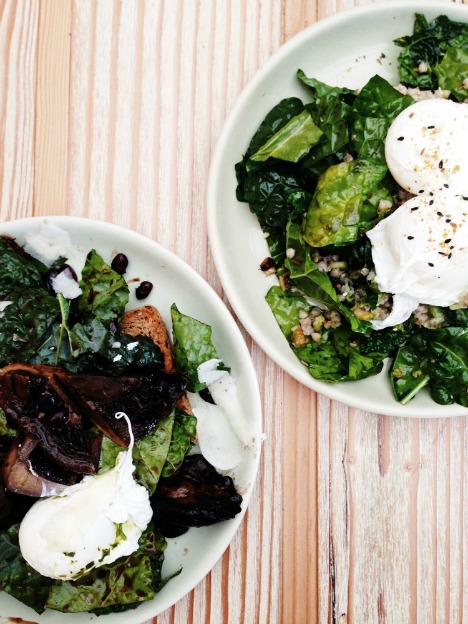 My dear friend Magdalena Roze lives out toward Brunswick Heads and gives these suggestions: The Kingswood for snacks and natural wines; Ethel or Jones and Co for coffee' Fleet is amazing; Milk Bar for yummy congee and breakfast/lunch.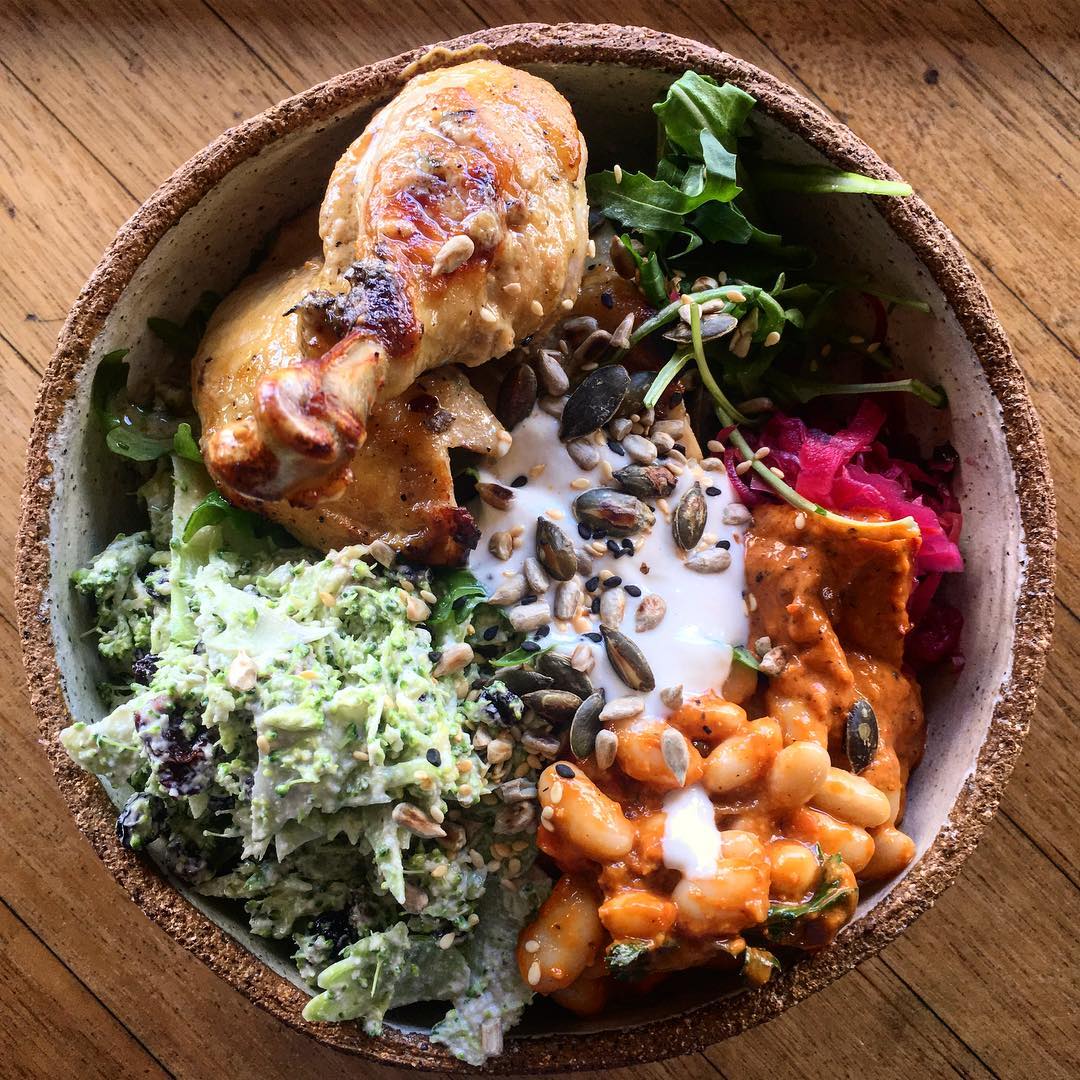 Plus: Doma in Federal for Japanese and coffee
ACCOMODATION

My mate Tory Bauer adds this great tip: If you have leftover food from your stay please donate to Liberation Larder which is all about food rescue. A reminder also if you're travelling to Byron to bring your own coffee cup, water bottle and shopping bags!
Atlantic Byron Bay. I love staying at the Atlantic Byron Bay. It's where I stay if I'm not with friends. The obvious bits: it's close to town and the beach; it's super affordable; and it has a range of accommodation options, including the AirStream below;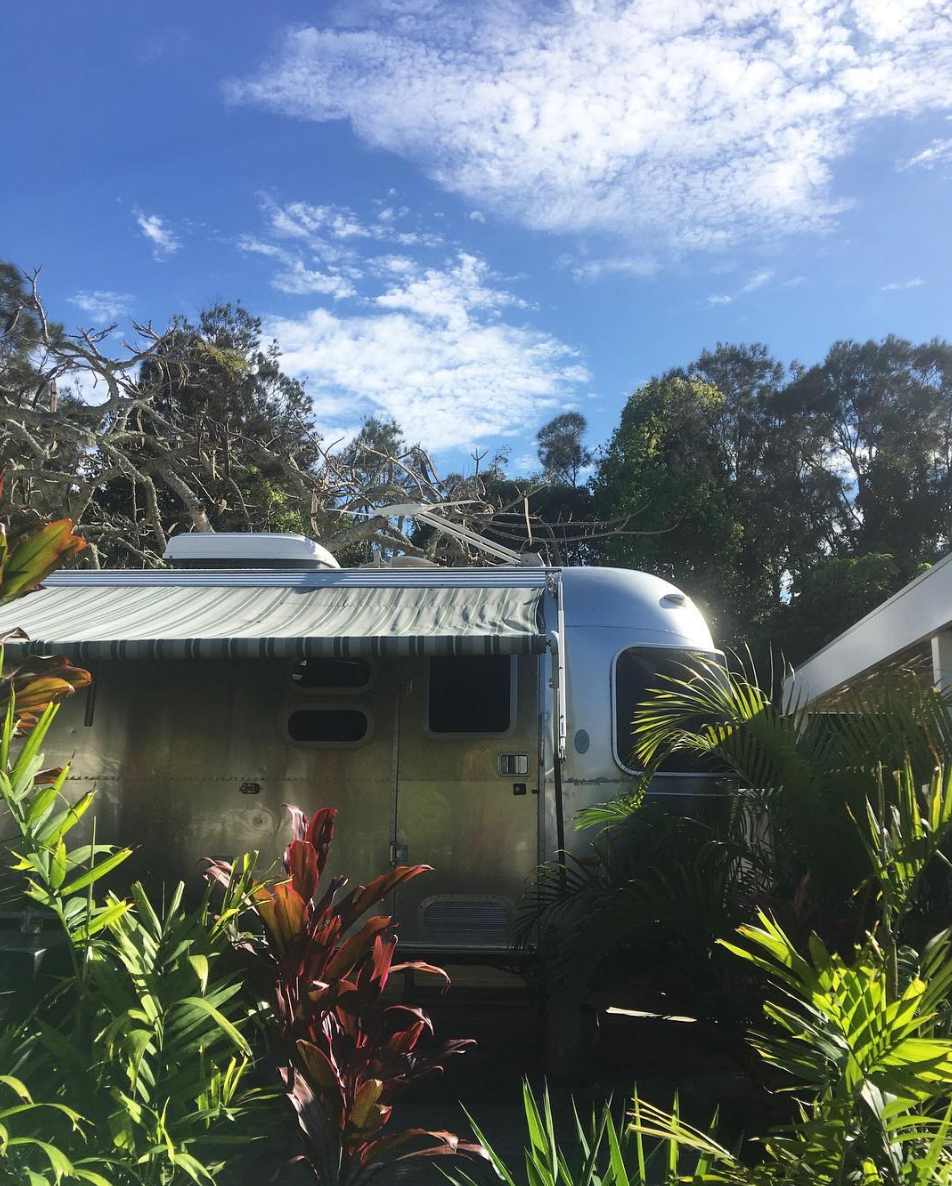 I've stayed in their "lodge". I don't think they call it a lodge. But it works like this: hotel-size rooms with balconies that feel more like a bedroom in a designer Byron home; own bathrooms; communal kitchen and eating area and deck downstairs; communal gardens; stand-up paddleboards and books and DVDs to borrow.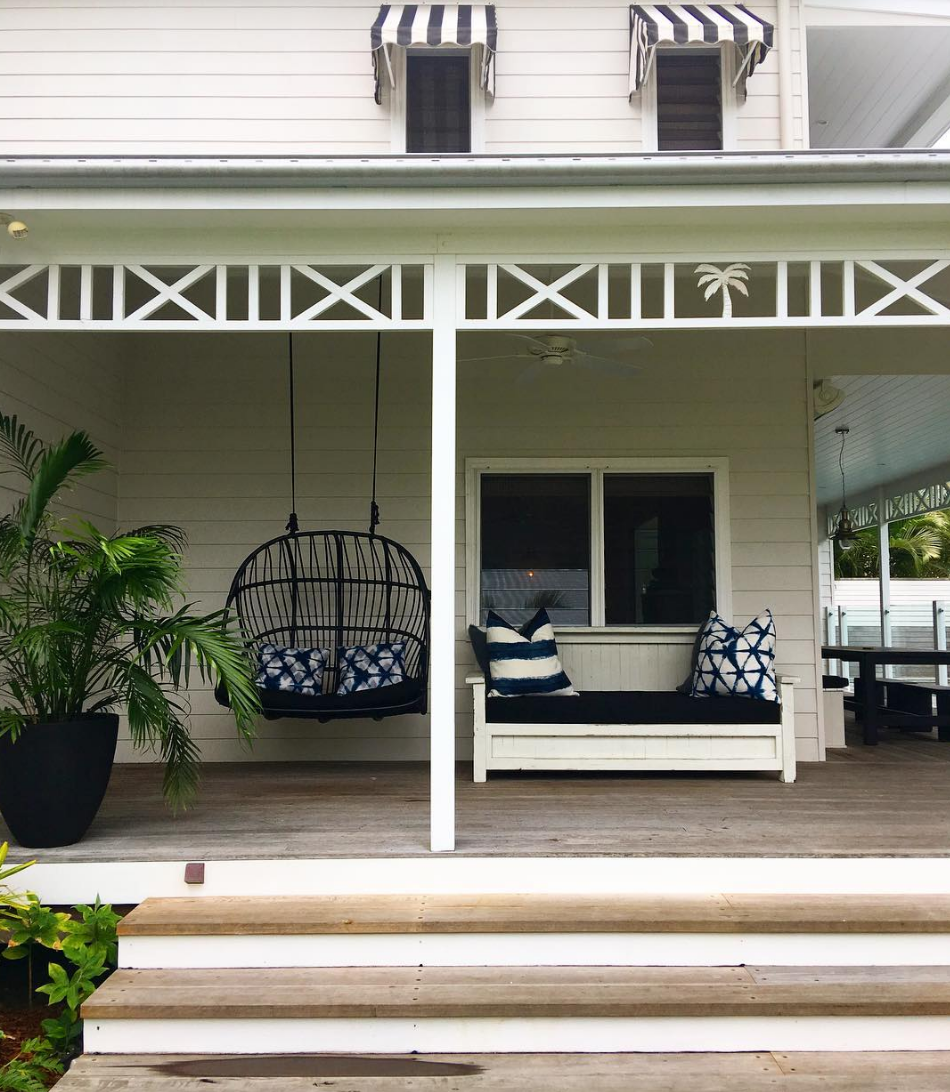 The not-so-obvious bits: when you stay here you feel like you're a part of a family. The owner and her family are often floating about and they invite you to use the bikes and surfboards. Nothing is too much trouble. I've personally had a bit of an anxiety moment while staying and she came around to give me the keys to her private residence if I needed an "extra sleeping option" in the middle of the night. Anyone who knows me knows how much that meant to me.
Byron at Byron is another great place to stay and is a little out of the chaos. Lynne is gorgeous and will make your stay special.
The Bower at Byron is recommended by some mates up that way.
Clarkes Beach Cottages. Lizzie recommends these cottages down on Clarke's beach. "You cannot get a better position in Byron Bay- rain, hail or shine you can soak it up down there and get some real relaxation. You can literally roll out of bed, walk 20 metres and lunge in the ocean. Pure bliss!" 
The Byron Bay Beach Houses are perfect if you're visiting as a group or family. Byron Bay Beach Houses is on the Lighthouse Road, just opposite the Captain Cook Lookout (where I would park to surf The Pass). I stayed in the Havana house, set back from the road and backing onto rainforest. It's a languid, beachy, breezy family home with two big lounge rooms, with generous couches and generous cushions and lots of light and air, four bedrooms (to sleep 10), a pool, barbeque areas and two decks. You getting the picture? Breezy, big and great for entertaining.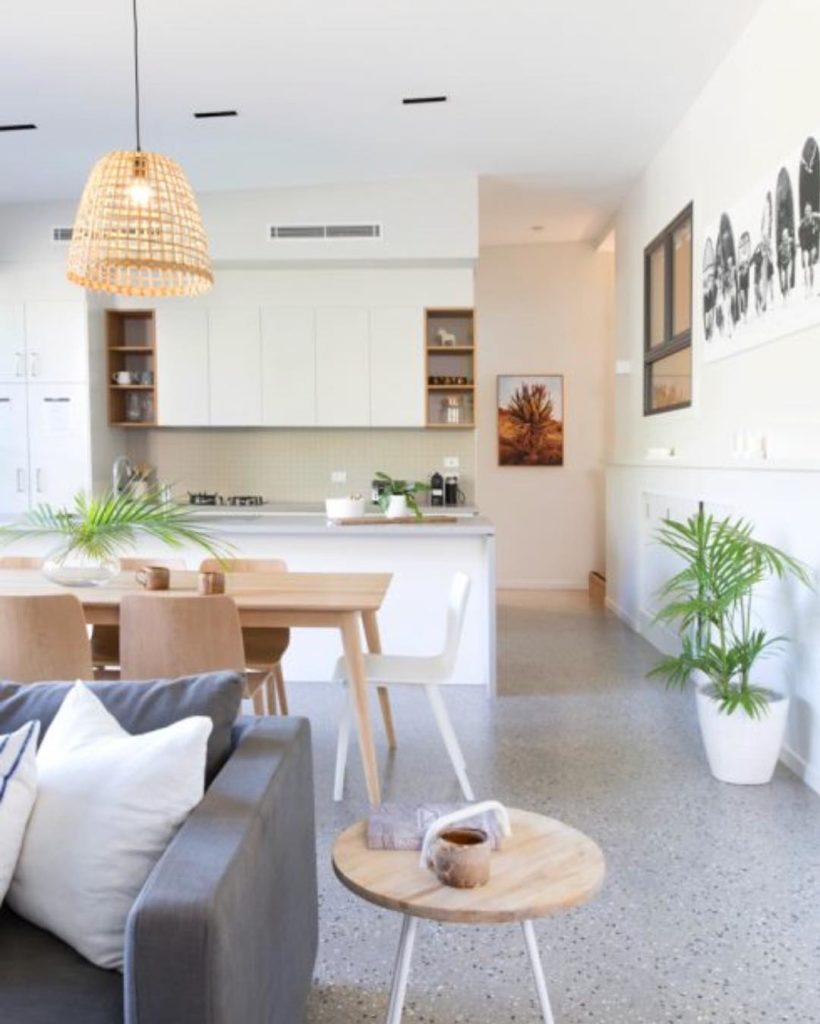 Broken Head Caravan Park – is nestled right across from the beach and have cabins which are comfortable and spacious. Cheap alternative to Byron plus much quieter.
The Sails Motel is a hidden gem in Brunswick heads, and each room is stocked with Eco Logic amenities which are fair trade and made from 100% post-consumer recycled plastic. The hotel's eco friendly philosophy can be found here.
SPECIAL DATES AND THINGS TO DO
Catch the world's first Solar Train to the industrial estate from town – it's only a 10 minute ride and its environmentally friendly
The Habitat Complex in the industrial estate is actually quite impressive. It's like a courtyard with shops around the edge and locals go and hang there and eat at Barrio (see above).
The Byron Bay Arts & Industry Estate. Check out glass blowers, silver smiths, fairy shops, vintage stores, a circus tent, soap and candle makers. The tourist office has a map/trail for the area.
Monthly craft markets can be a bit of a hub of crocheted coat hangers, but the Sunday craft markets that rotate around a bunch of towns in the area are actually very, very cool.
Island Luxe in Bangalow stock Jacqueline's amazing designs. I get asked nearly every day where my necklaces come from; you can find them here.
Wild Things Gallery. Byrons new cool surf store.
Spell & the Gypsy Collective Boutique sells beautiful clothing, jewellery, accessories, candles and more. It's recently moved to the centre of town. Well worth checking out. They also have a brilliant people and planet section on their website where you can read about their philosophy.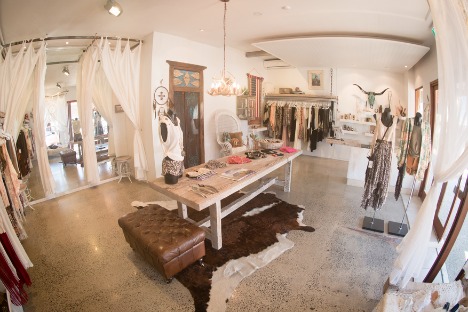 Garage Sales. If you're in Byron Bay on a Saturday, drive around the various garage sales. There are always a good half dozen and are a bit of an institution in Byron, with locals spending the day on their front lawn with their wares for sale and chatting. Also the Byron General Store has garage sales in their driveway on Saturday's
The Mullumbimby Music Festival in November is one of the best small-scale music festivals around for all ages and persuasions. Check out their site.
The Byron Writers Festival held in August is a brilliant 3-day festival of writers and thinkers coming together to talk about the big issues. On the final day they have a great kids program also.
Tory, who works for Splendour in the Grass (while working on a bunch of side-hustles that further the eco cause) says this: For live music, Tuesday nights at Howl and Moan Records is a hidden gem. This tiny record store, turns into a venue (up to 60 people) and showcases local and touring bands. Something you would find in New York or Berlin.
Lone Goat Gallery – Lone Goat Gallery is located next to the Byron Library. It's a community gallery with a contemporary twist. Curated by avante gallerist Andrew McDonald and located in the Byron Bay Library building, Lone Goat is, a catalytic space, focussed on supporting ambitious exhibitions by Northern Rivers-based artists, peppered with interstate artists and heavy hitters like the Mambo Artists Now survey exhibition.
Byron School of Art In Mullumbimby has both short and long art courses including weekend workshops, and also a cool little gallery
Lismore Regional Gallery. (Again, Tory says…) About a 40-minute drive from Byron, but a perfect excuse to look at great art, and rummage through the myriad of op shops. Check out NORPA's website also if you're there – they always have a brilliant plays/performances on, and stop by the Clunes General store – for their infamous natural vino selection.
The roadside stalls in Newrybar, near Ballina are a favourite of my friend Tory. She goes on a Saturday morning with her son, where they go "shopping" for local produce at the roadside stalls. They arm themselves with loose change and stop at the stalls to purchase everything from honey, to coffee, fruit, vegetables, fresh flowers and eggs and pop the money into the honesty box.
The whale migration happens from May to November. If you keep an eye out you can spot pods of humpbacks from a headland or join one of the tours.
Thursday local farmers market (look out for the raw food stand – the hummus is amazing – and the mushroom ladies – the shitakes almost made me cry – oh, and the ginger couple and the sprouts lady…) and the monthly Sunday craft markets (they rotate around Byron, Bangalow, Mullum and The Channon). Get all the details here.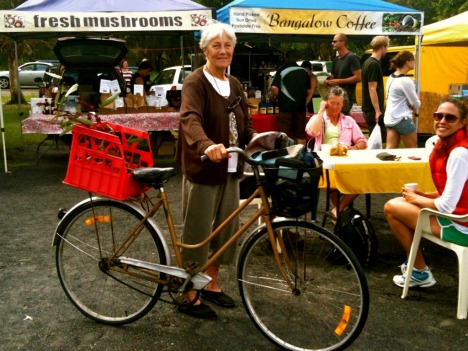 HEALING STUFF
Little Company in the industrial estate for organic facials and LED/Omnilux treatment. I'm not a facial/spa person but actually think this joint is one of the best experiences for combatting inflammation (which I got a heavy hit of on my last visit).
Nimbus & Co for infrared sauna. Head here to book.
Bay Family Chiropractic is where I go when I've been writing all day and my posture is stuffed. My neck gets thrown and so I have to go and get cracked back into place. Not ideal. But you do what you have to do. Peter is great; he's a super passionate surfer who knows a lot!
Byron at Byron lets you sit in their lovely garden while you wait for your massage there.
Kiva Spa in Mullumbimby. You can get a treatment or just pay $20 to use the out door spas, log fire sauna and steam room.
Mullum Sari has an infared sauna that I loved going to. A beautiful space and experience, which I'd finish off with a dandelion tea at a nearby cafe. Worth the excursion.
Comma in the industrial estate is the recommendation from Magdalena Roze. She also recommends:
Aleshia Marie in Bangalow for facials and massages and she comes to you, too.
Thai Sabai is the best Thai massage.
I also advise checking out the classifieds in the Echo and the noticeboard at Santos in Mullum. It's intriguing just how many different esoteric healings one can have!
YOGA AND SIMILAR

The daily ocean swim was one of my favourite things to do when I lived in Byron. We met at 8am at the Surf Club, walked to The Pass and then swam back (about 1.5km). A group of 20-50 locals do it every single morning. I did it once or twice a week. First time I did it I got mauled by bluebottles, the second time I swam over a shark. But don't let that put you off! The old locals who've been doing it for decades make it the most wonderful start to the day. Anyone can turn up and swim. It's free.
If you're chasing a surfboard, I bought my longboard from Brett Munro of Munro Handcrafted Surfboards at the Industrial Estate. He's a Byron legend. An all-round legend. He hand-shapes all his boards and sells quite a few second-hand. The experience was soothing in itself because Brett is THAT laid back. He also lets you take a board out for a trial and will let you exchange if you're not 100% comfortable. NOTHING is a problem. And if your board needs some TLC, check out Dr Ding.
Walking/running: For a walking/running route, go from Clarkes Beach to the lighthouse. At sunrise. It's magic. I did it as early as possible and meditated on the eastern most point of Australia with the new sun on my face. While doing this once, looked up, and there were two whales breaching right in front. Did I say magic?
Minyon Falls is a cracker of a place to hike. Head out along the bush track past Broken Head and walk down one of the tracks to an isolated beach. You can find maps and local information here.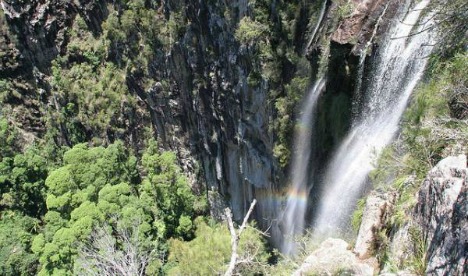 At the other end of the spectrum, the rainforest route to or from the lighthouse via Lee Lane (map here) for a big leg workout.
Ananta yoga is in a pretty grim location (up near Mitre 10 on Jonson St), but Geoff is a sublime teacher. A vinyasa style with tough bits. Check here for class times.
Byron Yoga above Centrelink is another great yoga joint. If John Ogilvy is in town, definitely catch one of his classes. He's one of the best and most entertaining teachers in Australia. Sarita recommends Kirsty, the Canadian teacher.
Hustl. High-intensity pilates in the industrial section of Byron if you need a good sweat session.
Bende Yoga. Great teachers here and different styles of yoga to choose from. Head to Barrio for breakfast afterwards.
Creature Yoga – has a variety of yoga classes plus workshops  in the industrial estate and in Byron (Next to the Roadhouse)
Nice Time Yoga – has a bunch of fun classes at the Marvell Hall just near the top shop (perfect before a burger)

EXTRA HELPFUL THINGS
Need waxing/tanning? Carla at Be Waxed Be Tanned on Fletcher street is super. And a delight to visit. I giggle the whole way.
The Vista also have a beautiful guide to Byron. You can download it here.
Hope that helps…feel free to add your own tips below…