First. A big thank you to everyone who's already bought my I Quit Sugar Cookbook, released last week. Loved getting instagram pics of the dishes you made from it over the weekend…keep them coming. I'll re-insta them as they come in.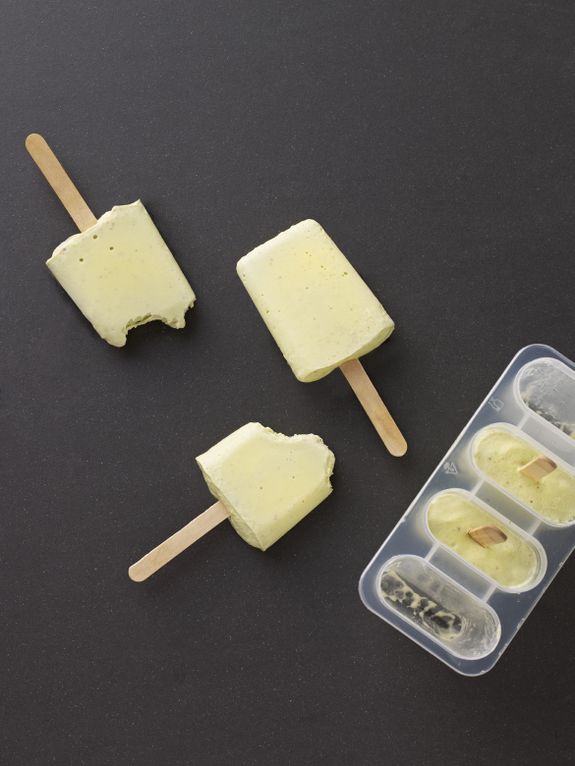 Second. If you're curious about what kind of recipes I share, I thought I'd share this one…a kids' treat (I include a chapter of kid-geared treats). Avocado and coconut water popsicles! These things are seriously creamy and sweet… and contain fully nutritious ingredients. A meal on a stick!
You can watch me make them here:
[youtube]http://www.youtube.com/watch?v=CyNGRqHPstg[/youtube]
One of the biggest requests I've received since I launched my first I Quit Sugar ebook eight months ago has been for recipes that will keep kids happy. So I obliged.
I've shared about coconut water and it's merits before. I've also recently written this post about fructose in coconut water. But, in a (coco) nut shell,  know this:
coconut water is loaded with electrolytes, calcium, potassium, & magnesium in an easy-to-absorb liquid
it promotes good circulation and it speeds up your metabolism – thus helping with weight loss
its high potassium properties can also lower blood pressure, and stimulate blood vessel dilation allowing a greater volume of blood to flow preventing heart failure
coconuts contain cytokinin – a potent anti-oxidant that stops the destructive action of free radicals out to damage proteins, fats and DNA. Anti-oxidants slow down the aging process by regulating cell division and encouraging more youthful and functional cells
the fibre within coconut water is highly effective for controlling your blood sugar as it slows down the absorption of sugars
drinking coconut water regularly can also help prevent constipation.
Kokomo coconut water – which you can buy at Coles and from drinks fridges around the country – joined me to make the video. This brand is Certified Fair Trade, which means they help the local Filipino people who grow the coconuts to grow communities that are happy, sustainable and healthy, and packed straight from the shell into containers, limiting exposure to light and heat (to keep things sweet).
Tried a recipe over the weekend? Send me pics of your popsicles!