I read recently about how Facebook's incredibly talented and respected CFO Sheryl Sandberg Leaves Work at 5:30.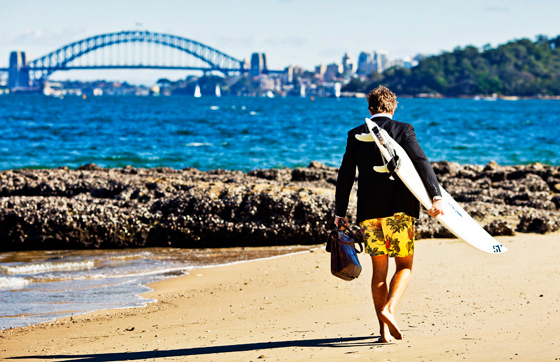 Gobsmacked. How cool. Bloody good on her…. I thought all these things. And I loved that she'd spoken out on it. This is important.
I also liked that it appears not to have affected her career trajectory:
"I walk out of this office every day at 5:30 so I'm home for dinner with my kids at 6:00, and interestingly, I've been doing that since I had kids"
But she was somehow ashamed…and had to "justify" it:
"I did that when I was at Google, I did that here, and I would say it's not until the last year, two years that I'm brave enough to talk about it publicly. Now I certainly wouldn't lie, but I wasn't running around giving speeches on it. I was getting up earlier to make sure they saw my emails at 5:30, staying up later to make sure they saw my emails late. But now I think I'm much more confident in where I am and so I'm able to say, 'Hey! I am leaving work at 5:30.' And I say it very publicly, both internally and externally."
The Washington Post makes the point that we need to keep talking about this stuff…to get a better idea of how women are meant to juggle it all. They ask of Sandberg: Does she have a cook? Does her husband cook? Does she have a nanny? Is she involved with the school PTA? Is her husband? When I meet a highly successful woman raising small children who is willing to be real, I ask those questions. It drives me crazy feeling like my generation is left to figure out how to make our lives work when so many other women already have. And is the trail really blazed if you keep it a secret?
Why shouldn't we work less hours? Evidence suggests we work smarter when our parameters are narrowed. The French have mandated reduced working hours. They like it. Four-day work weeks…I can vouch for them (I still take Thursdays off and get just as much done in a week).
I made the bold move of stepping away from the clock-in-clock-out system a while back and now set my own hours. It took me ages to get used to this idea and I still feel odd finishing at 6pm, when all my career I've worked 12-hour days (and listen to me there… boasting about working long hours….attached to it as a badge of dubious honour). It used to baffle me that people finished at 5:30…what did they do after that time? I mean, half a day is still left!?
It's taken a while, but I have a system now. I've set myself up to have the mornings to myself for exercise, meditation and doing stuff that makes life worthwhile. I sit down to start "work" at 10:30am and go through to 6 or so.
I make lunch every day and sit away from the computer to eat it. Mindfully. Staring out to the trees.
I also take most Thursdays off…mostly to rest, but also to have time for reading articles, books, helping other people with projects (all of which is kind of work…but it's nourishing stuff and breaks the cycle). Has it affected my career trajectory? Nah. It's set the rules for it. Only the stuff that fits with a lifestyle that acknowledges enough time for things that make life worthwhile makes it onto my schedule. I turn down the rest.
Getting unwell forced me to get real about this. Money doesn't matter to me. Accolades no longer float my boat. Ditto job titles. So why not live this way? It takes some compromising and tricky maneuvering for most of us…but it's possible. We just have to set our own parameters.
We also need to share how we do things, how we make work-life work. To this end, I asked a few mates to give me their strategies:
Wendy Harmer, author, radio host, and host of the popular The Hoopla site, says:
The biggest decision in my life/work/love balance has been for my husband to be Mr Stay-At-Home-Dad. He has been doing this since we married almost 20 years ago. I live the freelance life, so being able to take off anywhere, anytime for a gig with him minding the children has been the greatest thing ever.

People always ask me: " how do you do it all?" I always answer: I don't. He does half.

Without this partnership I could not have done everything I've been able to do. As I write this, he's with Miss 12 at the pictures, allowing me to finish a book revision.
Darren Rowse, also known as Problogger, shares how he works: 
I work at home as an online publisher/blogger and am my own boss. This brings certain opportunities, challenges and temptations when it comes to work. I love my work so could easily spend almost every waking hour at it but family comes first for me.

We have made the decision to work fairly standard business hours. 

My day usually starts between 6.30-7am with one of three boys under the ages of six demanding some kind of attention (ranging from 'look at my lego invention' through to 'change my nappy'). I'm hands-on with the kids through to drop-off at school at 9am and then begin my day's work. I work through until 5pm when I commute (5 meters down a hallway) back to the family to begin our evening routine of dinner, homework, baths, story time and bed. I work in the evenings 3-4 nights a week from 7.30pm until late (or early). Weekends are almost completely work-free times.
Eva Galambos, who runs Parlour X, has a different take:
I make no apologies for the hours that I keep! I pride myself on the fact that I manage my time well enough to ensure that, as a single mum, I am able to run my business inside out & back to front, travel to Paris (& elsewhere) 4 times a year, be a devoted friend, family member & mother, and still manage a healthy social life attending events, birthday parties, general catch-ups with friends & also go on dates! I will never apologise for leaving work at 430 to get home in time to spend the next 4 – 5 hours with my almost 3 year old before I put her to bed. In her waking life, I am still the number 1 primary care-taker & this is paramount to me.

Busy people are doers.

We just know how to squeeze every possible minute out of every day & turn it into productiveness! It's true that my mind is always ticking & that I manage to duel process & respond to a million emails whilst waiting in a surgery, at the hairdresser, whilst watching cartoons with my kid, or any given opportunity… I also, resume computer correspondence late at night & after I put my child to sleep but mainly because I need to speak with countries that are just beginning their day so that we don't encounter 24 hour delays in communication. Its just easier this way & I actually don't mind at all – I am used to operating this way! I have never been a huge sleeper that relies on a certain amount of sleep per night. I always to go to bed late. My daughter sleeps in with me until 730am so our routine works very well together…

At the end of the day, my approach is more European… my daughter fits in with my lifestyle

and not the other way around. I am in charge & I set the boundaries. My child is extremely well behaved & responds very well to limits being enforced. And we work very well together. She is happy & I am happy. What more can we asked for… It's our perfect existence!
Henrie Stride, Talent Manager at Profile Talent Management (and my former savvy and loving agent) shares her schedule:
I have to pick my son up from after-school care most days by 6pm so I often do have to leave the office by 5.30pm. Now that I can get emails on my phone it's no longer necessary to be chained to the desk,  I get my emails 24/7 and pretty much check them all the time (last thing at night, in the middle of the night and first think in the morning). Ironically most work crisises seem to happen at 5.25pm so all I can say is thank God for Bluetooth and the ability to talk on the phone in the car whilst driving. The truth be known I sometimes have to tell my son to be silent in the car whilst I take an important phone call. He's very obliging but it can make for an interesting conversation post-call! When my son was small I worked part-time so I could do the pre-school pick-up most days but now I really don't think you have to stay in the office to work, your work is always with thanks to your phone. Although when you are home at night making dinner, doing homework etc it can be very intrusive to take an important phone call. A couple of my clients tend to finish work at 7pm and call on their way home and I take their calls because I need to speak to them.
Tory Archbold, Managing Director, Torstar Communications says:
One of our agency requirements dealing with so many international brands – zara, mulberry, topshop and topman –  and timezones is our ability to be available 24/7.  I work this around my other full time role as a single mother to my daughter Isabella who is now 7. I do not get to work before 10am as my morning priority is to get my daughter to school on time and ensure I have cleared, answered or delegated all overnight emails before we depart.  I then have a very clear idea of what priorities my business needs to achieve for the day. I call the office after dropping her off to debrief on any urgent matters that require additional explanation that have not been addressed by reply email or require further information for us to service our clients.  My official working day starts at 10am and I work through until 5pm in the office or off site at meetings.

It's amazing what you can fit into the day with priority-based planning and time management.

I am strict with the time I spend with people and ensure it is quality rather than quantity based. I always reply to emails received after 5pm with the same process used in the morning to ensure the flow of communication is seamless.  International conference calls occur after my daughter is asleep so I can focus and deliver results.
Juggling a family and a business? Got any tips to share? Are you baffled by the idea of finishing work at 5:30? What's stopping you?