I have a troubled past with makeup. When I worked in magazines I was beholden to the beauty industry, forced to get excited about skin whiteners and lash extenders. It killed me. Well, it wore me down, one blush stroke at a time (previous to editing Cosmo, I'd never worn makeup, never had a blowdry, never plucked my brows). Then, a few years later, I wore toooo much of the gunky stuff while working in TV and literally poisoned myself.  When I got unwell I realised I had to do something about this and swerved to chemical-free beauty and makeup products. To read about my favourites, click here and here.
But there's also the eco argument that's worth considering in all this. Not all chemical-free products are ecologically sound. Not all organic products are chemical-free. It's like food shopping: a knotted ball of competing messages.
But boiled down, it can be simple.
Yes, keep it simple and you generally land at the most organic, eco and chemical-free option.
But to be sure, I asked Maria Hannaford to give her take. Melbourne-based Maria works for an environmental organisation that's all about sustainable food, and her site Econest keeps popping up on my radar in all the rights spots. I love her honest, simple ethos…see what you think of her tips'n'tricks…
My top 13 sustainable beauty tips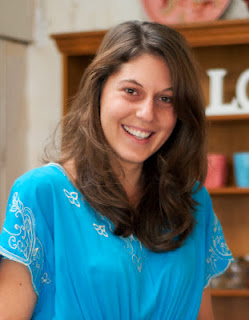 My philosophy on pretty much everything is simple: the more we pare back on possessions, ingredients, packaging, and on waste, the happier and healthier we'll be, and the happier and healthier our environment will be. To this end, I follow two basic rules:
1. If the product has more ingredients than I have fingers on one hand, it's bye bye.

2.  If I can't eat it, I won't put it on my skin.
Henceforth, my top sustainable, 100% natural and very basic beauty tricks:
1. Befriend plant oil
You can replace all manner of beauty products – moisturiser, body cream, hair conditioner, shaving cream, deep cleanser – with just one or two plant oils. Choose from coconut oil (my personal favourite), macadamia oil, olive oil, sweet almond, jojoba or argan oil.
For coconut oil I love Niugini. I use that brand because it's organic, cold pressed virgin and is produced in Papua New Guinea, one of our closer suppliers. Also it comes in a glass mason that you can reuse for all manner of things in the kitchen etc. [I use the same, and for the same reasons – Sarah.]
A lot of argan oils on the market actually contain only a very small amount of argan oil, and aren't produced sustainably. Mira's Hand pure argan oil is sustainably produced by a co-op of women in Morocco, and is 100% pure. My lovely friend Jamila is the founder – she's Moroccan herself and knows her stuff.
Just make sure whichever oil you use is organic and cold-pressed. Extraction processes using heat destroy all nutrients, essential fatty acids and vitamins and turn oils rancid, causing them to form free-radicals which damage and age your skin.

2. Make your face a cuppa
Make a strong tea using pretty much any herb in your backyard and apply it as a skin toner. Lemongrass and lemon balm calm acne and even out skin tone, chamomile soothes sensitive skin and reduces redness, rosemary protects against the sun's UV-rays and the damaging effects of pollution and lavender is uplifting, cooling and slightly antiseptic. Oily skin is tamed with a tea made with marigold petals (easily grown in the garden). I make up a tea and store it in a glass spray bottle in the fridge for up to a week. You can also use dried herbs, such as dried culinary lavender, but they need to be brewed for longer.
3. Highlight your hair naturally
Lighten hair using a strong chamomile tea in the final rinse after shampooing. To enhance dark hair, use rosemary(boiled as a strong tea). Using these natural ingredients will add shine, softness and volume as well as enhance your colour.
4. Fight blemishes with essential oils
I'm one of the unfortunate few women who still get a pimple or two even in their 30s. It's hormonal, or something. I simply dab a tiny amount of pure lavender essential oil directly onto the offending spot. The oil, which is naturally antibacterial, dries spots out a treat and also reduces redness.
5. Don't wear perfume
Oh how the perfume industry gives me conniptions. Some ridiculous loophole in legislation allows perfume manufacturers to list only a few of the many chemicals they may be using, the true formula officially protected as a 'trade secret'. What we do know is that fragrances contain phthalates, which can mimic some of the body's hormones and cause reproductive and neurological damage. I mix a small amount of essential oil with a base oil such as sweet almond, and rub this onto my wrists.
6. Go au naturale
Don't wear makeup (at least not on a daily basis). A little extreme it may sound, but I remember sitting around with my 78-year old grandma and her friends one day whilst they divulged the secret to their luminous skin – 'makeup hath not toucheth their face'. Not in their teens, not in their 20s, not in their 30s. Why not? Firstly there was no social norm to wear makeup, secondly they didn't think it made sense to cover their skin in chemicals! They believed wearing makeup blocks pores and prematurely ages skin. Which makes sense. Granted, the social pressure to wear makeup in their tiny Greek village is pretty low, but that's not the point. I rarely wear makeup these days, only on very special occasions. It doubles as my little salute to feminism.
7. Get yourself some liquid Castile soap
Castile soap is traditionally made of saponified olive oil, but these days most contain a few different types of plant oils. Still, mine contains only five ingredients. It's ultra handy in the home as it replaces a number of products – I use it as a shampoo as well as a dishwashing liquid. Diluted, it can also be used as a spray n' wipe. I personally use one that doesn't contain any palm oil. I've found these: Dr Bronner, Olive Oil Soap Factory in WA, and Red Gum Soaps in NSW.
8. Or try Dindi Naturals – another fantastic brand for soap. Their liquid soaps are great, minimal number of ingredients and made in Australia (Victoria in fact).
9. Wash your hair with soapwort root
Soapwort is a flowering plant whose dried roots can be used to make shampoo. I buy it online*, boil it in water and use it to give my hair a light wash. It's very mild and leaves your hair super super super soft. *It might be a little tricky to get a hold of but be on the look out for it! The alternative is to grow and harvest your own – for Melbourne folk, I've seen soapwort plants sold at the Little Veggie Patch Co.
10. Once a week, de-gunk with bicarb soda
Any shampoo, including Castile soap, can leave soap residue on your hair, so once a week wash your hair with a thick paste of bicarb (baking) soda, and rinse with apple cider vinegar for extra shine.
11. Eat your skin conditioner
Healthy, youthful and conditioned skin requires healthy fats, so forget about low-fat foods. I eat plenty of olive oil, coconut oil, grass-fed butter, avocados and nuts (activated, of course) everyday. Also know that fruit like pomegranates and blueberries are rich in antioxidants and promote skin elasticity and vitality.
12. My fave toothpaste is Phytoshield: all natural plant extracts, not overboard on the number of ingredients, no unnecessary foaming agents (consequently doesn't foam up very much), and it tastes delicious (lemon myrtle is my fave).
13. Squish almonds on your face (a seasonal tip)
Just before almonds are ready to be picked for eating, when their flesh is still soft and gel-like – that's when they're the most perfect skin cleanser and toner in the world. No exaggeration. Almond jelly, as I like to call it, evens out skin tone, clears blemishes and smooths wrinkles in no time at all. You just break open the almond pod, pop out the kernel, squeeze out the jelly and smooth it all over your face. I get young almonds courtesy of my mum's tree every spring, but you can sometimes find them in greengrocers during October, especially ones owned by old Greek men. If you find them, stock up. They can be stored in the freezer.
You can find lots more tips and natural beauty ideas on my blog, here. It's worth hunting around for products made in your local area – farmers' markets generally have at least one or two producers selling their hand-made soaps and creams. That way you can ask them directly about the ingredients they use etc.
Tried any of these tips yourselves? Anything you'd like to share? Feel free!