Anyone who's been on this blog for a bit knows I advocate using rice malt syrup as a sweetener in many of my sugar-free recipes. I use Pure Harvest, which is available in most health food stores and some supermarkets. Not tried it? Well…today's your lucky Friday. Pure Harvest are giving away:
15 x rice malt syrup hampers valued at $40 each
The fifteen hampers will each include:
three jars of rice malt syrup
almond milk
oat milk
rice milk
soy milk
sesame rice cake thins
linseed and sesame corn cake thins
Once stocked up, you'll be able to make up one of my favourite I Quit Sugar Cookbook recipes – like this lush chocolate peanut butter hot cocoa above, which just screams Cosy Night In On the Couch.
A few quick things you should probably know about Pure Harvest: it's an Australian company; it makes and sells organic and natural foods; and it makes the most readily available rice malt syrup in the country.
A few quick thing you should probably know about rice malt syrup:
It's one of three safe sweeteners I use.
it's made by culturing organic brown rice with enzymes to break down the starches, and is then cooked down to syrup.
You can use it instead of sugar or honey in recipes, roughly in a 1:1 ratio (eg 1 cup for 1 cup)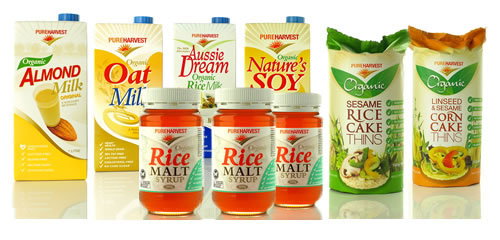 To be in the running for this giveaway, simply:
sign up for the Pure Harvest newsletter

here

make one of the rice malt syrup or almond milk recipes from my I Quit Sugar Cookbook  and post your finished product as a comment below, or on my I Quit Sugar facebook page. We'd love to see a great picture, too (I'll insta-share it!). Or, if you feel so inclined, share an original recipe of your own!
This giveaway is only valid in Australia.
Closes on Wednesday August 1, at 5pm
PS If you don't win, or just want to buy your own gear to make yourself a cup of the good stuff above, you can get hold of all the info on rice malt syrup or almond milk by clicking on these links.
PPS And if you're after the I Quit Sugar Cookbook, simply click on the button below.