I love Athens. The craziness, the congestion; even in a heat wave the place leaves me pumped. It's life in a petri dish. It's so terribly, organically, inescapably human. I didn't stay in Athens long. I was in transit to Icaria. Two days only. But this is what I tried (and which I'd recommend to anyone popping by).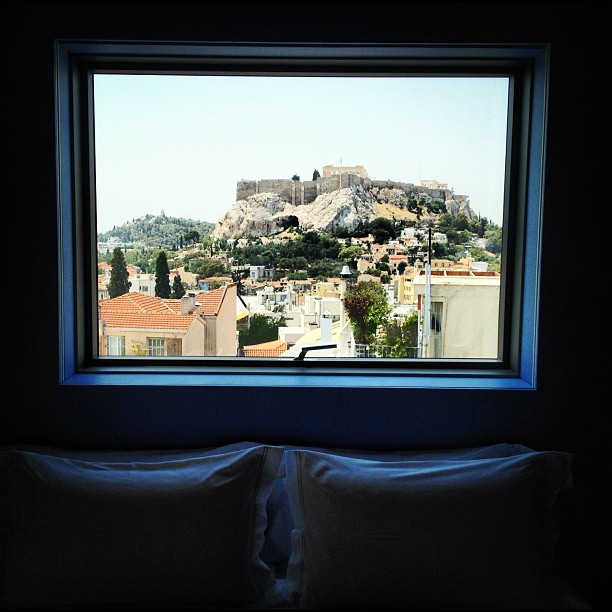 * Stay here: I was booked into The New Hotel, near Syntagma Square. My mate Bill at thecoolhunter suggested I check it out. The place is designed by the Campana brothers, who've cleverly reinterpreted the former Olympic Palace hotel originally built in 1958 – they pulled it down, then rebuilt it using broken bits of the hotel as well as the retro furniture. They workshopped the project with design and architecture students from University of Thessaly. So clever. Took me a while to work out that the walls were made of old bed legs and the chairs were rebuilt with bits of an old ladder.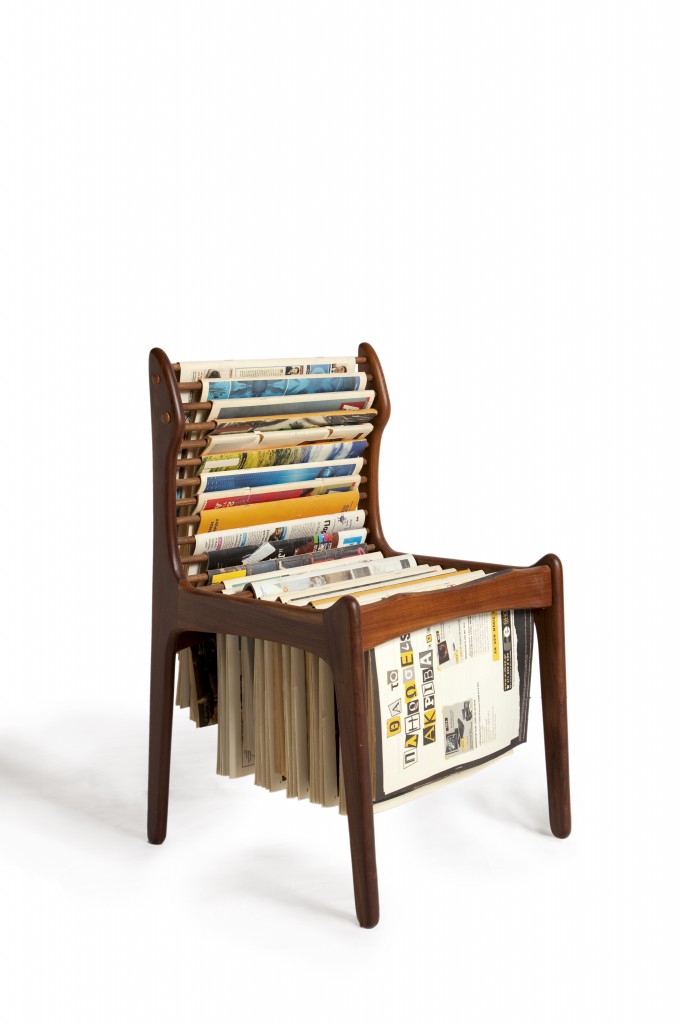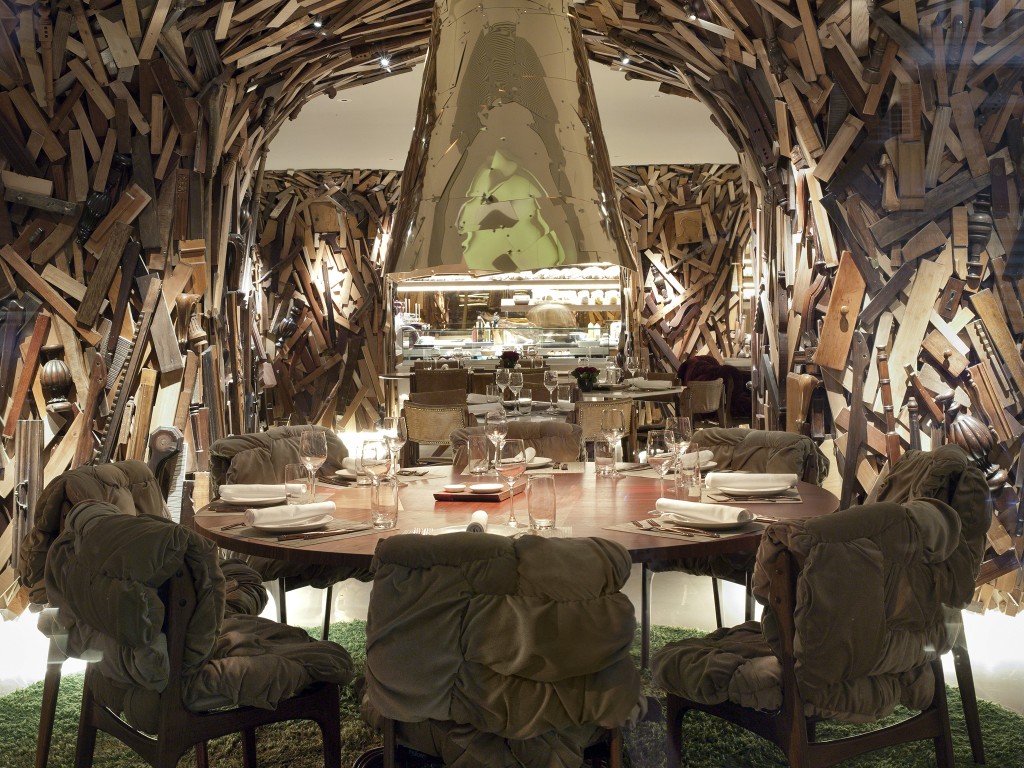 The feel is very "public service office chic circa 1975" or "movie set in a small town starring Robert Redford in his youth",  and is totally kooky and functional and all the more fun for it. You can also get a feel for the place from this video I did when I first arrived.
Full disclosure: I was upgraded to the penthouse suite (the shot above through the window is from the penthouse bedroom).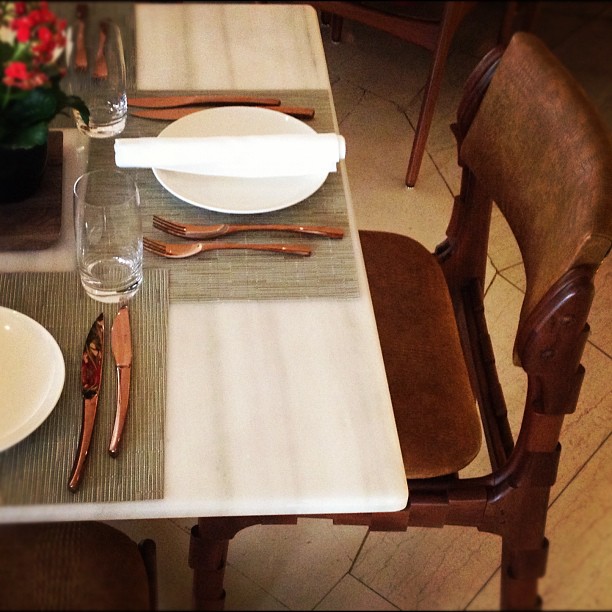 * Snack here: I mentioned to the reception girl at New Hotel that I wanted to eat something home-cooked-in-vibe: she pointed me to Yiasemi. So cute. And the Greek mum who makes all the dishes was so generous and sweet. I ate eggplant and drank water. Water. Water. The Greeks are so good with plying you with it.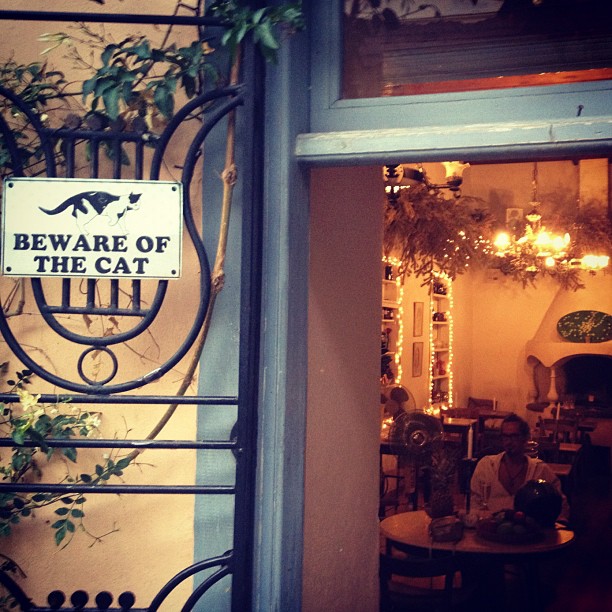 * Eat souvlaki here:  I met some nice Greek boys that night. Yiannis (below) asked if he could take me out the next night to show me around. As I like to travel like The Yes Man, I said…"sure". We took me to the best souvlaki place in town, where the locals go, although it's in a slightly sedate, posh area.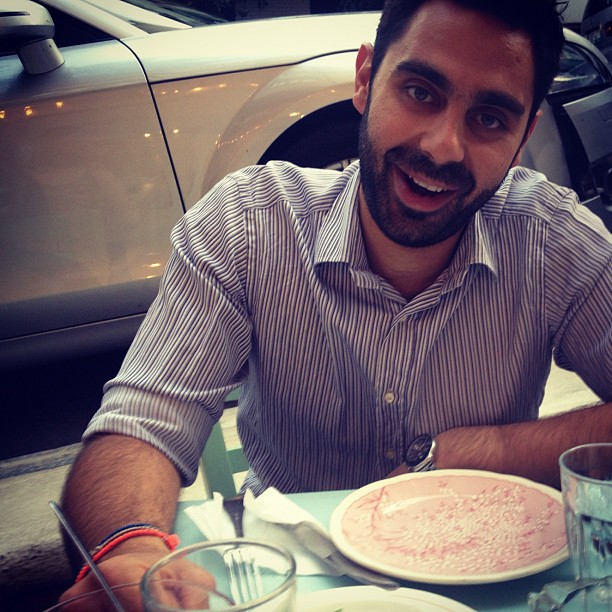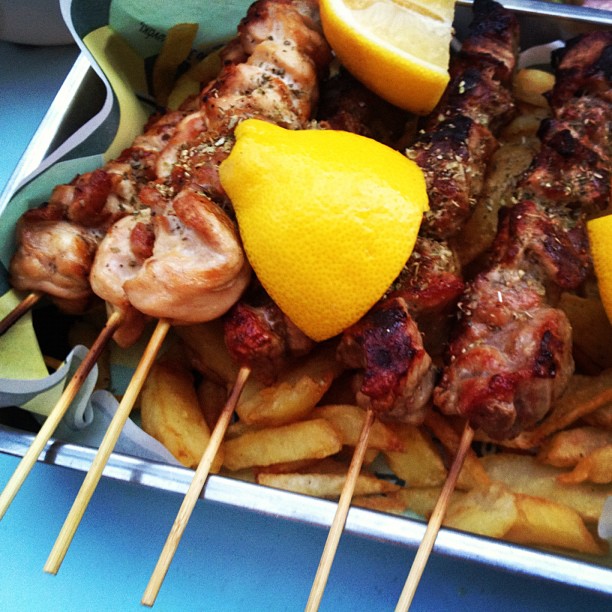 * Go for a drink here: Yiannis also took me to a very cool bar – The Art Foundation – housed inside an abandoned building complex with a "square" in the middle. The empty rooms house art. The square hosts music. That night it was a band featuring a cello. Mad. Hot. Dark. Fun.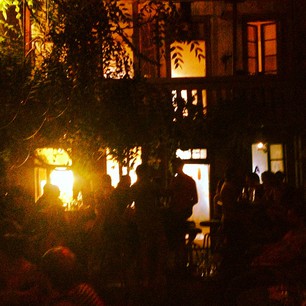 * Read Greek poetry: While in Athens I read some Kavafis: "As you set out for Ithaka, hope your road is a long one…". Indeed! When you set off on a journey, hope it's not going to be rushed and projected forward. Athens' heat helps drag you down to right now. Trust me.
* Eat homecooked food here: I mentioned the next morning to the New Hotel staff I wanted to eat somewhere "home kitchen-ish". In true Greek hospitable form, Natassa said she'd take me to the best place in Athens. And so four of us lunched at Paradosiako (just down the road from New Hotel). It was seriously authentic – vlita (greens), calamari, sardines, stuffed vegetables and wine.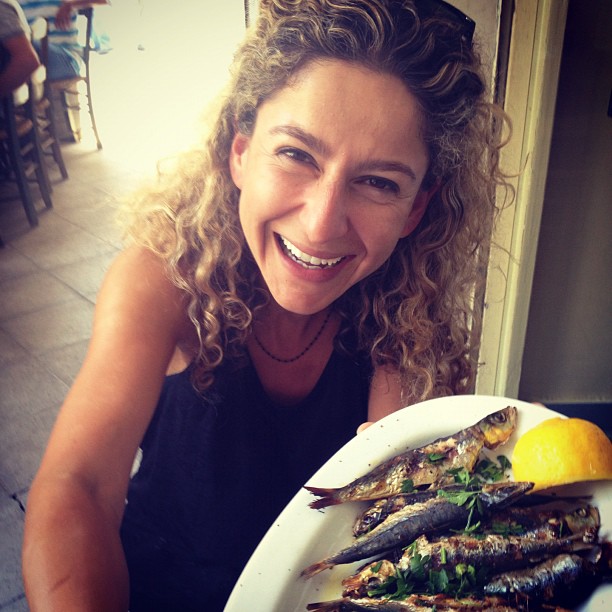 * Read this too: You might also like to check out my mate George Calombaris' foodie guide to Athens. He knows his Greek joints.
This is all. But please add your bits below to flesh out this guide for others. It's a bit like place a rock on a cairn…helping those who follow in your traveller footsteps. And feel free to ask questions…