I rather love Copenhagen.  Marija – the lovely lady who photographed my I Quit Sugar eCookbook; that's her below – and I spent a week here, mostly shooting the cover and some fun shots for my new book.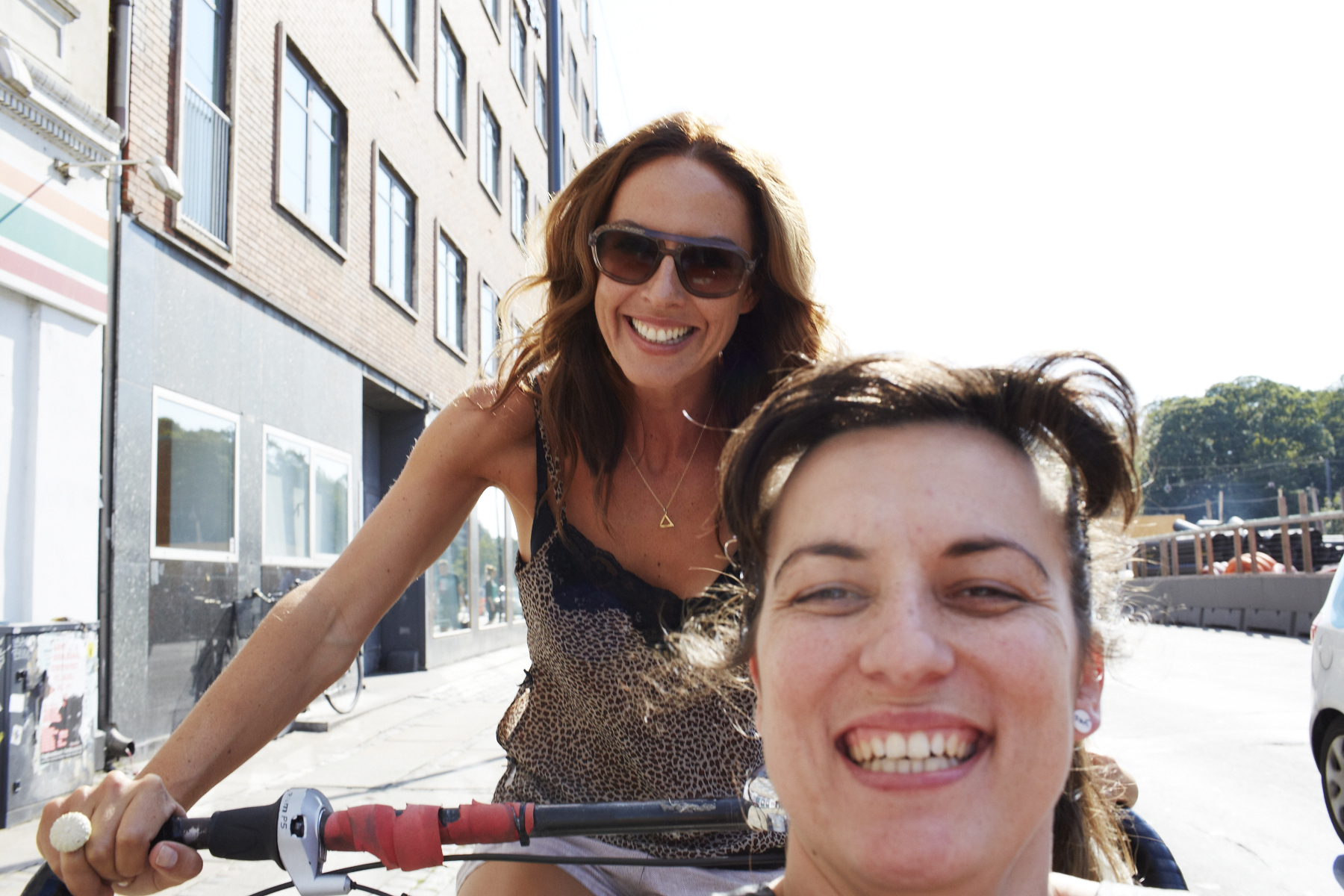 There is so much to include in a guide, but I'll keep to a list of ten reasons to visit. The best overarching theme I could think of was the happiness factor – indeed the Danes are reputedly the happiest people on the planet. They are satisfied with their lives, the various studies, say, they feel heard and there is equality (free eduction! free health!). I loved being here wrapping my head around why this might be so, observing, asking questions of locals. And a few royals. Yes, I was invited to stay at a palace in Copenhagen and a dinner was organised in our honour. The next-in-line-for-the-French-throne-if-there-were-still-a-monarchy was there, six or seven princes and princesses and a few counts…all of whom shared some great insights! A very bizarre and wonderful evening. I cooked two I Quit Sugar meals, too. Strange things happen when you travel…
PS if you're after exact location details, follow my instagram feed!
10 Reasons why Copenhagen is a happy place to visit
1. The hygge.
I've written about hygge before. It's a very specifically Danish word that is pronounced "hoo-gah" and it defines the core of Danishness as "chic" defines the French. One definition I've found says it's the art of creating intimacy. So it's an act as well as a feel – a verb and an adjective. Hygge is also something you consciously strive for…it's about connecting in a cosy, elegant, unfussy way. It's about weaving friendship and intimacy with ease. When the Danes suggest a place or experience, they always describe it as "cosy". If it's cosy, it's good. Indeed everything they do has a cosy, feel-good, homely vibe. It makes the city just feel like a place you want to stay a while in and get snugly with.
2. The ease.
It's so easy being a tourist here. Marija and I couldn't quite believe how smooth it was to get stuff done. We had to create an entire shoot – organise hair, makeup, food, props, lighting equipment etc – in a foreign country. It could've been hell, but it was a synch in the end. The Danes are very reserved. But if you reach out first they respond with so much help and advice. And trust. We borrowed plates and bowls and photographic gear from strangers all over town and everyone was so cool with it.
I want to make special mention of this place because the staff (special shout out to Jens, the handsome kid below) were so helpful and open and happy. Here's why it made us happy staying here:
* It's located five minutes walk/ride from the centre, just out of the noise, but a hop and half a skip to everything, including the cool Vesterbro and Meatpacking areas.
* They have bikes you can use. Great bikes. And richshaw ones – on our shooting day, we skipped between six locations, carrying food, clothing changes, camera gear and one very fun photographer!
* They do the best buffet breakfast. They make all their breads, you slice your own cheese fresh as you need it, the eggs are freshly boiled, the yoghurt is unsweetened (and you can add your own nuts and coconut) and the tea comes in big pots. Sugar-free heaven.
* They keep things simple…but add in good stuff, like toys for the kids in the courtyard.
Full disclosure: I booked The Avenue via Mr and Mrs Smith  after this previous experience. I got a media discount. Mr and Mrs Smith are a luxury-with-edge company specialising in unique hotel experiences. They're not necessarily expensive…just a little bit special. As I mention here, they tend to pivot around  great locations, or a special building or a unique experience.

4. The cool after-work activities.
Danes finish work around 3.30pm each day. Yes, I know!  So after work they socialise and do cool things. Ninety-six per cent of Danes belong to a social group geared around common interests. I can't tell you how much this idea appeals to me. Hobbies. Decent things to talk about!
Some ideas I saw.
* Taking a bottle of wine and sitting on the Dronning Louises Bro (the bridge that connects Nørrebro to the City Centre) and watching the beautiful Danes ride home – a parade of colour and beautiful fashion. Everyone sits facing the sun and they chat and play music. There's a device that counts how many pass – at 4pm the day we went it hit 55,000.
* This pop-up restaurant under the Knippelsbrogade bridge – you can sit in the sun and watch the day pass and also eat dinner here.
* I also liked this place above, just near the commuter bridge. You buy a beer or coffee and just sit in the sun on the "lake" and chat. Simple. Relaxed. Hygge.
5. Great organic cuisine
They're big on organic here. Not in a showy way.
I loved Døp hotdogs –  a hotdog stand near the Round Tower – 100% organic sausages with celeriac mash and beets. We ate them sitting, literally, in the street.
The "Torvehallerne" market is pretty much 100% organic (except, sadly, for the veggies and fruit). There's a store there called Paleo. Speaks for itself. A great omelette wrap! And juices made with avocado and perselane.
We were also advised to check out climate-friendly Toldboden and Restaurant Julian in the Nationalmuseet (same management). They have Co2-friendly menus.
We went to BioMio (above) – it's an old slaughterhouse, serving only organic food and drinks. Very fun.
We went to Nose2Tail…speaks for itself. A very hygge joint in the meatpacking area. We ate pig's heart. And lamb's testicles.
6. The very cool bike initiatives
Bike commuters in Copenhagen cycle more than a million kilometers per day. And the wonderful thing is the way they ride so peacefully. Silent. No rush. With full consideration. The oddest thing – they have no desire to break rules, jump lights etc. They are astoundingly content riders. An inspiration.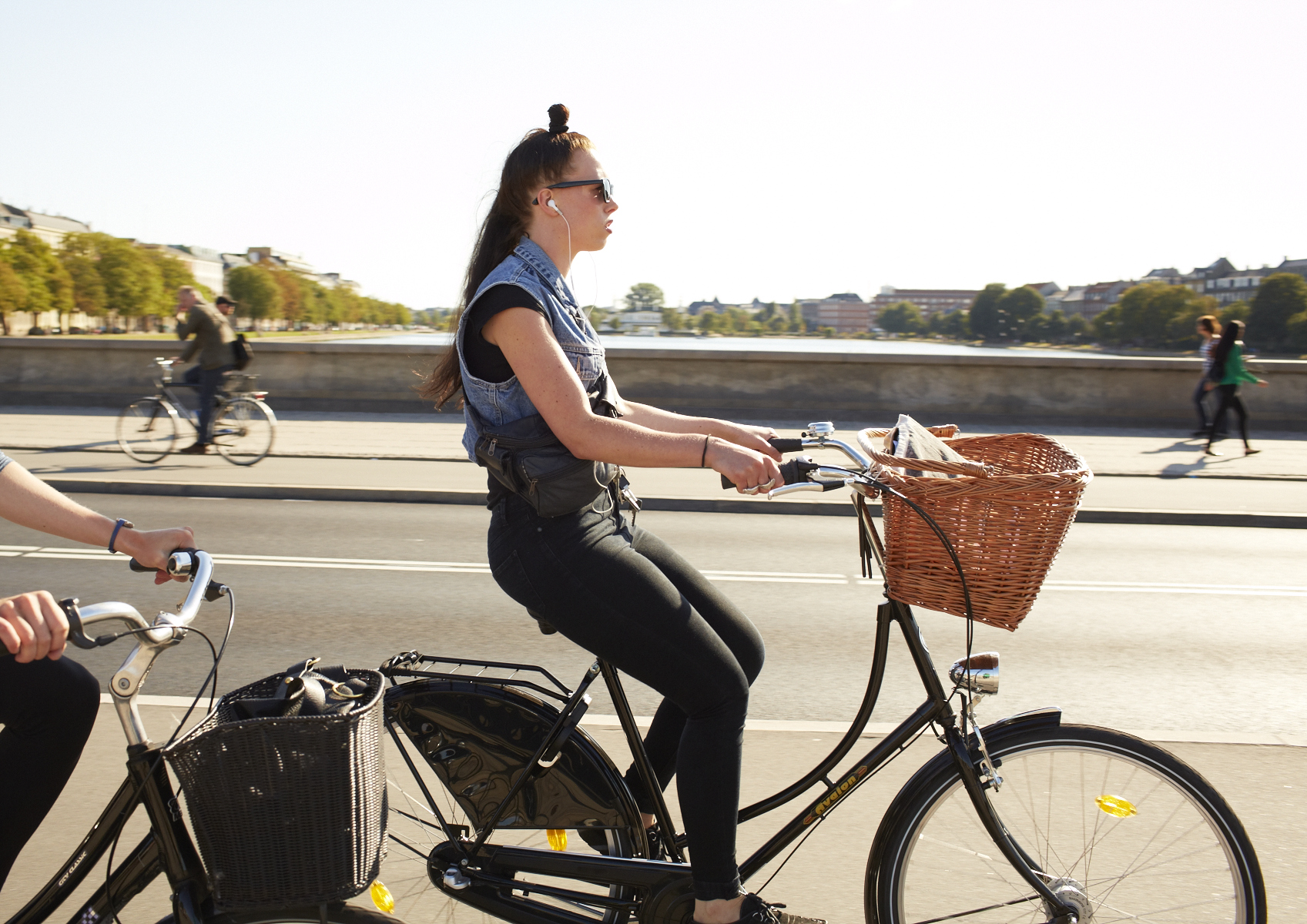 I loved this bike library – you can join and borrow different bikes while you're visiting. Just an idea…
Baisikeli is another best place to rent bicycles.  They send their proceeds, bicycles, and parts to a bike shop in Mozambique to help develop the local economy.  They've got two shops – one in the city centre and another in Vesterbro –  It's got a lovely mural outside by Shepard Fairey and a sweet little cafe.  (Thank you to Mary Hudson for these bike tips!) She also advised these bike routes:
"Another longer, but better route is going up the coast towards the north.  Beautiful beautiful homes that look out over the sea.  The two roads you would follow north are Strandvejen (Highway 152) which then turns into Kystvejen.  If you take it all the way to Klampenborg there is a nice forest/deer park with a modest castle, a horse racing track, and plenty of sleepy little fishing harbors along the way.   That's what I most recommend for a longer trip.
"If you have time for more though, you can also head south of Copenhagen to Valbypark.  There is a lovely park there with round gardens, each with a different theme, as well as a fantastic playground.  From there you can wiggle up the coast.  It's part industrial, part my dream apartments with little floating docks and cafe tables and kayaks everywhere (that's around Sluseholmen), and part rundown fishermen wharfs.
To check out in the city, if it's sunny, Islands Brygge harbor park is great and you will likely see lots of people sunbathing or swimming/diving."
7. The Nordic cuisine
There are so many places to visit that promote Danish food in an ethical, proud way, mostly spurred on by Claus Meyer, who is the business brain behind Noma.
You can try his other restaurant RADIO,  or try one of these.
And for the ten best Copenhagen restaurants, check out this link.
Relæ is also meant to be amazing.
We couldn't get into either (long wait lists). But did get into Fiskebaren and ate razor clam and fennel… and they made a gluten-free toast in advance for me! Also cod with sea buckthorne and preserved carrot and briney borage…pictured below…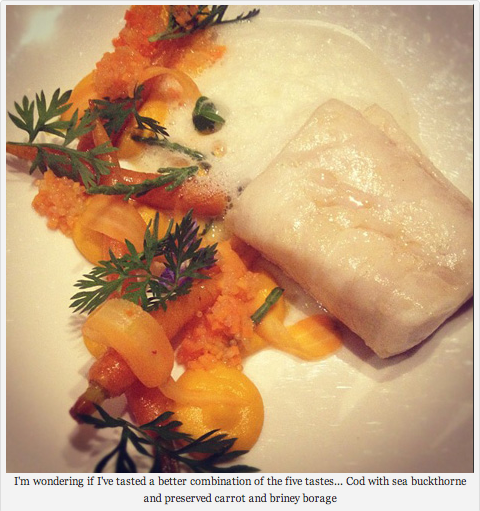 Foraging is big here. The Danes head out to the nearby countryside to get their greens and herbs from the side of the road. Seriously. There's a very cool program called"City-Harvest" where you can look on a crowd-sourced map to see where others have found berries and elderberries and seaweeds. There's meet-ups, too, where you forrage and then cook together later. LOVE THIS.
Claus Meyer also runs really cool food workshops…If I had more time I'd certainly book in for one.
8. Clever cafes
In Frederisksberg is the world's smallest cafe now called The Centre Hotel – it has some of the best coffee in town. It has five seats and one room above (the hotel!). Lief who owns it very generously lent me a stack of props for my IQS cover shoot. He also owns Granola  just around the corner, too. A very cute little place with lots of sun.
In Jaegerborgsgade near the cemetery (which doubles as a park) this street is the only street in Denmark that's 100% owned by the community. The "owners" of the buildings vote together to control the shops and cafés that come into the street. They share everything. Many of the apartments don't have showers…so there's a communal one on the street. We watched as very urbane types crossed the street in the middle of the day, wrapped in a towel. Some amazing eateries and chocolate shops and organic vegetable co-ops on the street too. We liked: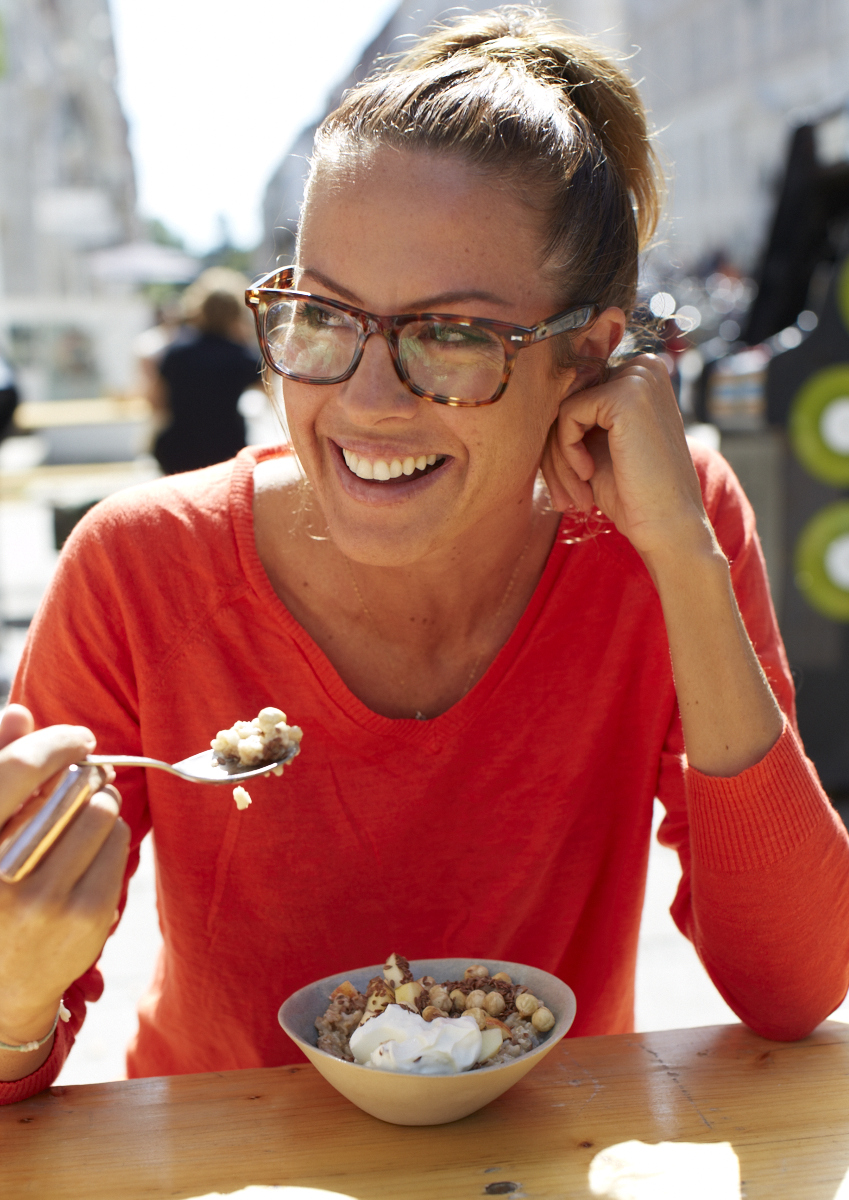 Grod – a porrige bar. Yes.
The Coffee Collective – best coffee in town
And this breakfast joint. I loved that you could only choose between three plates. Less choice is a great thing…especially when you're travelling with a Libra (Marija!).
A lot to cover…but you might like to add extra tips for others reading this.