I love food, hate waste, as you might have learned from reading last week's post on how to cook your scraps. I'm doing a bit of a series of posts at the moment, showcasing innovative ways to cut unnecessary food wastage as part of Buy Nothing New Month (I'm an ambassador; I'm also an ambassador for the Love Food Hate Waste campaign).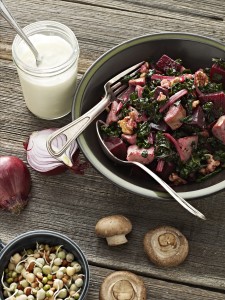 Now. I'm not suggesting eating out of bins. But I am suggesting thinking before you chuck stuff in bins. If you care about food in any way, then every bit of care should be taken to not waste any of it…and to get creative with the "whole" food. Recycling and composting isn't enough; cutting waste in the first place is where we should be heading. To get things started, I'm going to get leafy with it…
Beet leaves:
These things possess most of the properties of most greens – whether it be spinach, silverbeet or kale. And, no doubt many of the properties of beetroots themselves. Dr. Bowden, author of  The 150 Healthiest Foods on Earth, lists beetroots as one of the top foods you should be eating. Think of beets as red spinach, he says, because they are a rich source of folate as well as natural red pigments that may be cancer fighters.
What do they taste like? Much like spinach, but more like kale in texture.
How to cook them? As you would spinach etc. I don't advise eating raw. I add them to soups, casseroles and they're great with eggs (see the frittata recipe below). Or you can try this one:
Sausage and Beetroot Hash
1 good quality sausage (I like a pork sausage with fennel seeds)
1 small beetroot, partially precooked, cut into 2cm cubes, or  wedges*
red onion or a few green shallots
1/2 cup beet leaves, chopped finely
splash of apple cider vinegar
handful walnuts, preferably activated
yoghurt and oil to serve
preserved lemon, finely chopped (optional)
Cook the sausage in a frying pan until almost done. Remove and chop into 2cm chunks, then set aside. Add the beetroot, beet leaves and onion to the pan and sauté. Splash in a little vinegar and stir, scraping any cooked bits from the bottom of the pan. Cook for 3-5 minutes until the leaves are soft. Return the sausage to the pan and add the walnuts. Serve with yoghurt and a little oil drizzled over, or combine some preserved lemon, oil and yoghurt and spoon on top.
Serves 1-2
* I pre-cook my beetroots in bulk and freeze them ready for use. Simply place in a 200 degree C oven (no need to peel or add oil or salt) for about 15-20 minutes, until almost tender. Cool, and freeze or store in the fridge for a few days.
Here's another idea: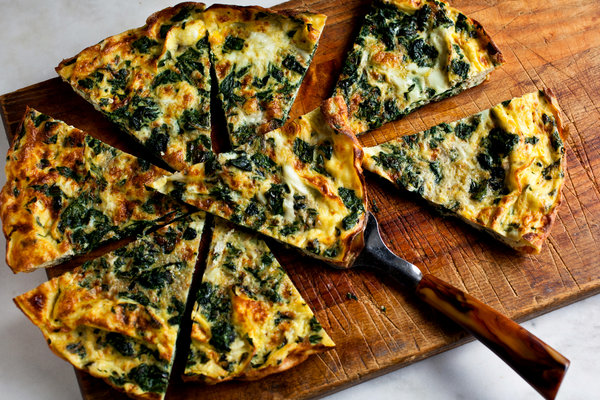 Beet Greens Frittata
beet greens from one bunch of beetroot (about 500g), stemmed and washed thoroughly
2 tablespoons extra virgin olive oil
2 garlic cloves, minced
8 eggs
Salt and freshly ground pepper to taste
2 tablespoons milk
For the full recipe instructions visit the original link at The New York Times
Broccoli stalks
Here's a great recipe for broccoli slaw
Silverbeet stalks
I treat these white chard/silverbeet "ribs" like celery, celeriac or fennel and use them to bulk out stir fries, casseroles, soups, and stews. I always save them in the freezer and toss into my Cheesy Mish Mash soup. The other day I finely sliced a bunch and added to 3 x beaten eggs, some bacon (chopped and fried), some leftover shallots, a grated zucchini, some ricotta and feta, baking the lot ofr 30-40 mins at 190C to make this gratin below. It served two for dinner.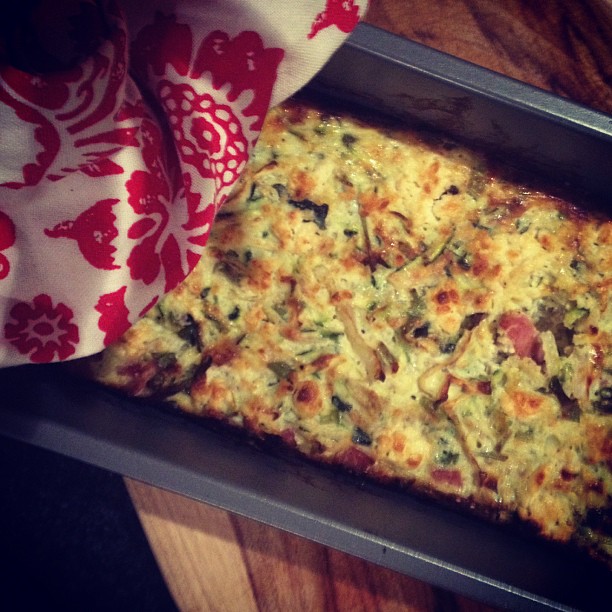 Another idea for a quick lunch: simmer the stalks in white wine and water until tender, drain and eat with olive oil and coarse salt.
Carrot leaves

Or what about this one: carrot top pesto!
Food bloggers out there, feel free to share your clever waste-not recipe. I'll share it on Facebook and instagram!