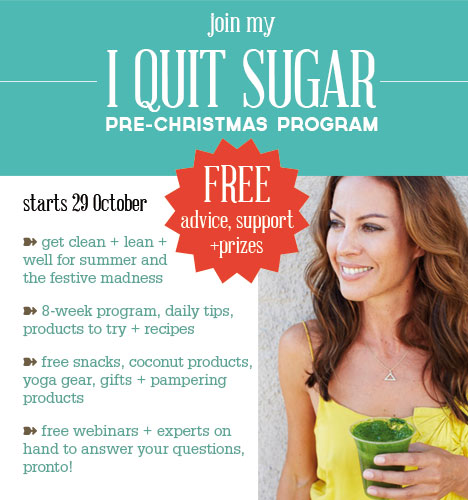 To join, simply:
1. buy the I Quit Sugar 8-week Program ebook – still $15 – here. 

or save $6 by buying my I Quit Sugar Cookbook at the same time…click here. 

*and if you've already bought the ebook, of course you can still join in…just join the IQS newsletter and Facebook page…

2. Sign up to the IQS summer program newsletter here. 

Why? All giveaways, offers and webinar alerts, will be done via the newsletter…you've gotta be on it to win it!

3. Like my IQS Facebook page here. 

Why? All tips, products to try + recipes will be shared here.

…and that's all. No extra costs or commitments. No spam (I promise!).
Do the program with a friend or a group. Perhaps your office wants to get fit and sorted before the Christmas onslaught?
Each day you'll get a nutrition or motivation tip, information, recipes and alerts to great sugar-free products to try.
Join the daily discussions on the IQS facebook page, and get your questions answered by my team of nutritionists, naturopaths and "folk who've been there already".
I'll be doing two live FREE webinars during the 8 weeks to answer your questions (non-participants will be able to purchase after the program). You can sign up here in the meantime.
We'll be sharing stacks of recipes along the way.
I'll also be offering all tips, recipes and links on a FREE download at the end of the program (non-participants will be able to purchase after the program).
Hope to see you on the program!