Just a quick note to let you know I'm sharing my I Quit Sugar message at the Low Carb Down Under Sydney event this Saturday, if you're keen to hear me harp on a little more about it all! Other speakers include David Gillespie, wholistic dentist Dr Ron Ehrlich, and Aaron MacKenzie from Origin Of Energy, who has worked with me at his studio (and serves a mean choc coconut smoothie!) There will also be a panel session, where you'll be able to ask questions on low carb and paleo nutrition – so come prepared.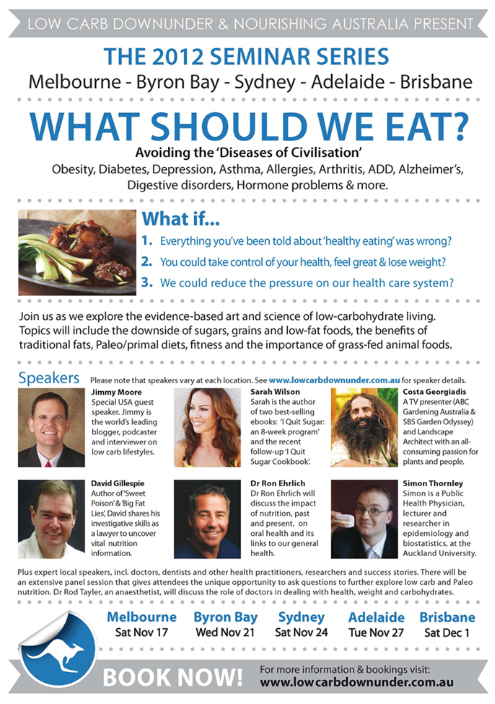 The event is being held at the Wesley Conference Centre on Pitt Street.
You can find the provisional program for Saturday below, and more information, and tickets(!) here
Jimmy Moore—Update on low carb around the world
David Gillespie—"Sweet Poison and Big Fat Lies"
Sarah Wilson—"I Quit Sugar"
Costa Georgiadis—"Product Not Produce"
Dr Rod Tayler—"Doctors, Health, Weight and Carbohydrates"
Dr Ron Ehrlich—"Lessons from the Past"
Christine Cronau—"Saturated Fat is Good For You!"
Dr Simon Thornley—"Has Dietary Research Helped Us With Our Food Choices?"
Aaron McKenzie from Origin of Energy—"Combining Fitness and Nutrition"
Vicki Poulter – "Why grass fed animal foods are good for the planet" (as a tribute to Bruce Ward)—"
Rob Blomfield—"A farmer's  journey to primal health"
Suzanne Crawt – Paleo in Australia
Panel discussion session MC'd by Jimmy Moore—ask the experts!