As you may have noticed, I've launched my new ebook…the I Quit Sugar Christmas Meal Plan.  One of the gift recipe ideas in the ebook is a festive take on my classic granola.  I'm sharing the recipe with you today, but I've also got some extra good news. The wonderfully well folk at About Life in Sydney are giving away:
3 x I Quit Sugar Christmas hampers worth $170 each
Each hamper is filled with all the ingredients to make this Christmas granola, plus a whole bunch of Christmassy sugar-free treats!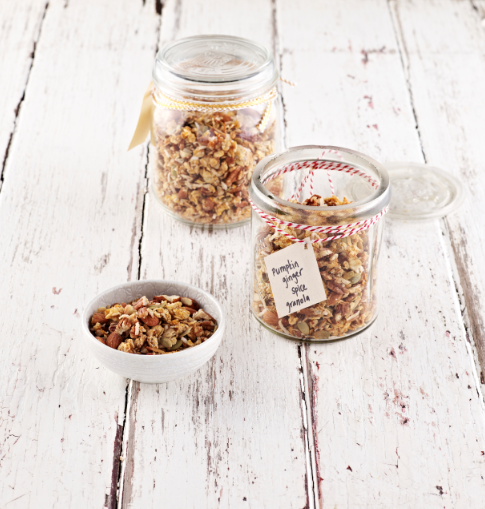 For those who haven't bought the ebook yet, the easy-to-download ebook includes three meal plans that use nutritious sugar-free ingredients.
Plus you receive more than 50 recipes to get you through Christmas sans sucre. You can download it here.
If you've bought the book and want to get stocked up, About Life is a fabulous one-stop for buying all of your ingredients, from organic meats and veggies, to coconut oil, activated nuts, raw cacao, stevia and rice malt syrup. They also have naturopaths on site, as well as cafes and cooking schools. They've got stores in Balmain, Bondi Junction, and now Cammeray. (I had a super superfood omelette breakfast there a couple of days after the opening just a few weeks ago.)
To win the About Life hamper:
Go into one of the three About Life stores, and "capture yourself" at the I Quit Sugar stand with the About Life hampers. Share your experience on Instagram, Twitter, or Facebook. Or on your blog. Both Jo and I will be instore over the next few weeks. Hopefully we'll see you there.
Remember to hashtag #IQS and @_sarahwilson_ if you use Instagram or Twitter, and link to us at the I Quit Sugar Facebook page if you share your pic on facebook. And just post a link below if you blog it.
We'll be randomly selecting three winners (one winner per store) on Tuesday December 11.
And now to my recipe…
Pumpkin Ginger Spice Granola
Makes 6-8 gifts
6 tablespoons coconut oil (or butter; or a mix of both)
3 tablespoons rice malt syrup
½ cup pumpkin puree (simply roast or steam, then mash with a fork)
2 cups rolled oats
2 cups coconut flakes
2 tablespoons chia seeds
1 teaspoon each of: cinnamon, allspice and ginger powder
1/2 teaspoon ground cloves (optional)
2 cups almonds, cashews, pecans, walnuts, pepitas (preferably activated ones), chopped roughly
Preheat oven to 140 C. In a saucepan, melt the oil/butter, syrup and pumpkin puree and bring to a gentle boil. Remove from heat and stir in the oats until well combined, then stir in the remaining ingredients. Spread the mixture evenly on baking paper on a tray and bake for about 20 minutes, until golden, turning halfway.
When golden (I like to make mine quite dark; the darker it is, the crunchier it is), remove and cool immediately to get it crispy. Break up the pieces a little then divide into 6 pretty jars. Decorate as you see fit!
TIP: Present to your guest with little swing tag attached that has the recipe written out, plus serving tips such as "serve with full-fat plain yoghurt for breakfast" or "serve with some coconut cream that you've left in the fridge overnight for a lush dessert".
PS If you like the styling of the image above, the lovely Karina Duncan, a reader on this blog, is responsible.