I've mentioned before how Aran Goyoaga, the beautiful writer and chef behind blog Cannelle et Vanille, and I met online. We connected via our shared issues with thyroid disease. We've never met – she lives in Florida – but we write to each other on Twitter and emal. A modern pen pal kind of thing.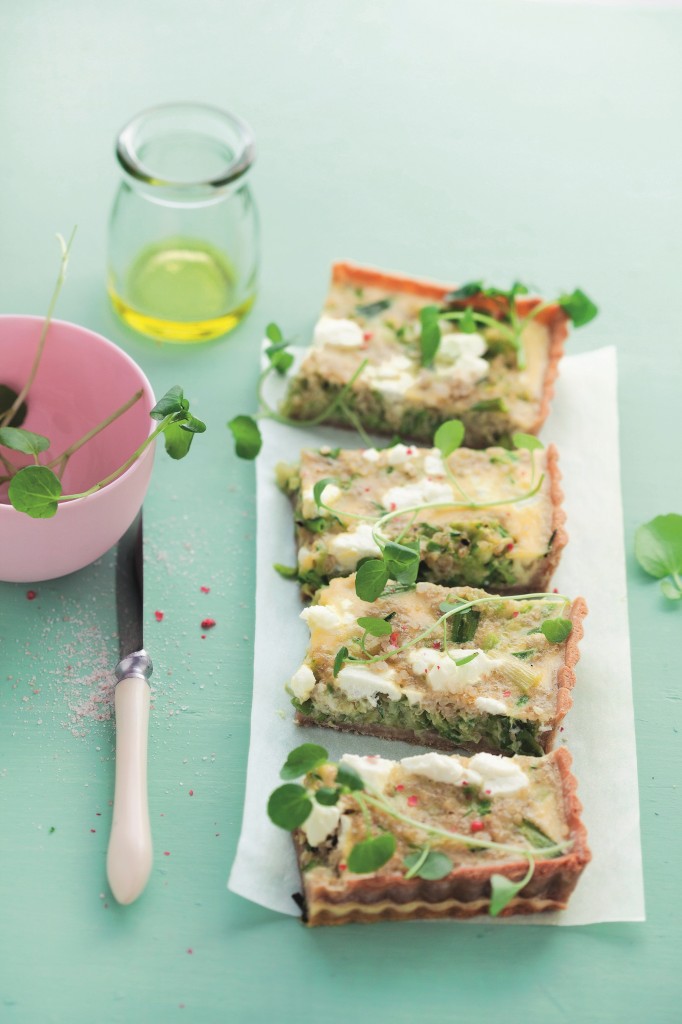 A while back Aran went gluten-free. Which made me happy, not just for her health, but for the planet. It meant some pretty special recipes were going to come our way.
And they did. Aran sent me her cookbook last week and I've shown it to a few people. Like me, they've been floored by just how creative her recipes are. And how pretty she can make the simplest of dishes look. It's not lavish, nor holier-than-though food. It's elegant and nutritious and you're left wanting to have what she's having. It was all good timing: Small Plates and Sweet Treats is out this week in Australia, with Hachette.
Many of her sweet treats contain sugar…but I reckon they're easily able to be converted to sugar-free by substituting with stevia or rice malt syrup. Just watch me try…and I've almost convinced Aran to quit sugar, too! For now, I'm going to share three of her summery quinoa recipes, so you can get a feel for her style and flavour. If you like what you see, you can find her book in bookshops now.
Zucchini, Quinoa & Goat Cheese Tart
Makes one 9-inch square or round tart
Quinoa and olive oil crust
1⁄2 cup superfine brown rice flour, plus more for dusting
1⁄2 cup quinoa flour
1/3 cup  almond flour
1⁄4 cup amaranth flour
1 teaspoon salt
1 teaspoon fresh thyme leaves
1⁄4 cup olive oil
Zucchini, quinoa, and goat cheese filling
1⁄4 cup quinoa, rinsed
1 1⁄2 teaspoons salt, plus more for quinoa
2 medium zucchini, grated
2 tablespoons olive oil
6 spring onions or 2 medium leeks, diced
3 eggs
60g crème fraîche or heavy cream
1⁄2 teaspoon finely grated lemon zest
1⁄4 teaspoon freshly ground black pepper
60g goat cheese, crumbled
watercress, for garnish
Preheat the oven to 190°C. Make the crust. Combine the first six ingredients in a food processor. Pulse a couple of times to aerate the ingredients. Add the olive oil and 1⁄2 cup (125 ml) cold water. Pulse until the dough comes together. Transfer the dough to a work surface, knead it a couple of times, and press it into a disk. Wrap in plastic wrap and refrigerate it for 30 minutes.
Dust a work surface with superfine brown rice flour and roll the dough to a 1⁄8-inch thickness. Roll the dough carefully around the rolling pin and place it over a 9-inch square or round tart mold. Fill the mold. Pinch the cracked pieces together and trim the edges. Transfer the tart mold to the refrigerator and chill for 30 minutes.
Place the tart on a baking sheet and cover it with a piece of parchment paper. Add pie weights or dry beans and blind-bake for 20 minutes. Remove the beans and the parchment and bake for another 10 minutes. Let the crust cool while preparing the filling (leave the oven on).
Prepare the filling and bake the tart. Reduce the oven heat to 180°C. In a small saucepan, combine the quinoa, 1⁄2 cup (125 ml) water, and a pinch of salt. Bring to a boil, reduce the heat to low, cover, and cook for 15 minutes. Place the grated zucchini in a bowl and add 1⁄2 teaspoon of the salt. Transfer to a colander set on top of a bowl and let macerate for 15 minutes. This will release some of the moisture from the zucchini. Discard the water collected in the bowl. In a large sauté pan, heat the olive oil over medium heat. Add the drained zucchini and spring onions. Cook for about 5 minutes, until they soften. Add the cooked quinoa and stir. Remove from the heat and set aside.
In a large bowl, whisk together the eggs, crème fraîche, remaining 1 teaspoon salt, lemon zest, and pepper. Spread the zucchini mixture over the tart crust. Pour the custard over the vegetables. Top with the crumbled goat cheese. Bake for 25 to 30 minutes, until the custard sets. Let the tart cool for 15 minutes before cutting. Serve warm or at room temperature garnished with the watercress. The tart can be stored in the refrigerator for up to 3 days or frozen for up to 1 month.
Spring Quinoa Salad
Serves 4 to 6
2 cups chicken stock or water
2 1⁄2 teaspoons salt
1 cup quinoa, rinsed
3⁄4 cup English peas
3⁄4 cup baby lima beans
60g feta cheese, crumbled
1⁄4 cup fresh mint leaves
1⁄2 cup watercress
2 teaspoons finely grated lemon zest
1⁄4 cup olive oil
1⁄2 teaspoon freshly ground black pepper
In a medium saucepan, bring the chicken stock and 1⁄2 teaspoon of the salt to a boil. Add the quinoa, lower the heat to a simmer, cover the pan, and cook for 15 minutes. The quinoa will absorb all the water. Transfer to a large bowl to cool, about 15 minutes. Meanwhile, in a medium saucepan, bring about 3 cups (750 ml) water and the remaining 2 teaspoons salt to a boil. Blanch the peas and lima beans in the water for about 1 minute. Drain the water and immediately submerge the peas and lima beans in a bowl of ice water. This will stop the cooking process and keep their color. Add the blanched peas, lima beans, and the rest of the ingredients to the bowl with the quinoa. Toss and serve at room temperature or chilled.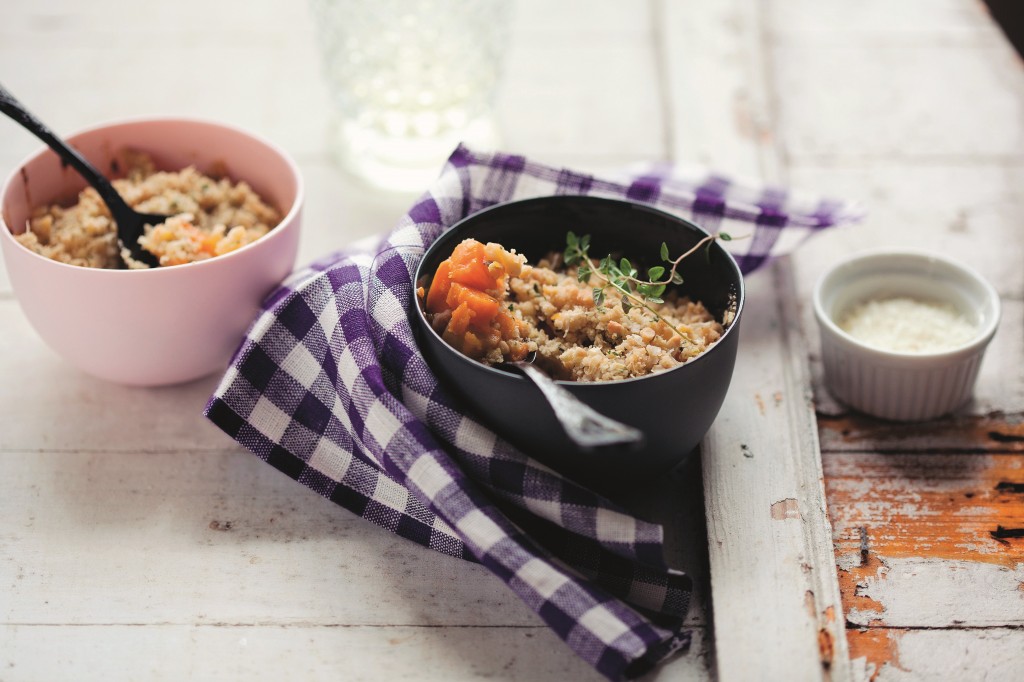 Celery Root, Sweet Potato & Quinoa Crumble
Makes one 8-inch square baking pan or six 8-ounce bowls
Quinoa and pine nut crumble
1⁄2 cup superfine brown rice flour
1⁄2 cup quinoa flour
1⁄4 cup pine nuts
1/4 cup quinoa flakes
30g Idiazabal or Parmesan cheese, finely grated
1 clove garlic, grated
2 tablespoons chopped fresh parsley
leaves from 3 sprigs thyme
1⁄2 teaspoon salt
1⁄2 teaspoon freshly ground black pepper
1 1⁄4 sticks (10 tablespoons or 140 g) unsalted butter, at room temperature, cut into pieces
Celery root and sweet potato filling
2 tablespoons olive oil
1 small yellow onion, diced
2 cloves garlic, minced
1 medium celery root, peeled and diced
2 medium sweet potatoes, peeled and diced
1 dried bay leaf
1 tablespoon chopped fresh parsley
1 1⁄4 teaspoons salt
1 teaspoon freshly ground black pepper
1 1⁄2 cups vegetable broth
30g Idiazabal or Parmesan cheese, finely grated
Preheat the oven to 180°C. Make the crumble. Whisk together the first ten ingredients in a large bowl. Add the soft butter and, using your hands, work the butter into the flour mixture until there are small pieces of butter throughout the flour. Chill the dough in the refrigerator while preparing the filling.
Make the filling. In a large pot, heat the olive oil over medium heat. Add the onion and cook for 3 minutes or until translucent. Add the garlic, celery root, sweet potatoes, bay leaf, parsley, salt, and pepper and cook for another 3 minutes. Add the vegetable broth and bring the liquid to a boil over medium-high heat. Reduce the heat to medium-low, cover the pot, and simmer for about 10 minutes or until the vegetables are tender but not mushy. Remove the pot from the heat. Remove the bay leaf and mix in the grated cheese. Transfer the filling to an oiled 8-inch square baking dish or individual bowls. Top with the crumble. Bake for 30 to 40 minutes or until the crumble is golden and the filling is bubbling.
PS. This is Aran. This picture makes me smile. We'll meet one day and I can't friggen wait.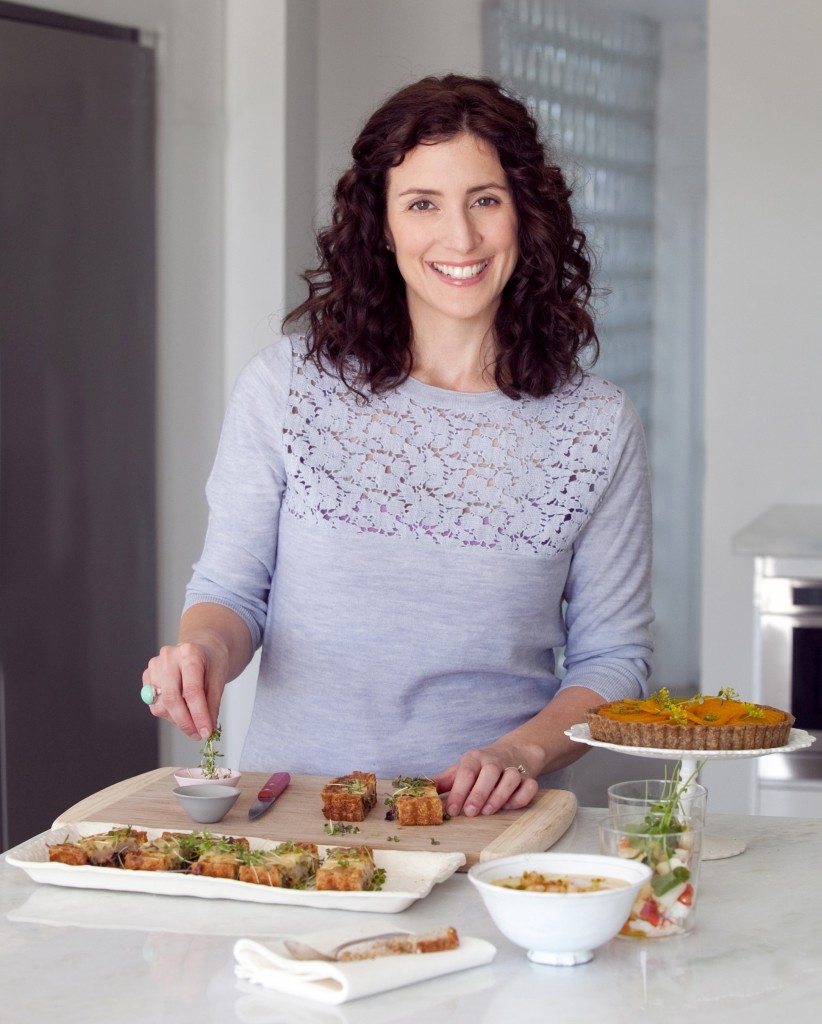 PPS. And this is her new book, out now.