I e-met Jules Clancy just recently. She has a degree in food science, lives in Cooma (not far from my home town) and blogs about how to make great meals using less, and in less time, over at The Stone Soup. A noble aim! The girl is on my page!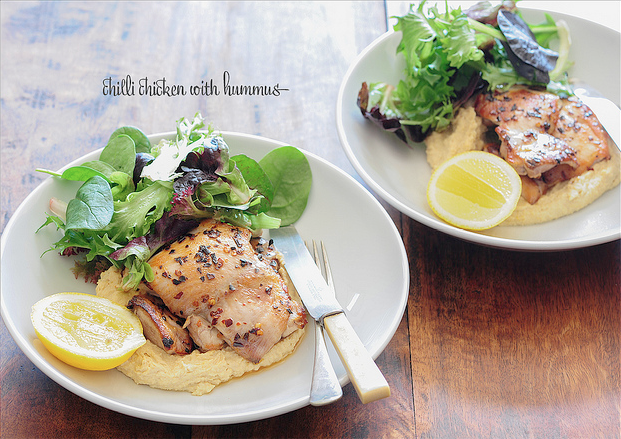 Today I've asked her to share her favourite tips for making cooking dead simple and brimful of nutrition. Over to Jules!
1. Use five ingredients or less.

On my blog and in my books I pretty much always stick to a 5 ingredient limit.  Of course you don't have to go that hard core, but keep an eye out for recipes with few ingredients, like my chilli chicken with hummus.
Chilli Chicken with Hummus
From The Tired & Hungry Cook's Companion
Hummus is one of my favourite ingredients. It's wonderful here as a cross between a sauce and an accompaniment. You can get some decent commercial hummus these days so don't feel like you need to make your own from scratch.
enough for 2
4 chicken thigh fillets
1 teaspoon dried chilli flakes or powder
8 tablespoons hummus
2 large handfuls washed salad leaves
1 lemon halved lengthwise
Heat a frying pan or skillet on a very high heat. Trim fat from chicken and bash with your fist to even out the thickness. Rub with a little olive oil and sprinkle with chilli. Season. Sear with the oiled side down for 3 minutes. Turn and cook for another 2-3 minutes or until chicken is cooked through. Smear hummus over the base of 2 plates. Top with chicken and serve with leaves and salad on the side.
vegan – replace chicken with 2 field or portabello mushrooms per person. Trim and pan fry for about 4 minutes each side until the mushrooms are tender and juicy. Sprinkle on the chilli at the end before serving.
vegetarian – replace chicken with sliced halloumi cheese and cook in a little oil until golden and oozing.
home made hummus – whizz 1 can chickpeas with 3 tablespoons lemon juice, tahini, canning liquid and 1 clove garlic in a food processor until smooth.
2. Replace carbs and starches with vegetables.
One of the easiest ways to make your cooking more nutritious is to skip the carbs in favour of veg. It doesn't mean you have to change your cooking that much. My favourite trick is grating raw cauliflower in the food processor and serving it instead of steamed rice with curries or stir fries. It's actually much quicker than cooking rice AND you don't have to worry about your rice sticking together.
Other ways are to use a vegetable peeler to make zucchini or carrot 'noodles' to serve with your favourite pasta sauces, whizzing raw cauliflower in the food processor until it looks like couscous or using lettuce leaves instead of mountain bread for lunch time wraps (think sang choi bau).
3. Make one-bowl meals.

I used to feel like dinner wasn't a proper meal unless I had a side dish of salad or some veggies. But over the years I've discovered that I can throw a handful of baby spinach or shaved cucumber (like in these chickpea burgers) on the plate with my main course and still feel satisfied.  For midweek meals, challenge yourself to keep it one plate or one bowl as often as possible and save the complicated meals for the weekends.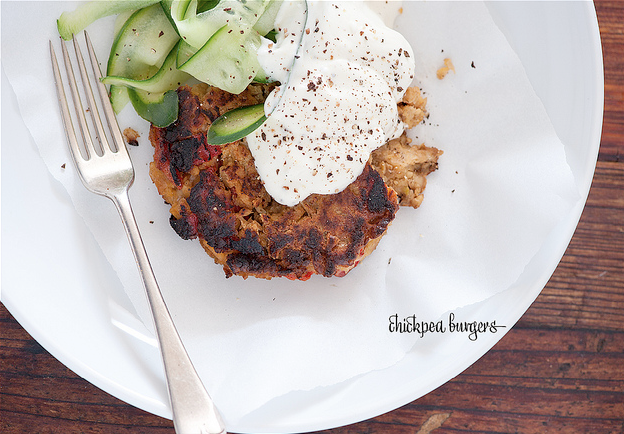 Chickpea Burgers
While I LOVE the flavours in these burgers, they are quite fragile, even with the egg to bind them. I've found it's important not to over-process the chickpeas to help avoid your burgers falling apart in the pan. Just pulse until chopped. The good news is they still taste delicious if they do happen to fall apart.
enough for 2
1 can chickpeas (400g / 14oz), drained
2 teaspoons ground cumin
1 egg
1/2 cup roasted red capsicum (bell pepper), diced
6 – 8 tablespoons natural yoghurt
shaved cucumber, to serve
Pulse chickpeas and cumin in a food processor for a few seconds or until roughly chopped. You don't want a smooth puree here. Crack egg into a small bowl and whisk lightly. Add egg and pulse again for a few seconds. Fold capsicum into the chickpeas by hand so it keeps its shape. Season and using your hands, form into 2 burgers. Pop in the fridge for a few minutes. Heat a small fry pan on a medium high heat. Add a little oil and cook burgers for around 3 minutes on each side or until golden. Be careful when turning so they don't fall apart. Meanwhile, stir yoghurt in a small bowl until smooth and season generously. Serve burgers with yoghurt and cucumber.
egg-free / vegan – we're relying on the egg to bind these fragile burgers, so I'm afraid you'll need to try a different recipe.
carnivore – serve with a few slices of crispy bacon.
beef – replace the chickpeas and egg with 400g (14oz) minced beef.
dairy-free – serve with a tahini sauce (equal amounts water, tahini and lemon juice) or hummus.
4. Cook in bulk.

You've heard this one before, but it does make a difference. If I'm making something that freezes well, I always make a big batch and eat some now and squirrel away the rest for another meal or more. Try one of my soups or curries for cooking in bulk.
If you're freezing leftovers it's best to divide into usable portions first so they will defrost quickly. I love ziplock bags for this. And don't forget to label your bags. I never used to bother labelling and my freezer was a nightmare until my fiancé put a permanent marker in our cutlery drawer. Now since I know where the marker is, I find I actually do label and my freezer has never been as organised or useful.
5. Master 'mise en place'.
One trick I've stolen from the world of restaurants is the concept of 'mise en place'. It basically means preparing an ingredient so it's ready to be used. I tend to prepare at least one ingredient on the weekend or a Monday night so I can use it in different ways during the week. This could be soaking and cooking up a batch of beans or roasting some pumpkin or beets. I then keep my prepared ingredient ready to go for super quick week night meals.
My favourite is to cook a batch of quinoa (just boil like pasta until tender and drain). I love it for breakfasts with natural yoghurt and a little cinnamon. Other uses include as a healthy alternative to cooked rice in egg fried rice. Or as a main course salad with roasted cauliflower. It also works as a high protein accompaniment any where you'd normally serve rice or couscous.
6. "Cook" raw.
You've no doubt heard the benefits of eating 'raw' foods. It can be a great way to keep your cooking as simple as possible. I'm not suggesting that you need to do this all the time, but sometimes serving something raw can be the best way to make your meals fast and nutritious. One of my favourite examples of this is my raw broccoli salad.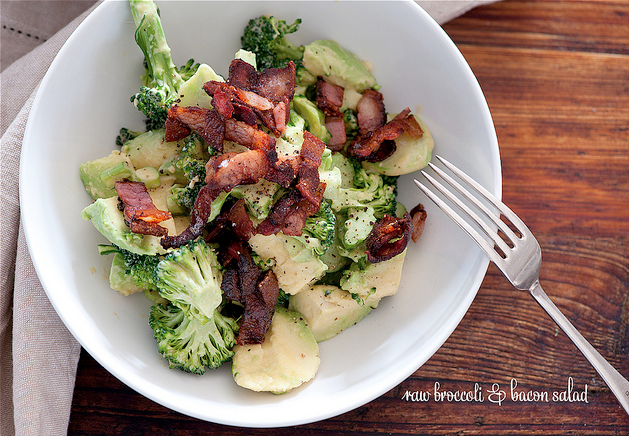 Raw Broccoli Salad with Bacon
One of my favourite ways to save time in the kitchen is to ditch the cooking all together. In this tasty little example we're chopping up broccoli and serving it in all its raw crunchy freshness. Sooo good. And so good for you!
enough for 2
2 rashers bacon, chopped into matchsticks
2 tablespoons dijon mustard
2 tablespoons sherry vinegar
1 head broccoli
1 avocado
Heat a small fry pan on a medium high heat. Add a little oil and cook bacon, stirring every now and then for a few minutes until bacon is crisp and browned. Meanwhile combine mustard, vinegar and 2 tablespoons extra virgin olive oil in a salad bowl. Season. Chop broccoli into tiny trees and toss in the dressing. Chop avocado in half and scoop bight sized chunks into the dressing using a spoon.Toss salad to distribute the dressing and serve with crispy bacon on top.
vegan – replace bacon with roasted almonds or diced red pepper (capsicum).
vegetarian – replace bacon with 1-2 chopped hard boiled eggs.
different veg – mix it up with different types of broccoli such as purple sprouting broccoli, or broccolini or even try cauliflower.
side salad – to serve as a side salad to something like a roast chicken or BBQ steak, skip the avocado and bacon and serve the simply dressed raw broccoli.
herby – sometimes I mix this up with a few torn flat leaf parsley leaves or some chopped chives
7. Use a supermarket dip.

Just because you're cooking, doesn't mean you need to make everything yourself from scratch. Don't be afraid to use a commercial hummus for the chilli chicken recipe below or reach for pesto from a jar, or grilled veg from your deli.
Some of my favourite 'convenient' ingredients include:
Thai curry pastes for speedy fragrant curries like this green pea curry.
Pesto for adding flavour to soups or sandwiches. Also brilliant as an instant sauce to serve with grilled chicken.
Frozen peas for a instant green veg fix. Or combine with pesto for a super quick pea & pesto soup.
Canned chickpeas. Just rinse drain and toss with lemon juice, olive oil and grated parmesan for a super comforting salad.
Natural yoghurt. For adding healthy creaminess. Use instead of olive oil in salad dressings. Dollop on top of salads. I also love to season with salt and pepper and serve as a sauce with salmon or lamb.
Have any extra tips to keep life simple and easy in the kitchen? Feel free to share below. And if you want more from Jules, she also has a range of books and ebooks available here.