Simplicity is going to be a big theme in many people's lives in 2013. Just you watch. UK magazine The Simple Things recently interviewed me on how I make my life simple and it appears in this month's issue.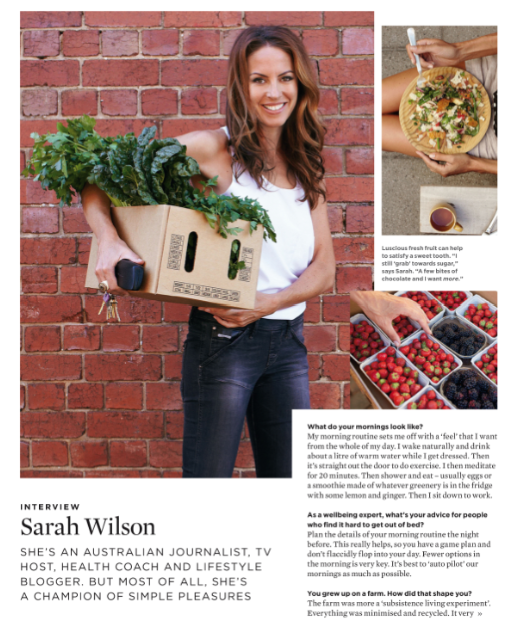 If you don't get around to grabbing it, how about I help you out. These are a few of the ways I keep my life simple, as I shared with The Simple Things:
1. I stick to my morning routine. It's probably the best thing I do for myself all day – it sets me up and sets me off with a "feel" that I want from the whole of my day. I wake naturally and drink about a litre of warm water while I get dressed. Then it's straight out the door to  do exercise. I exercise every day, but it's not a militant thing and I don't push myself. It might just be a 20 minute walk and stretch. I do yoga, swim, walk or run once or twice a week. I mix it up according to the weather and my mood. The "doing it every day" bit is what counts. That way I don't deliberate with myself whether "today is an exercise day" or not. Less options in the morning is very key. Studies show we have limited decision making energy – also that decision making depresses us – and that it's best to "auto pilot" our mornings as much as possible so we can eliminate as many angsty choices. I then meditate for 20 minutes. Then shower and eat…usually eggs or a smoothie made of whatever greenery is in the fridge with some lemon and ginger. Then I sit down to work.
2. I meditate.  Meditation "forces" me to connect with the simplicity of "what is". I'm a very cerebral person and the simple act of sitting and getting really – let's face it – bored, brings me back to what it's all about.
3. I don't go to the shops. I grew up on a farm, which was more a "subsistence living experiment". Everything was minimised and recycled. It very much instilled a visceral abhorrence of waste and consumerist culture. We simply didn't go to the shops and as an adult I've come to realise that this very simply idea – just don't go to the shops – is perhaps the most effective approach to having a simple life. It eliminates temptation and empty desire. And it saves time and forces more creative ways to use up leftovers and what you have at hand. It's amazing what meals you can concoct even when you think you've got nothing in the kitchen. My whole family is just effortlessly minimalist…not to make some pious point, but because it's just simpler!
4. I ride a bike. It's just so efficient and elegant. I can get door to door, with no parking issues and no grid-lock in less time than it takes to drive, most of the time, plus I get my exercise in at the same time. Oh, and I also get my clearest thinking done while I'm riding.
5. I find special places to relax and think. Particularly on mountains. I love heights, heat and rocks. When I live in cities I commit to getting out bush every weekend for a hike and to just sit on a hill. I've done this for years.
6. I don't eat sugar. It makes me happier and healthier living without it. There were the obvious changes: I lost weight, I stopped getting 3pm slumps and my moods became more stable. But the big thing: I became less obsessed with food. I now eat 3 times a day only and I eat proper, full meals happily without the guilt that women often bring to eating.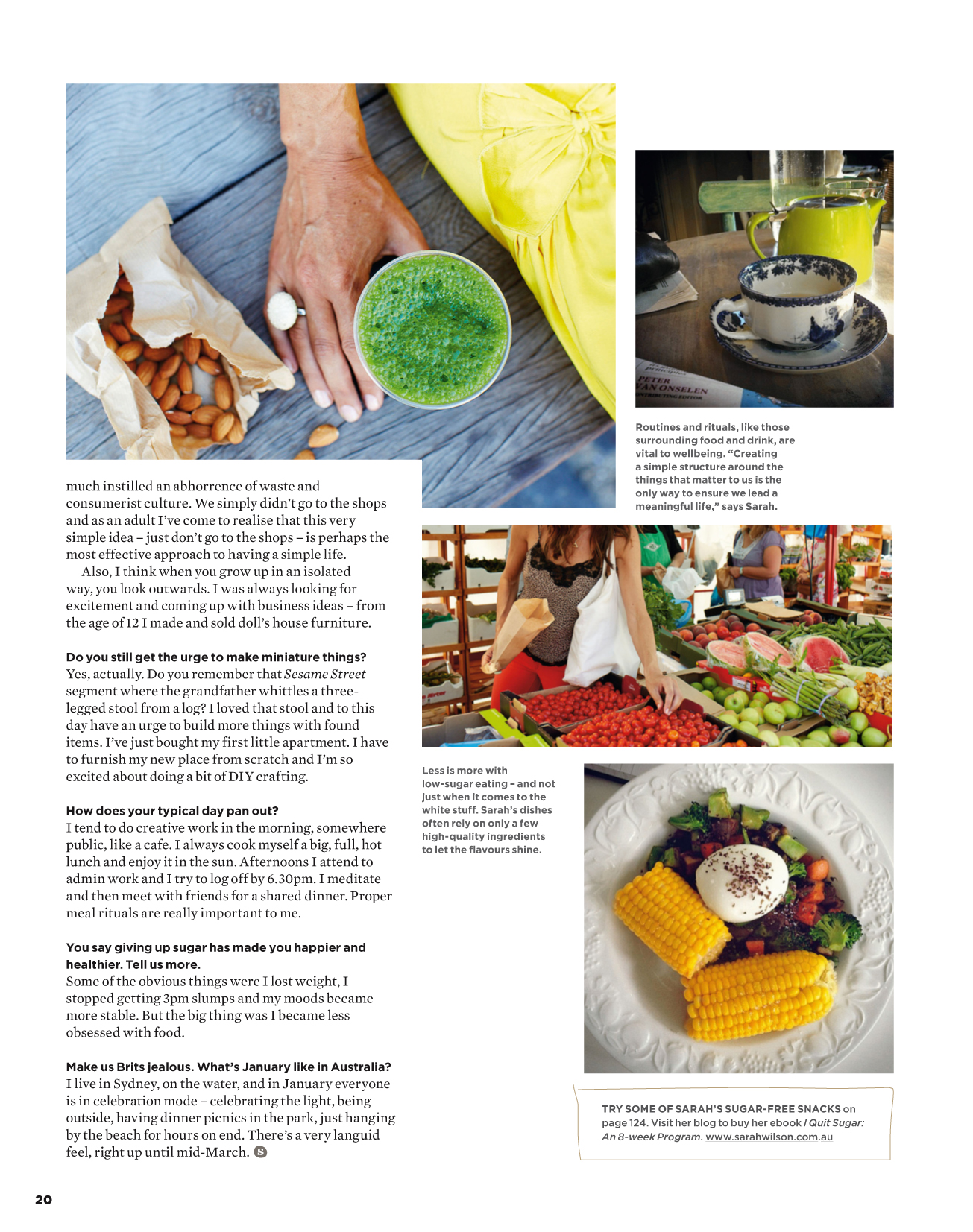 If you're wanting to read the article, the magazine is out in the UK, and will be available in Australia from Feb. The Simple Things have also generously offered readers of this blog a special six month subscription to the magazine for just $52.56*.  If you'd like to subscribe, simply click here.
*Limited time offer: ends January 31.
What keeps your life simple? Let's get a list going.