There's a chill in the air. I just put on a poncho (admittedly, over a floaty summer dress). And the light has softened in a dreamy Autumnal way. All of which is a flagrant invite to me to haul out my slow cooker and start stewing. I mentioned a few weeks ago that my food focus going forward is to share ways to consume food more consciously. It goes like this: food waste is the biggest environmental havoc-wrecker (it creates more greenhouse emissions than cars and cows) and we – the consumers – are the biggest food wasters. About half of all food produced is tossed out by us. It makes me weep…and get fired up.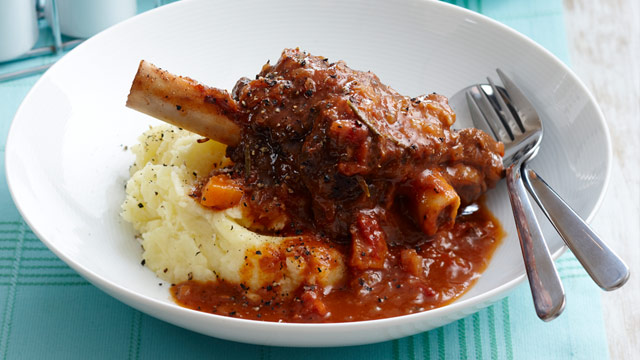 If you want to get some great tips on how to conserve your meat better at home, check out the Target100 site. Although, a no-brainer solution is to slow cook your meat. How so? Four birds with the one stone:
* Slow cooking requires you use cheap cuts of meat.
You don't use sirloin in a slow cooker. You use the tougher and bonier cuts – shanks, neck, shins, cheeks and so on. In other words – the bits most folk don't buy. And, so, they're cheaper. Which means you can then make more ethical meat buying decisions (ie pay more for organic and pasture fed).
* Slow cooking gets the most from your meat.
The slower cooking process extracts the juices, the cartilage, the marrow, the minerals – all of which are great for your health. But the bonus is that the entire meal cooks in this nutritional soup – nothing is wasted. Oh, and because it's slow cooked, less enzymes are destroyed, in both the meat and vegetables. I've shared on why we need enzymes in our food before.
* Slow cooking means you can use less meat.
Well, it should. Because so much flavour and goodness is extracted in the process of slow cooking, you can afford to use less meat and bulk the meal with vegetables. I'll be showing you some clever tricks for doing this over coming months…
* Slow cookers save time and energy and washing up.
Don't be freaked out by the fact you leave a slow cooker on for up to 8 hours. A slow cooker uses about the same amount of electricity as a light bulb and, so, if you are cooking a full meal, will use less electricity than your oven (bearing in mind we generally only cook part of a meal in the oven). Also, since you leave it on during the day, it's using power from the grid at a low-demand time.
For more info on efficient slow cookers, CHOICE did a rundown. And for more on why slow cookers are better than pressure cookers, click here.
Some other factors: Slow cookers are one-pot meals (less washing up), can be transported (great for taking to dinner parties) and are cheap to buy.
How to slow cook:
Some quick pointers before we start…
* You can use a heavy-based casserole instead.
No need to buy a special electric slow cooker if you don't want. You can use a Le Creuset casserole pot or dutch oven on the stove top or in the oven instead. You generally have to add extra liquid if you do (see below) and reduce cooking time from 8 hours (on low) or 4 hours (on high) to 1-2 hours.
* It doesn't have to be a big one.
I use a 4.5L one. It's big enough to make 6-8 portions.
* Halve the liquid
If you're converting a recipe from a standard (oven or stove-top) recipe, halve the amount of juicy stuff and do things like replace some of the chopped tomatoes with tomato paste.
* And if the final product is too runny…
..just add a tablespoon or two of arrowroot or cornflour or chia seeds to thicken it out. Or reserve some of the juices and use for other dishes as a lovely, rich stock.
* Don't bother browning the meat
Some slow cooker recipes get you to brown the meat (and even the veggies) on a stove top first. I don't bother – it creates more dishes to wash and really doesn't add to the flavour. The exception is mince meat.
* Buy organic and pasture-fed meat if possible
Given you're saving money by slow cooking, think about investing in some organic and pasture-fed meat. When you slow cook, you draw out a lot of nutrients from the bones. I personally like to think I'm not getting a bunch of additives in the mix.
* Adjust your flavour style
Some people think flavours are less intense when using a slow cooker and advise adding all kind of odd ingredients, like chutneys and Worcestershire sauce. Certainly, dried herbs can get a bit bitter, ditto any chilli sauces. I prefer to use good stock or wine and fresh herbs and one bay leaf. And sometimes I add 1/4 teaspoon stevia granules (or sugar) to enrich the flavours a little. Other ideas as you progress and adjust things: a little tamari, Vegemite, Braggs Liquid Aminos…
* Cook in bulk
Slow cookers work best when filled to two-thirds of capacity. If that's more than you need, freeze the leftovers.
* The order matters
Put your densest veggies on the bottom. Place your meat on top of the veggies. Sauces over the top of that. Soft veg, like zucchini and peas should be added in the last 30 minutes. Ditto dairy and seafood.
* Soak and cook beans
Soak (overnight) and boil legumes for at least 10 minutes beforehand to destroy toxins that will otherwise survive the lower temperatures of a slow cooker.
* Get a cooker with a timer
I don't have one such cooker. But wish I did. This means you can whack things in, press low and it will stop cooking at 8 hours. It will still be hot, even if you do a 12-hour stint in the office.
* Don't check on the pot once it's started cooking
You'll only extend the cooking time if you lift the lid and let moisture and heat escape. If you have to open it (to add ingredients), whack it on high for 20 minutes.
And now for a recipe I kind of fiddled into existence. That's the thing with slow cooking…it's really very hard to stuff up. For extra measure, I've provided as many options for things so you don't have to feel that you must buy new ingredients from scratch.
Slow Cooked Lamb Shanks with lemon and cinnamon
Serves: 4-6*
1 large brown onion, chopped
2 large carrots, chopped into 1.5cm chunks
2 celery stalks, chopped into 1.5cm chunks (reserve the leaves – you'll add them later)
4-6 lamb shanks (about 1.5kg)
2 garlic cloves, crushed
400g can chopped tomatoes
1/2 cup beef bone broth (or use beef stock or one cup of water with some stock powder)
1/4 cup red wine (or use white wine or just a dash of apple cider vinegar or extra stock)
1 tablespoon tomato paste**
1 bay leaf
a few sprigs of thyme or a good dash of dried thyme (or whatever you have)
1/2 teaspoon stevia granules or sugar (optional)
At the last minute I decided to add the following (but you don't have to):
3 teaspoons chopped preserved lemon (or you could use finely grated lemon rind)
1 teaspoon of cinnamon
Put onion, carrot and celery in the slow-cooker (I use a 4.5 L one and it's big enough for the above). Arrange the shanks on top then place the remaining ingredients over the lot. Stir a little (no need to mix completely). Put on the lid then cook for 4 hours on high or 8 hours on low.

In the final 20 minutes, add the celery leaves. Serve with some extra preserved lemon on top, the gremolata below, and with your choice of: mashed potato, polenta, steamed broccolini, broccoli or zucchini.
You can also make an optional gremolata to serve on top:
gremolata recipe
1/2 cup chopped fresh parsley
3 tsp garlic, very finely chopped
Grated zest of 1 small lemon or 1 tablespoon chopped preserved lemon
2 tsp extra virgin olive oil
sea salt to taste
Combine all ingredients and set aside ready to serve.
* I cooked 4 shanks for this recipes, but they were super big. So I ate 2 with a mate, then pulled the meat off the remaining two and divided the rest of the dish into 4 portions for lunch.
** I freeze any tomato paste I don't use in the punnet or jar as I use it so rarely.
If you're after some more slow-cooked recipes, check out this slow-cooked beef and coconut curry recipe, plus a few more.
Have any additional slow cooking tips to share with everyone?? Or questions??