I was recently up in Byron having a think week. There were storms, floods, cyclones and blackouts. And so I did a fair bit of thinking. And fretting. It was a challenging week. I'm a control freak. Storms and cyclones get in my way.
But while I fretted, I happened upon some new happenings in Byron and so I've been inspired to update my Byron Guide. Clip 'n keep it for your next holiday, or pass it to a mate. Below are some of the highlights…
If you're visiting as a group or family, you'll love this place…
I used to ride and run past this place most days. Byron Bay Beach Houses is on the Lighthouse Road, just opposite the Captain Cook Lookout (where I would park to surf The Pass). I stayed in the Havana house, set back from the road and backing onto rainforest. It's a languid, beachy, breezy family home with two big loungerooms, with generous couches and generous cushions and lots of light and air, four bedrooms (to sleep 10), a pool, barbeque areas and two decks. You getting the picture? Breezy, big and great for entertaining.
I invited a bunch of friends over for an indoor picnic (yep, the storms, the floods), mostly because I wanted to put the kitchen to use. Which is big. Breezy. Fully stocked with good gear.
Is it a good location? Yep. Possibly the best. You're across the road from the beach and a ten minute walk into town. The place is generously equipped with beach gear and towels. Arrive. Unpack. Set up the Connect Four and the barbeque kit.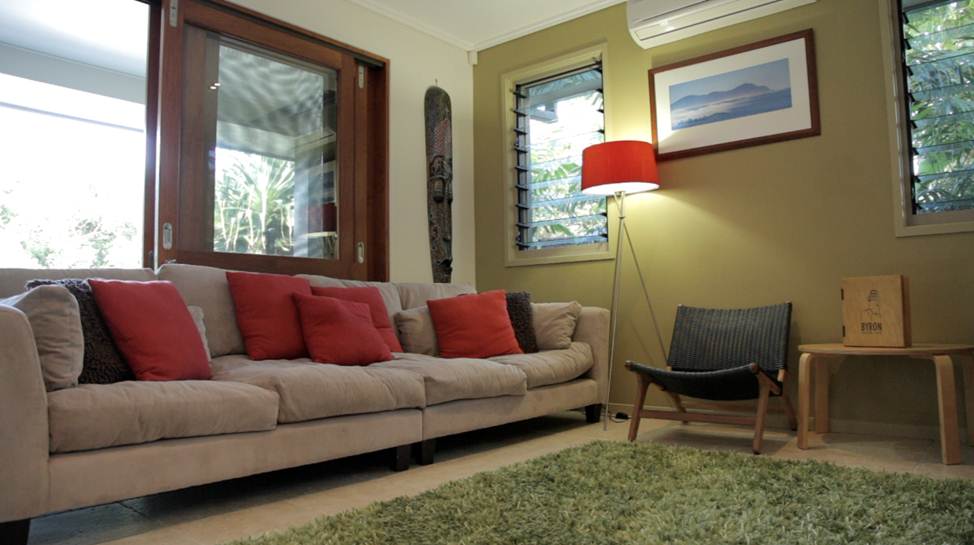 If you're a couple or solo, you'll enjoy this joint…
I've mentioned Atlantic Guesthouse in the original Byron Guide. My friends stayed in the Silver Bullet van once, which is cute and quirky, but small. This trip I stayed in their "lodge". I don't think they call it a lodge. But it works like this: hotel-size rooms with balconies that feel more like a bedroom in a designer Byron home; own bathrooms; communal kitchen and eating area and deck downstairs; communal gardens; stand-up paddleboards and books and DVDs to borrow.
The lodges are also part of the Art Park artists residency program (artists come to stay in Bryon and do art at Art Park and stay at Atlantic; their art then displays around the property and is for sale). All of which adds a lovely creative vibe to the place. I love the feel here. Fresh and whimsical.
Is it a good location? Yep. In the middle of town, across the road from Targa restaurant (a local's favourite).
If you're after a quirky bar/cafe/wholefood restaurant, you'll dig this…
OK, the boys who used to make great coffee at The Top Shop have opened a joint just out of town called The Roadhouse. At night it's a whisky bar and they churn out simple risottos and slow cooked stuff. By day they do organic coffee made with organic milk, fermented turmeric and ginger kombucha, avocado and coconut water smoothies that come in recycled jars, a pumpkin, homemade fermented labna, spec and herbs breakfast with sauerkraut…you get the picture, right? They're totally Sally Fallon'ed up!
Everything in the place is organic and mostly local. There are herb gardens outside. And a fireplace. Love it. Give Liam and Dwayne a kiss from me (cute, 20-something surfer boys).
If you're after a raw bar, you'll be refreshed by this…
I've mentioned my mate Jemma's Naked Treaties in the Guide. She's now opened a great place on one of the main drags (down from Targa). It's astonishingly fresh and healthy. Her smoothies are meals. Try the "I am abundant"…a chocolaty, green, coconutty dream. Say Hi to Jemma from me if you're in there. She radiates raw good health.
Feel free to add your tips below. And check out my full Byron guide here.