Update: The 500 Vital Vanilla Protein Powder sachets mentioned below have all been snapped up!
Hello. How's your day? Mine's good, thanks. Onto other matters…the I Quit Sugar Chocolate Cookbook: 74 Sugar-Free Cakes, Fudges, Truffles + Barks is almost here.  Since so many of you are rather keen to get in early, we're taking pre-orders from today. And I'm sharing one of my favourite recipes from the book: My Fudgy Protein Bites. So healthy you could eat it for breakfast (and I do!).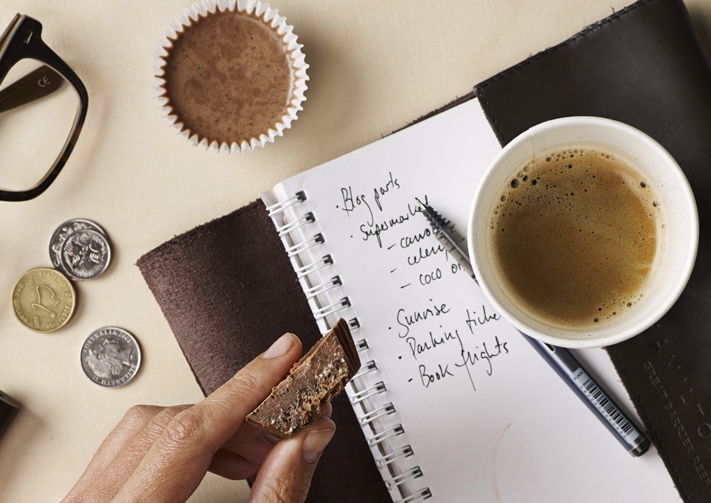 Hang on Sarah! Can you even eat chocolate when you go fructose-free? Yes,  friends, you can. You can!!
However, it does mean making your own real chocolate. I've been experimenting for over a year now with different techniques and ingredients, and this cookbook is the culmination of my favourite flavour combos, transformed into more than 70 fructose-free cakes, truffles, brownies, smoothies, mousses and barks.
If you're keen to get in early, we've got a bit of an offer for the first 500 people who pre-order:
Pre-order today + get a Vital Vanilla Protein Powder sample. 
The first 500 to pre-order the I Quit Sugar Chocolate Cookbook will also receive a 7g Vital Vanilla Protein Powder sachet from Vital. These 500 sachets have already been snapped up!
For more information on the book – what bang you get for your buck – and how to pre-order, simply click this button below:
I should say, I use the Vital Vanilla Protein Powder to make a number of the treats in the book, including my favourite, My Fudgy Protein Bites (above). This protein, importantly, is 100% Pure Pea Protein. The Vital Protein
range is free from many common allergens, such as gluten, dairy, lactose, soy, and is suitable for vegans and vegetarians.  Plus all the flavours in the Vital Protein range are 100% completely natural.
* This gift is only available within Australia.
But now to my recipe, just to give you a bit of a feel for what's to come.
Fudgy Protein Bites
Makes 25-30
1 ½ cups basic raw chocolate*, melted
3/4 cup vanilla protein powder
½ cup chia seeds
1/3 cup maca powder, optional (if not using maca, add a little extra protein powder)
Combine all ingredients and pour immediately into silicon moulds or cupcake cases (mini or standard) and place in the fridge or freezer to harden.
* Basic raw chocolate: Blend/mix 1 cup coconut oil, 1/3 cup raw cacao powder, 1-2 tablespoons rice malt syrup, 2 pinches sea salt until smooth/combined. Pour into moulds or onto a baking paper-lined plate and freeze/refrigerate.
Hope you like the book. Will be keen to see your feedback when it comes out!