Oh, today we're in for a treat! Gwyneth Paltrow this week releases her latest cookbook It's All Good in Australia and – hoorah for us – I've been very lucky to be granted a sneak peak and an extract.
Gwyneth and I are very much on the same page with food and lifestyle stuff and she contributed a recipe to my I Quit Sugar cookbook. You might recall her last cookbook, My Father's Daughter, was a rippa…but it used sugar in the recipes; this time around, Gwyneth has switched most of her recipes to xylitol, rice malt syrup and stevia. We're straddling a revolution, I tell you!
She's also a fan of slow cooking. Anyone who follows my style of eating here will no doubt love the lamb tagine. The recipes are also hit with a "Vegan", "Protein Packed" and "Elimination Diet" so you can choose your own adventure, with various modifications specified. Clever, hey?
But over to Gwynnie and her nouriture…
Sweet Potato + Five Spice Muffins
Gluten-free baking is not for the faint of heart. At first as we tested this recipe, we produced heavy or bizarrely textured muffins, but we finally hit the nail on the head with the perfect mix of ingredients. These muffins are super-tasty and are always a smashing success in my house.
Makes a dozen (vegan) muffins
1 large sweet potato
½ cup extra virgin olive oil
½ cup unsweetened almond milk
¾ cup xylitol
1 teaspoon pure vanilla extract
2 cups gluten-free flour (if the flour doesn't include xanthan gum only add 1 teaspoon)
2 teaspoons baking powder
2 teaspoons baking soda
1½ tablespoons Chinese five-spice powder
½ teaspoon fine sea salt
Preheat the oven to 200 C. Prick the sweet potato a few times with a paring knife or a fork. Bake until soft (when a paring knife can cut through with zero resistance), about 1 hour. Set the sweet potato aside until it's completely cool.
Peel the sweet potato, discard the skin, and mash the flesh in a mixing bowl with a fork. Whisk the olive oil, almond milk, xylitol, and vanilla into the sweet potato. In a separate bowl, whisk together the flour, baking powder, baking soda, five-spice powder, and salt. Fold the dry ingredients into the wet ingredients.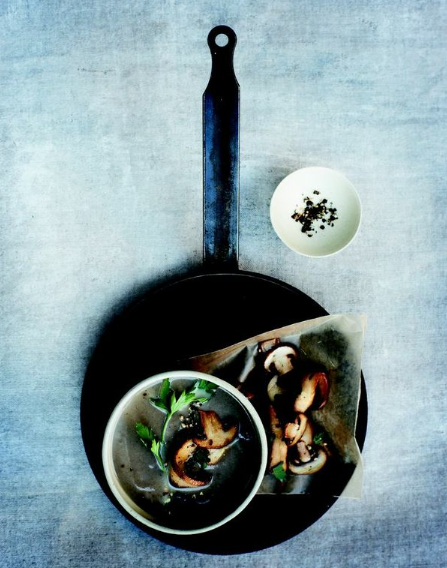 Line a 12-cup muffin tin with paper liners and evenly distribute the muffin batter among the cups. Bake for 20 to 25 minutes, or until a toothpick comes out clean. Let the muffins cool before serving.
Many-Mushroom soup
This soup gets so much depth of flavor from the dried mushrooms and such a creamy texture from being pureed that it's hard to believe no chicken stock or cream is involved. If you'd like to add a little texture, quickly sauté a few thin slices of the mushrooms in olive oil with some salt and pepper and float them in each bowl.
Serves about 6
Elimination Diet, Vegan
3 dried shiitake mushrooms
½ cup boiling water
2 tablespoons extra virgin olive oil
3 leeks, white and light green parts only, thoroughly washed and finely chopped
1 small yellow onion, finely diced
2 garlic cloves, minced
1 teaspoon fresh thyme
coarse sea salt
450 grams crimini mushrooms, stems removed and caps roughly chopped
1 large portobello mushroom, stem removed and cap roughly chopped
4 cups vegetable stock
Italian parsley for serving
freshly ground black pepper
Place the shiitakes in a small bowl or teacup with the boiling water and set aside for at least 10 minutes. Drain the mushrooms, being sure to reserve their soaking liquid. Slice off and discard the stems and thinly slice the caps and set them aside.
Meanwhile, heat the olive oil in a large, heavy pot over medium-high heat. Add the leeks, onion, garlic, and thyme, along with 2 heavy pinches of salt, and cook, stirring now and then, until softened but not browned, 9 or 10 minutes. Add the crimini and portobello mushrooms and the reserved shiitake mushrooms. Stir to combine with the leek mixture and cook until the mushrooms begin to release their liquid, 5 to 6 minutes. Add the vegetable stock and the reserved mushroom soaking liquid (avoid any grit that might be at the bottom) to the pot and turn up the heat.
Once the soup comes to a boil, lower the heat and simmer for 20 minutes to bring it all together. Carefully puree in a powerful blender. If you want a really refined, smooth texture, you can pass the pureed soup through a fine-mesh strainer. Serve immediately with a bit of parsley for color and a healthy grind of black pepper.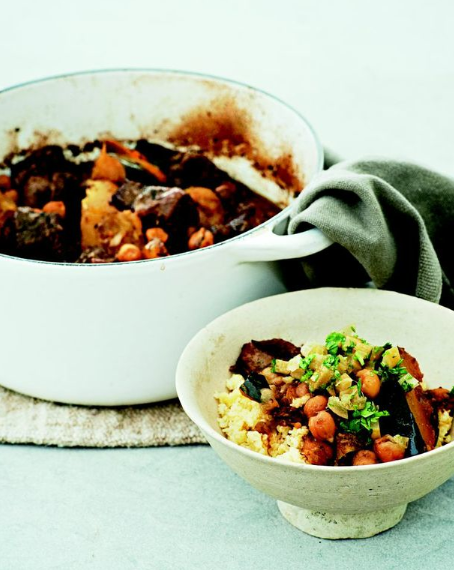 Lamb Tagine with Squash + Chickpeas
Hearty and warming, this slowly cooked dish makes lean lamb seem the most comforting food in the world. Serve the dish with cooked millet, which has the appearance and texture of couscous with none of the gluten, to absorb all the lovely juices from the tagine.
Serves 4 to 6
Elimination Diet, Protein-Packed
½ cup coriander leaves, plus 2 tablespoons roughly chopped for serving
6 cloves garlic, peeled
A 2-inch knob of fresh ginger, peeled
1 small red onion, peeled and roughly chopped
½ teaspoon ground cumin
½ teaspoon freshly ground black pepper
3 tablespoons extra virgin olive oil
coarse sea salt
1kg boneless lamb top round, cut into 2-inch cubes
A pinch of saffron
2 cups chicken stock
1 can chickpeas, drained and rinsed
650 grams squash (you can use butternut, acorn,or kabocha), stemmed, seeded, and cut into 2-inch pieces
1 small preserved lemon, finely chopped
Preheat the oven to 160 C. Combine the ½ cup coriander leaves with the garlic, ginger, onion, cumin, pepper, and olive oil in a powerful blender along with a large pinch of salt. Blend everything together until completely pureed. Place the lamb in a large bowl and pour the marinade over it. Using your hands, make sure every bit of meat is completely covered with the marinade. Cover the bowl with plastic wrap and set it in the fridge for at least 6 hours, or as long as overnight. Take the lamb out of the fridge and let it sit at room temperature for ½ hour.
Place the lamb, along with all of the marinade, into a large, heavy pot (we use a Le Creuset Dutch oven for this) set over medium-high heat. Cook, stirring now and then, until completely browned all over, a solid 15 minutes (do this in batches if the lamb doesn't fit into your pot in 1 layer). Once the lamb is just browned, sprinkle it with the saffron, stir to combine, and add the chicken stock. Bring the mixture to a boil and use a wooden spoon to scrape up any bits that might have stuck to the bottom. Turn the heat off.
Cut a piece of parchment paper to fit inside the pot, crunch it up into a ball, and wet it. Smooth out the damp parchment and lay it over the lamb like a blanket (this will help keep in the moisture). Put the lid on the pot and tuck it into the oven for 1½ hours. Take the lid off the pot and set aside the parchment. Stir the chickpeas and squash into the pot, put the parchment back and the lid on, and return the pot to the oven for a final ½ hour. The lamb should be meltingly tender and the squash should be cooked through but not disintegrated. Season the tagine to taste with salt and serve immediately, scattered with the preserved lemon and chopped coriander.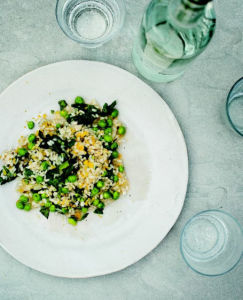 Risotto with Peas + Greens
Risotto, usually made with tons of cheese, wine, and butter, is one of the most decadent dishes I can think of. Because Arborio rice is a beautiful grain, I wondered if I could make an equally decadent version without any of the no-no ingredients. Mission accomplished.
Serves 4
Vegan
1 litre vegetable stock
1 lemon
2 tablespoons extra virgin olive oil
½ yellow onion, finely diced (about ¾ cup)
1 leek, white and light green parts only, thoroughly washed and finely diced
2 garlic cloves, finely minced
leaves from 6 sprigs of thyme
coarse sea salt
1 cup Arborio rice
2 cups baby spinach or any other baby greens (like tatsoi)
1 cup fresh English peas (or you can substitute small frozen peas)
¼ cup roughly chopped fresh basil
freshly ground black pepper
Warm the vegetable stock in a small pot and set it on the back burner over low heat. Using a Microplane grater or a zester, zest the lemon and set the zest aside. Cut the lemon in half, juice it, and set the juice aside. Meanwhile, heat the olive oil in a large, heavy pot set over high heat. Add the onion and leek, turn the heat down to medium, and cook until the vegetables just begin to soften, about 5 minutes. Add the garlic and thyme along with a big pinch of salt and cook until all the aromatics are, well, aromatic, another 2 minutes.
Turn the heat to high, add the rice and the reserved lemon juice, and stir to combine all the ingredients. Cook until the lemon juice is just evaporated and then stir in a ladleful of the warm stock. Continue to stir the risotto until the stock is absorbed, then stir in another ladleful of stock. Continue in this manner until the rice is cooked through and you've used all your stock, about 20 minutes. At this point your arm should feel as if it's going to fall off and the rice should be luxuriously creamy and rich. Stir in the reserved lemon zest, the greens and peas (these will cook with the risotto's residual heat), the basil, and a few healthy grinds of pepper. Serve immediately.
It's All Good is available on Amazon.com  and in all good bookstores.