A few weeks back I shared my recipe for slow cooked lamb shanks with lemon and cinnamon. Have you tried it yet? Today, I'm getting slippery swift 'n' efficient and sharing a shank trick that's fast, versatile and can stretch ingredients further. Oh yes, you'll be shanking me for this shanky share!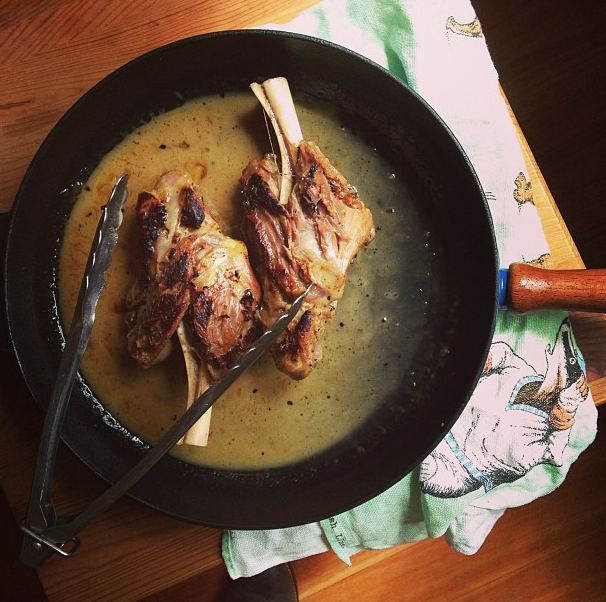 So. It works like this. Shanks can be rather large, often 400g each. Which, even when the bone is removed from the equation, I personally think is too much meat in one sitting, for both sustainability and health reasons.
Also, one often buys shanks in bulk and one might not want to cook up a whopping great casserole with six or eight of the buggers. One might, instead, want to use the meat in different ways. Or one might only have two shanks to one's name, which you can't really justify slow cooking for 8 hours in a slow cooker.
Which is why I've played around with this idea:
par-slow-cooking the shanks first…
…then splitting up the meat, freezing it and using it in a variety of dishes.
Yeah, I love the idea, too.
The recipe below uses three shanks, which can then make 5-6 different meals (recipes below). Here's how to do it:
Par-Slow-Braised Lamb Shanks
2-4 lamb shanks
2 tablespoons olive oil
salt and black pepper
1/2 cup white wine or you can use red wine or chicken stock (I add a splash of white vinegar if I use the latter, to up the acid a little)
In a large skillet, heat oil and brown the shanks (which you've rubbed in salt and pepper) on all three sides (yes, shanks have three sides). This will take about 20 minutes. Pour off the excess fat, lower the heat and add the liquid. Simmer, covered, for 1½ to 2 hours, turning every 20 minutes or so and adding water – ¼ cup at a time – as required, until the meat is falling of the bone.
When they've cooled, drag the meat off the bone and reserve the liquid.
With the meat: divide as required (three shanks should serve 4-5 in the recipes below).
With the liquid: let it cool in a jar or bowl in the fridge, skim the fat and store in the fridge or freezer. It should make about 1/2 cup of liquid. Use it for deglazing or for liquid in the various recipes below.
With the bones: enjoy as a snack and suck out the marrow and chew the cartilage bits. Both are soooo good for your hair, bones and nails.
My Slow Cooked Lamb Shanks with Lemon + Cinnamon
Serves 4-5
Use the ingredients (omitting the shanks, obviously) listed here. But: instead of the slow cooker, cook the lot in a large casserole dish on the stove. Cook the carrot, onion and celery in some oil over low heat, until tender. Add the rest of the ingredients. Add the lamb shank liquid from above. Bring to a boil, then reduce to a gentle simmer and cook for 20 minutes. Add in the shredded meat (from the 2-4 shanks above) at the end.
Chinese Lamb Shanks
Serves 4-5
Mix in a saucepan: 2.5 tablespoons each of soy (or Tamari), garlic (minced), fresh ginger (minced); 1 tablespoon each rice malt syrup (or honey) and five-spice powder, plus the shredded meat and the lamb shank liquid (from above). Bring to a boil, then simmer, cover for 15 minutes. Serve with steamed bok choy.
Roast Lamb Cheesy Pie
I invented this dish when I was craving a comfort food Sunday night roast. It's your classic roast meal…as an easy gratin.
Serves 4-5
Lighly steam some 1 1/2 cups chopped cauliflower, 1/1/2 cups pumpkin (slice really finely), one onion (sliced) and 1 cup frozen peas. Spread the shredded meat over a lightly greased baking dish, then layer the vegetables on top and grate some cheddar cheese over the lot. Bake in a 180 C oven for about 15 minutes. Serve with a salad.
Shepherd's Pie
Serves 4-5
Spread the shredded meat over a lightly greased baking dish, top with some very finely sliced eggplant that you've fried and a sprinkle of cumin, then top with mashed potato (great way to use up leftover mash) and dot with several tablespoons of butter. Bake in a 200 C oven for about 15 minutes.
Lamb Ragu
Serves 4-5
Fry 100g of pancetta (cubed), in oil. Reduce heat and add 2 onions (chopped) and sweat for 15 minutes. Add 1 tablespoon each of fresh rosemary and garlic (minced) and a shake of red chilli flakes. Add the shredded lamb and lamb shank liquid (from above), 1/2
cup
of white wine and 400g tin of chopped tomatoes and simmer 30 minutes, stirring. Serve with pasta or polenta.
Lamb Shank Curry
Serves 4-5
Bring to the boil in a large pot (covered): 2 small onions (chopped); 1 tablespoon each of minced garlic, chili, ginger; 400g tin of chopped tomatoes; 1 cup coconut milk; 2 teaspoons of garam masala or use 2 tablespoons of curry paste;  the lamb shank liquid and shredded lamb (from above). Reduce the heat and simmer 30 minutes. Stir in cashews, coconut flakes, coriander. Serve with rice or steamed greens.
Lamb + Quinoa Tabboleh Salad
Serves 4-5
This a great one to make for lunch for the week/household.
Follow my recipe here and toss through the shredded lamb. Add extra lemon juice and olive oil if required.
Pulled Lamb + Pesto Buns
Makes 4-5
Mix the lamb, 1/2 cup pesto (check out my broccoli and cashew or kale pesto recipes in I Quit Sugar),  2 cups spinach or rocket leaves, one Spanish onion (sliced finely) in a bowl. Then add to sandwiches.
Hopefully these are a good start…feel free to add your own ideas below. And while you're there…I'm currently taking requests for meals, flavours, ideas you'd like explored here on a Tuesday. Place your requests below!